Its 8:30 pm on a workday; the usual late dinner followed by absent Facebook scrolling. A notification pops up from a Holiday Pirates newsletter, reading:
Error Fare: Flights to Brazil only £135 return
This is it! I said to Alex, it's THE sign!
I immediately put Brazil into Google and out came pouring warnings, videos of gunpoint robberies and endless lists of precautions to take, from malaria pills to 7 ways to hide your passport and how to carry a fake wallet.
When the payment went through, I nearly cried…we were really going to Brazil.
I devoured everything I could find online about it, from established forums to travel blogs and embassy recommendations, hitting a wall of bad reputation and threats of violence.
But I endured, so research eventually took me past the CNN Zika headlines, past the idealised travel books and eventually we connected with real people with legitimate experiences.
We made a spreadsheet( yeah, I know, a spreadsheet) and put together an itinerary that (we hoped) left us room to breathe in each place.
We had 28 days between the flights and planned as follows:
land in Sao Paulo, spend 3 days to adjust
fly to Foz do Iguasu, spend 4 days to explore
bus to Bonito, spend 5 days to enjoy
bus to Campo Grande to catch a flight
fly to Rio, spend 4 days to have fun
bus to Ilha Grande, spend 4 days to get a tan
bus to Paraty, spend 4 days to learn about Brazilian history
bus to Sao Paulo, spend 1 or 2 days to say goodbye and fly back
Regardless of how much of a planner I am, I was not happy we had to decide on flights from the beginning because you never know when you fall in love with a place or want to get out of there in a hurry. The upside is that you get to see a lot of the highlights of Brazil without wasting time on long haul buses when time is short.
Our first base was in Sao Paulo, in a room rented via airbnb.com. Antony Bourdain once said that you should not come to Sao Paulo unless you have friends here and the ominous barb wire seems to say the same.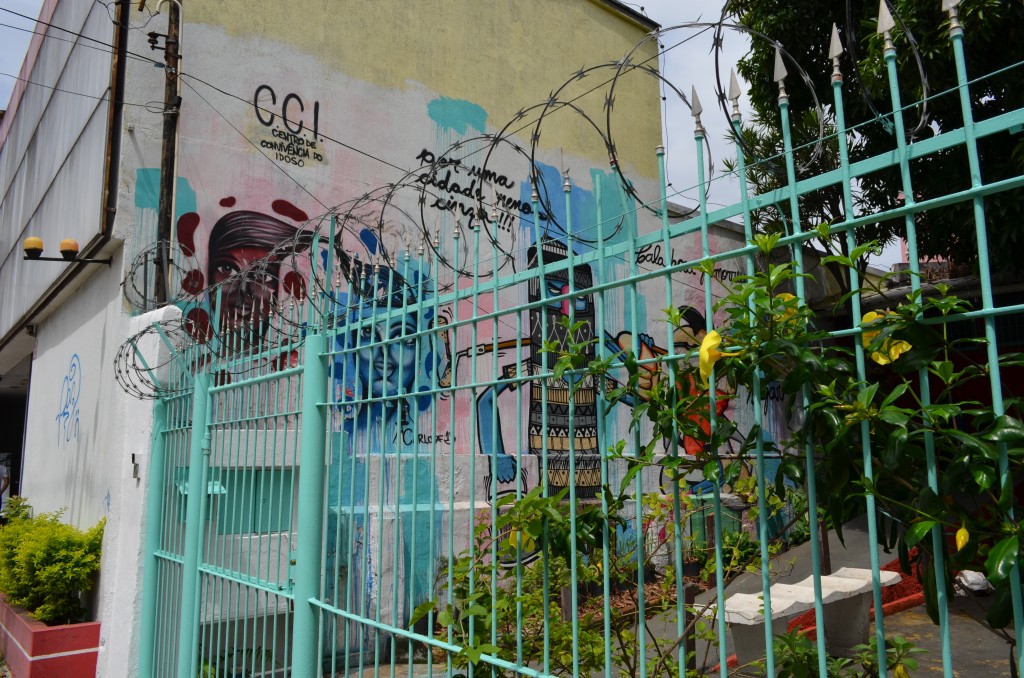 Fortunately for us, our host was perfect and really helped us feel welcomed. She arranged for a taxi to pick us up from GRU airport (which is really far away from town) and we could pay with a credit card, saving us the hassle of dealing with airport exchange offices and high commissions.
The tropical weather greeted us with thunderstorms interrupted by waves of scorching heat for the first 2 days. But however ugly or run down, Sao Paulo is an urban destination so you can always step into a shop or sit on a bench and do some people watching.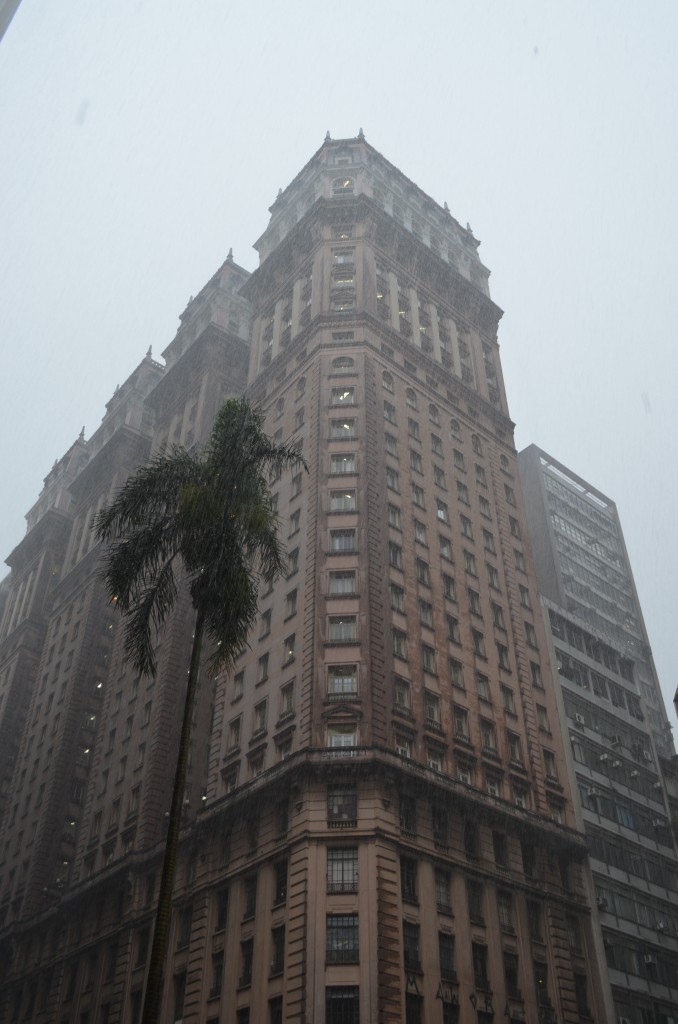 The amazingly large city is the biggest in the Americas (bigger than New York!) and you can guess the pressure this places on the public transport and the upkeep of the buildings.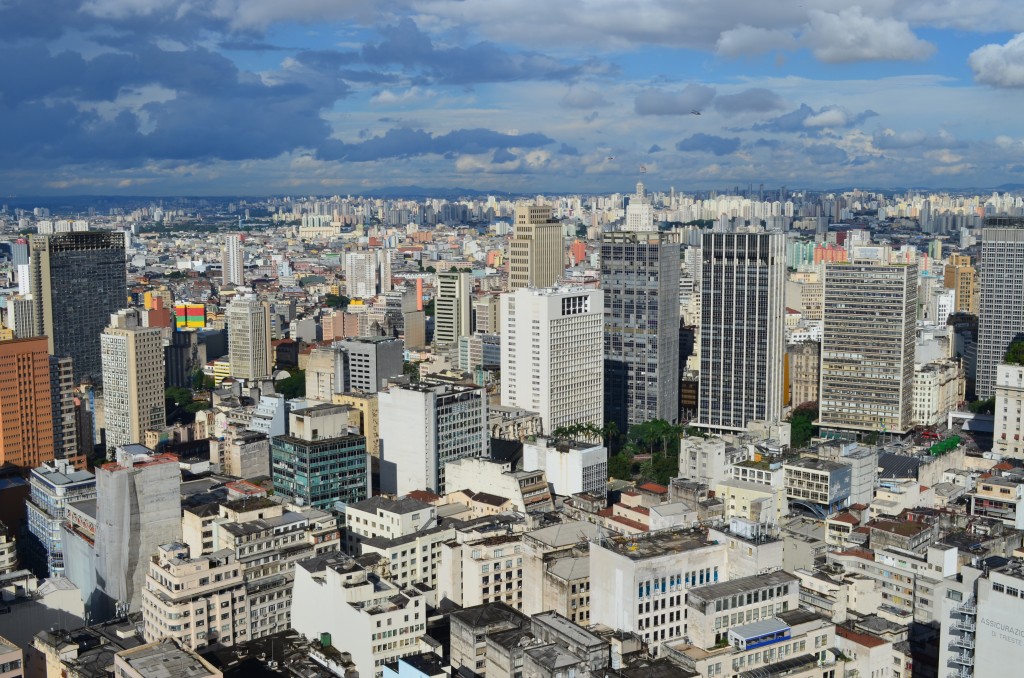 It has its beauty and its uniqueness but it can also be a gritty destination, not very tourist friendly and a whole lot scary. More details on the experience on the Sao Paulo post (available soon) or info about the protest (link available soon).
After Sao Paulo came the great waterfalls of Iguasu. We landed at the Foz de Iguasu airport/gas station mid day and we easily found the bus just outside, a bargain at 3.6 reals each(aprox US$1).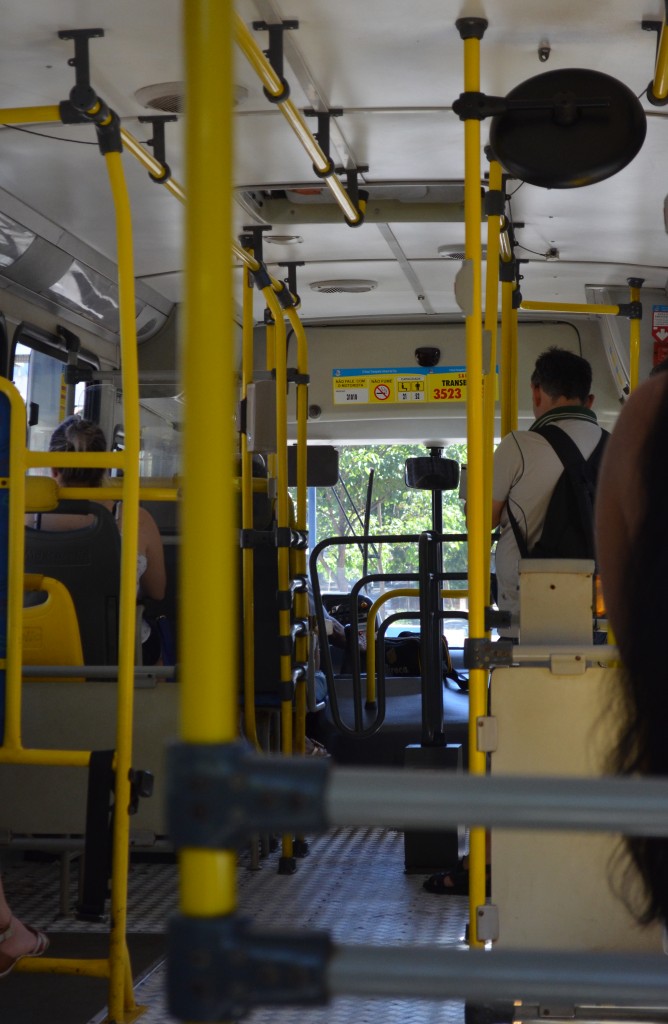 The local buses all over southern Brazil follow the same pattern: you get in through the front, pay cash to the ticket vendor inside the bus and go through a revolving "door" towards the back. You will receive your change after you cross and only if you insist.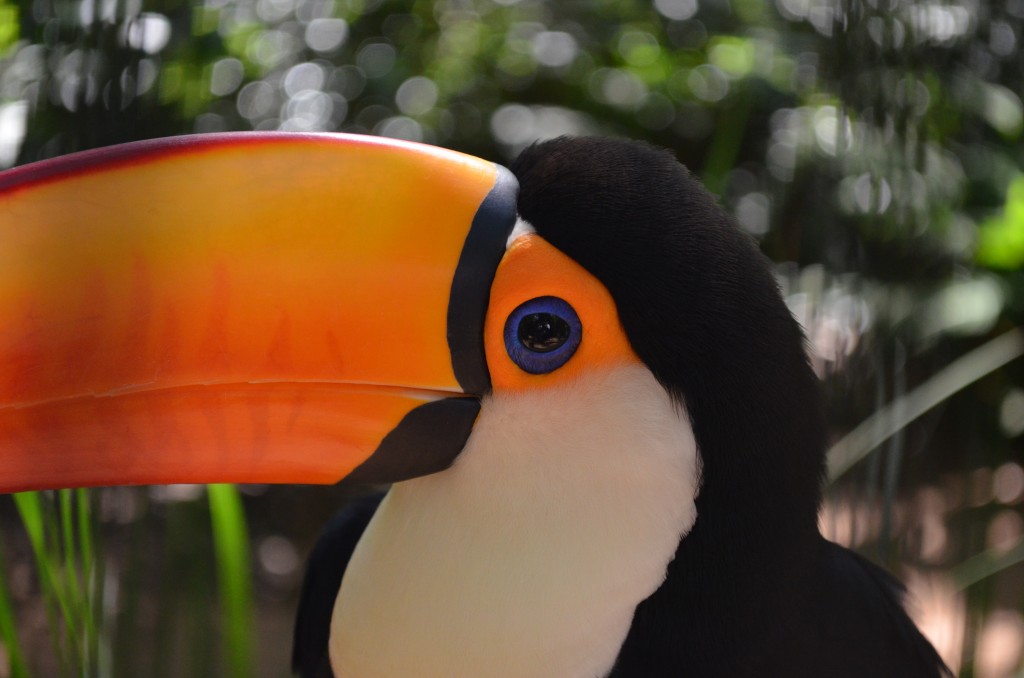 While in Foz we jumped on the opportunity to visit the bird park and to cross into Argentina to see the bigger part of the falls. The crossing was a bit confusing as it always seem to happen when there is a lot of local traffic over the border.
The short version is that if you are only going to spend one day in Argentina(and you should definitely go!) don't worry about stamping out of Brazil as all buses will stop and wait for stamping in and out of Argentina and that is enough.
The waterfalls of the mighty Iguasu river are spectacular to say the least. Just walking through the evergreen jungle, surrounded by butterflies and drizzled by roaring waterfalls makes you think of paradise and how great it is to live on this gorgeous planet.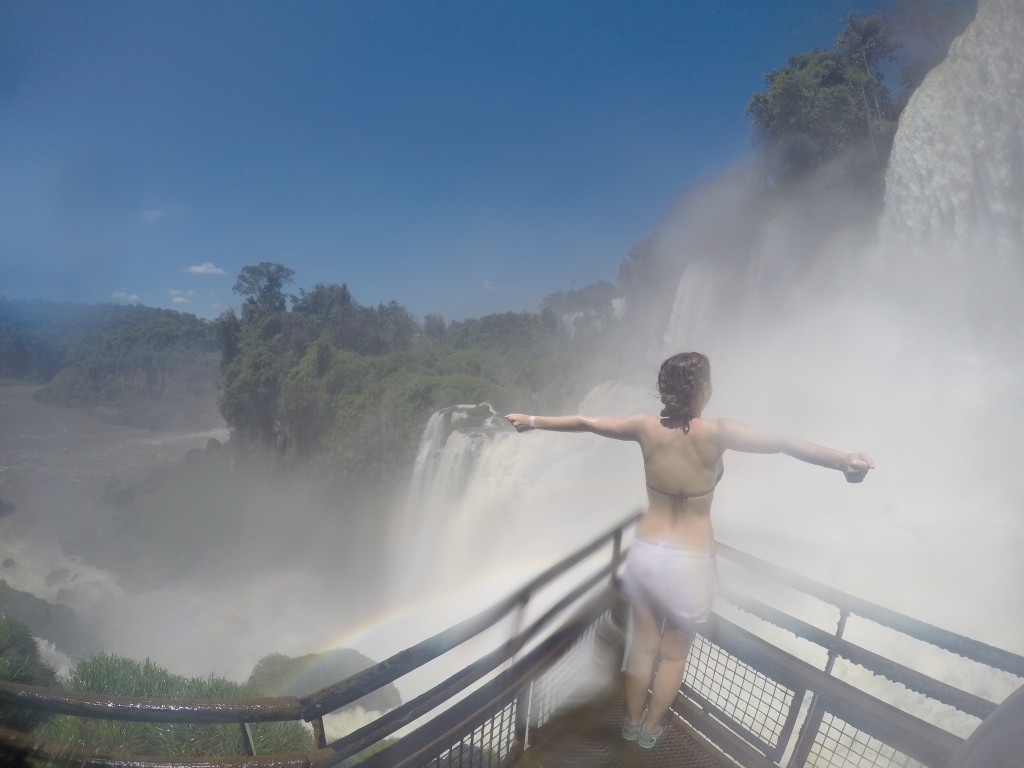 We spent our days going from one waterfall to the next and seeing how there are 275 of them in the natural reserve park on either side of the border, we had our fill.
From Foz the bus ride was kind of bumpy as 2 hours into the first ride, just after we settled in, ate our packed dinner and were dozing off to the humming of the bus, the driver came up and told everyone "something" which made them jump up and start packing.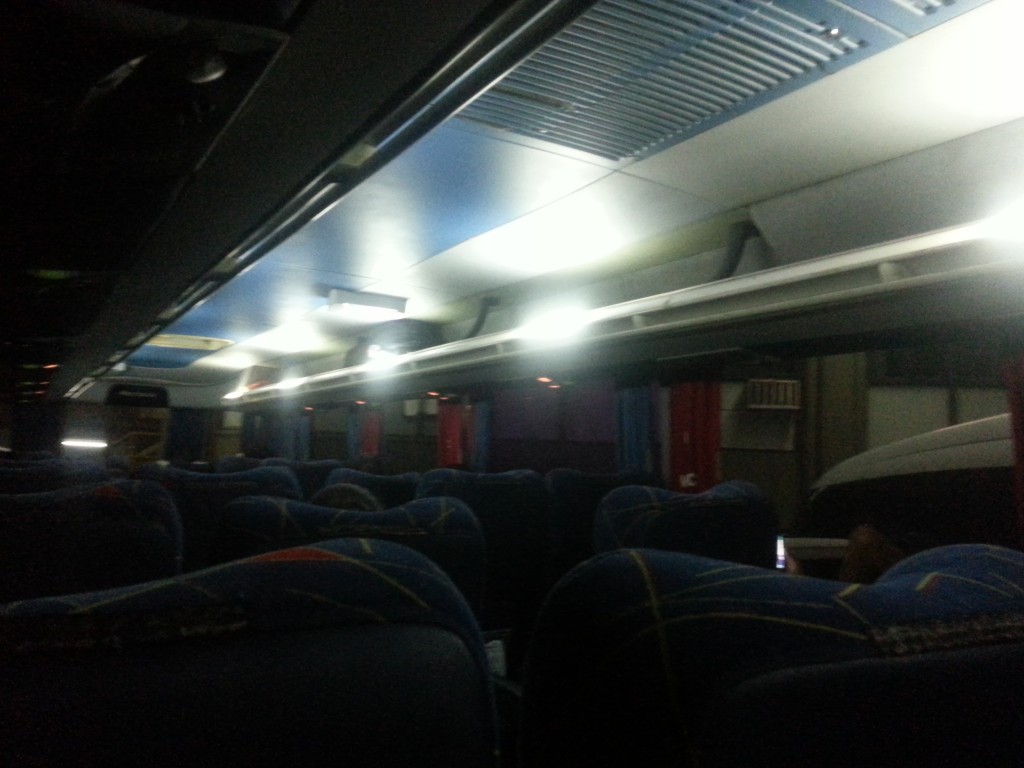 Cambio bus? we timidly asked the Brazilian couple next to us. Si!…Obrigado…and we stumbled off the bus, wishing we knew Portuguese or what the hell was going on.
A confusing 30 minutes later we were on a new bus, destination: Dourados. I did not sleep. I simply could not relax and was checking the clock and the map every hour.  Alex slept like a baby as I was making notes along the line of: 10 reasons why travel is not for control freaks.
As I was sitting there in the dark, wondering where we are and how long before we re-enter civilisation, I looked out the window, over the empty limitless fields, free from buildings or street lights and suddenly, right above my head the Milky Way unfolded.
I could see the stars so clear, so many of them and so beautiful, I feel humbled even as I am writing about it. If this is what we are trading away in exchange for safety lights, shiny billboards and blinking street stops, we are getting the wrong end of the stick.
There were no issues along the way and despite my growing desperation regarding long stops, spotty air conditioning and growing headache, we were exactly on time in Bonito at noon, a meagre 18 hours of travel later.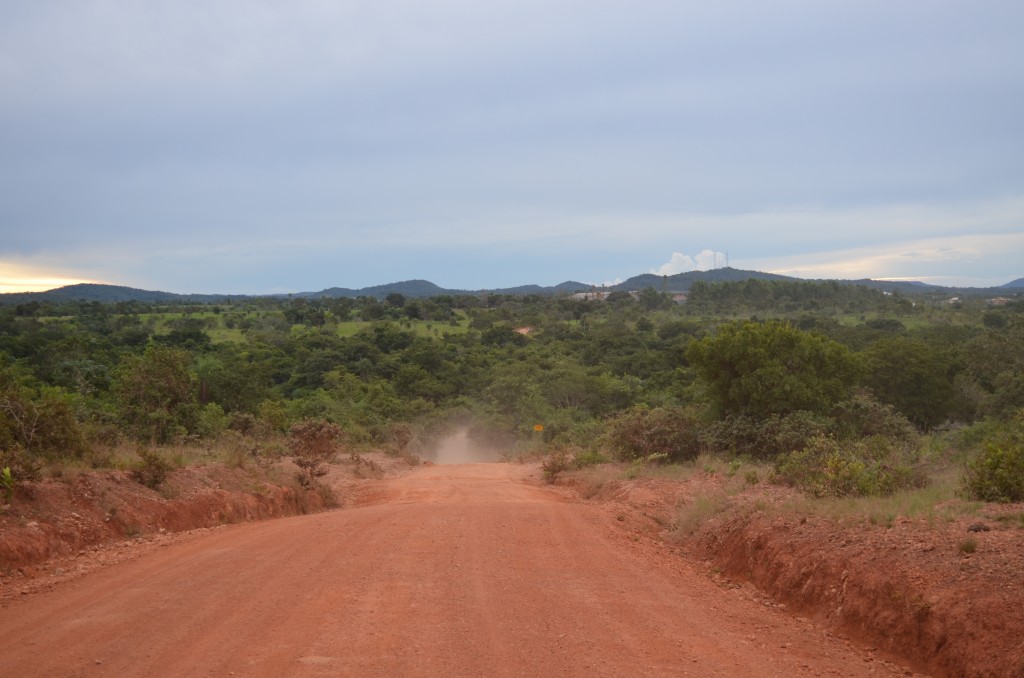 Bonito is a small town that is booming with tourists due to being surrounded by lots of awesome natural wonders: crystal clear rivers, 70 meters deep caves, underground lagoons and waterfalls all around the thick jungle, teaming with life.
The only problem is: all the tourists are Brazilian, all the tours are in Portuguese and as naturally pretty as the place is, you cant help but get frustrated when you are the only ones not laughing at what I am sure were funny jokes that the tour guides made.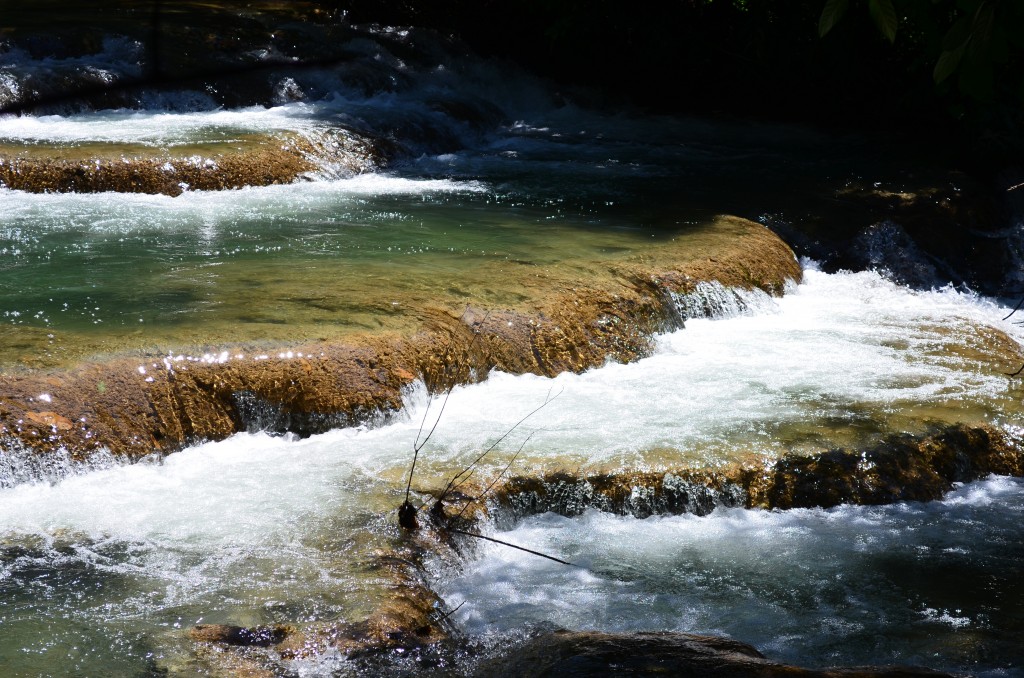 For Bonito, we booked the room and the tours while in Sao Paulo, with the help of the highly recommended Papaya Hostel staff, Jennifer (a English speaker!). You need to book everything in advance here since entries are limited to each area, to preserve the natural environment.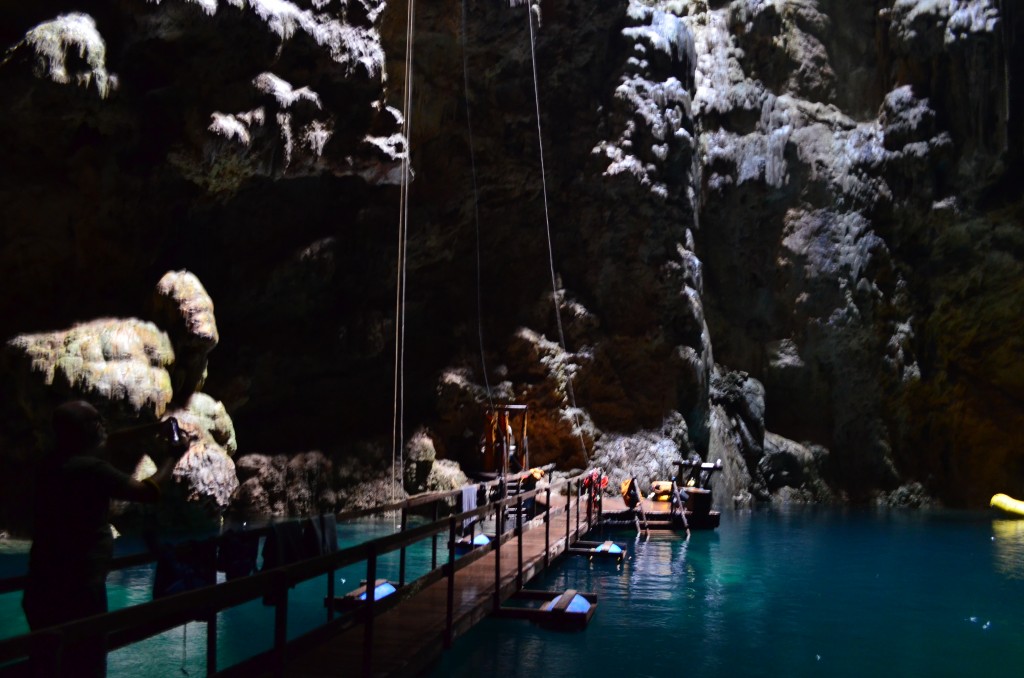 The time in Bonito was great and I even got to enjoy half a day off while Alex was doing a cave rappel thing (which I found too scary and physically demanding to do).
The unscripted time was just what I needed to clear my head and feel like I am truly free from commitments and stress.
Our last day on the west side was filled by an organised tour to the Pantanal. A minivan picked us up at the hostel at 5am, took us to Fazenda San Francisco for the day and dropped us off in Miranda at 17:30, just in time to catch a 3 hour bus to Campo Grande.
Taking the Pantanal route was a great decision as Bonito kept us very entertained but was not really in the heart of the wetlands and I feared we are missing out on seeing a magnificent natural area, with a greater biodiversity that the Amazon itself.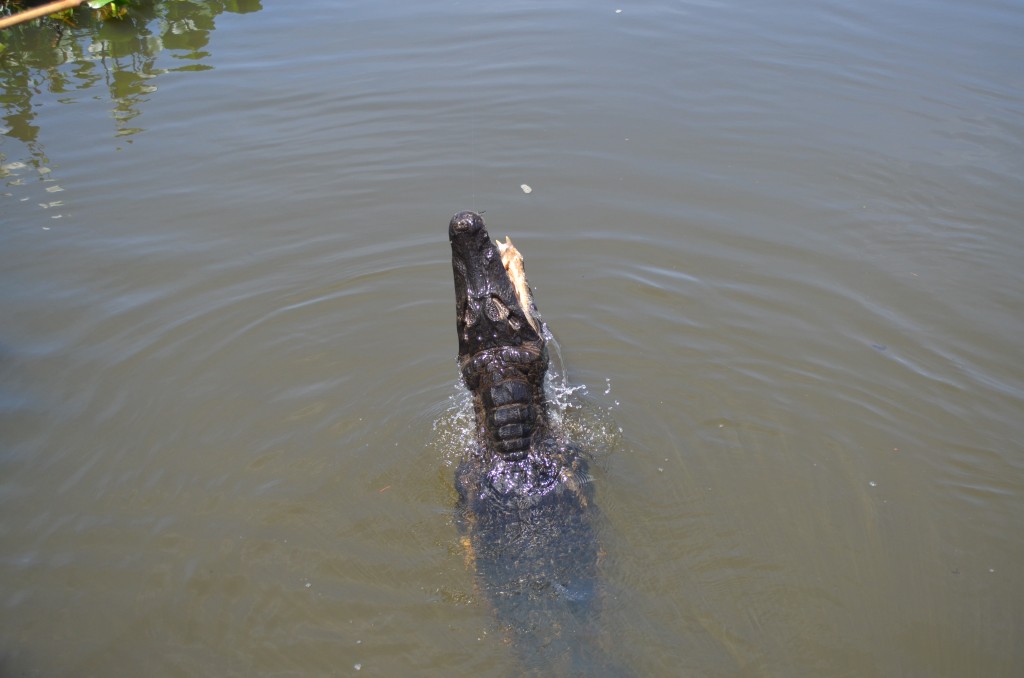 The Fazenda is equipped to bring you face to face with an abundance of wildlife and lunch is included too!
We were greeted in Campo Grande late at night by our couchsurfing buddy Daniel who was a great host and guide. He picked us up at the bus station and drove us to meet some of his friends at the local nightmarket.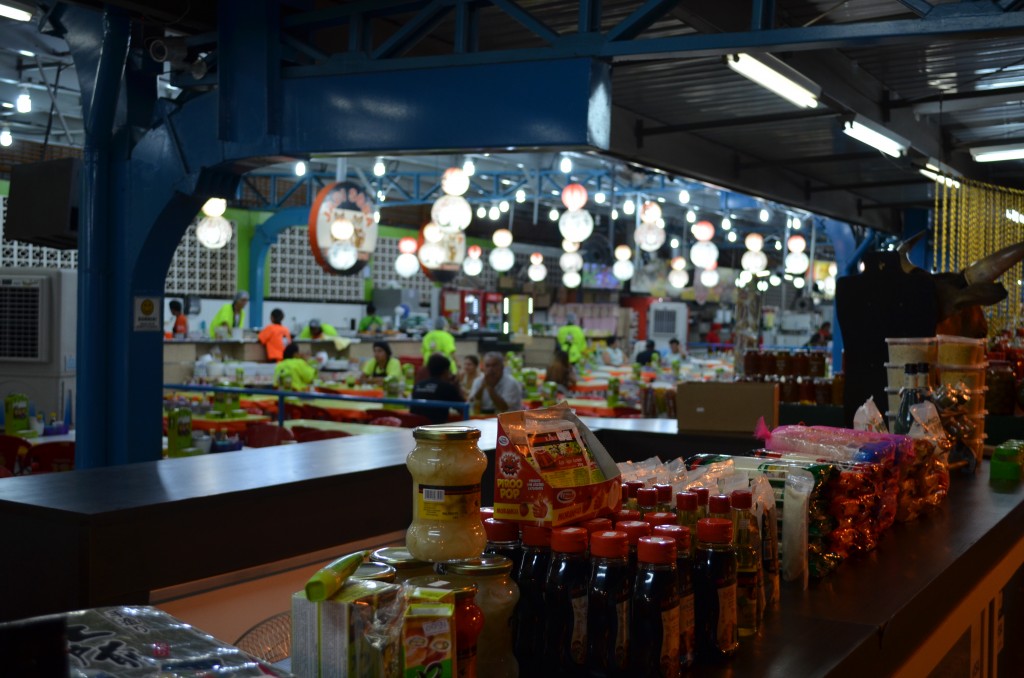 I dont think we could have found that place on our own and couldn't have guessed why there are so many Japanese dishes on the menu. As the locals were buzzing away, we sampled yakisoba, grilled chicken hearts and what I've heard is not the best beer in Brazil, Itaipava.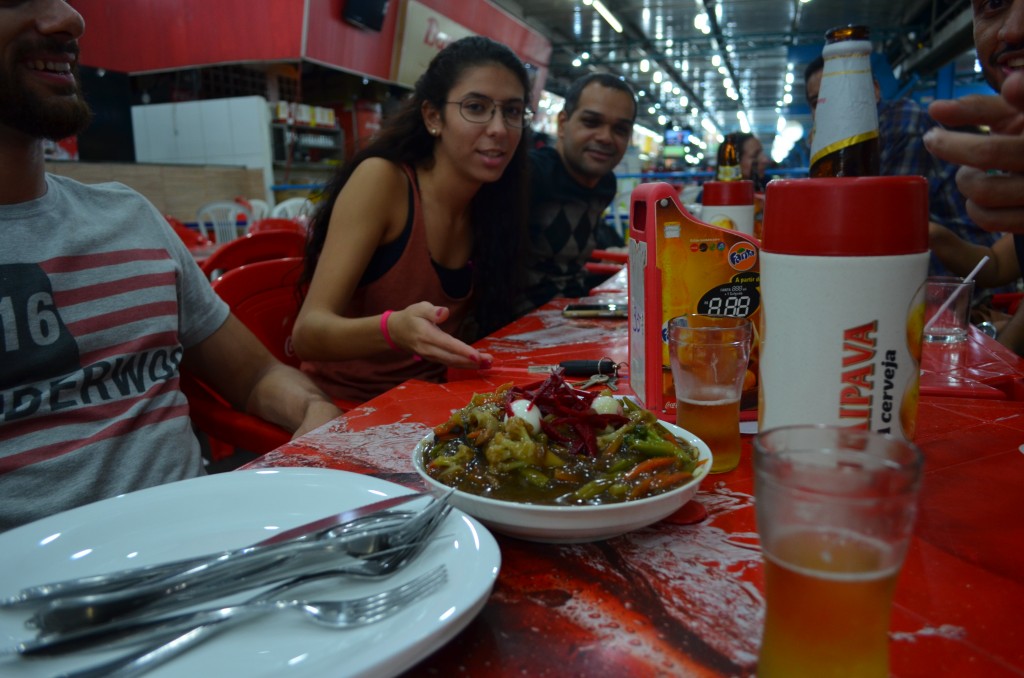 Next morning, Daniel said something that stuck: Brazil has more or less just one season so we don't segment our lives according to the weather, we don't act differently throughout the year and so our lifetime is a continuous story of being.
Did he envy our stories about celebrating spring or how we prepare seasonal food for Christmas? We could not imagine wishing for snow, that's for sure.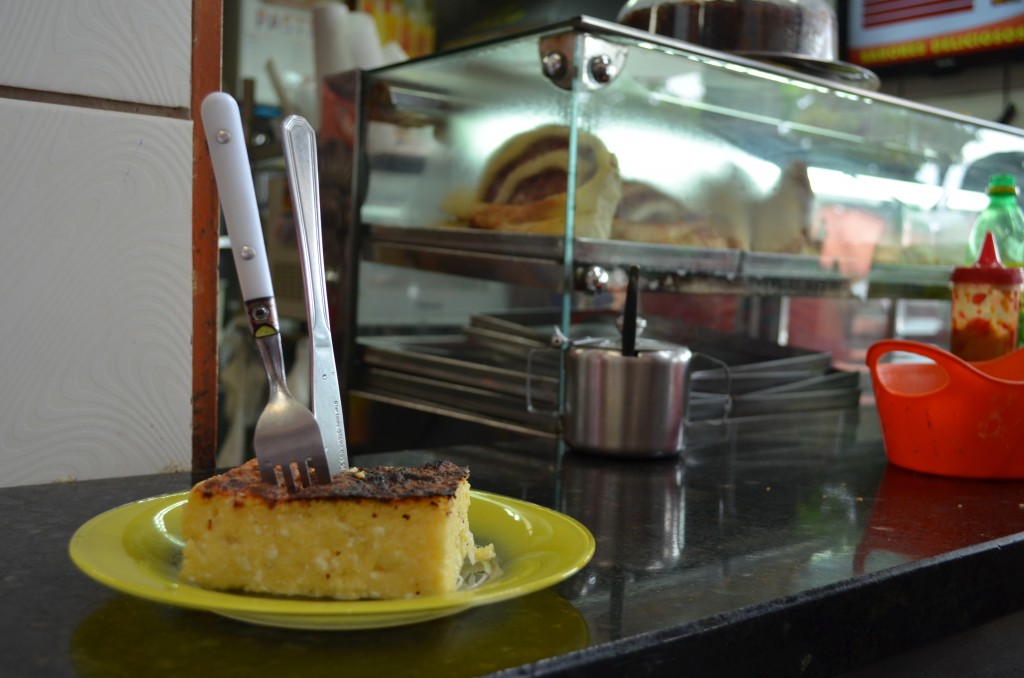 After sampling some more local morning snacks, including Paraguayan soup (which is solid, pictured above) and passion fruit juice with milk and sugar (which turns out is highly addictive) we hopped on the plane and headed to Rio.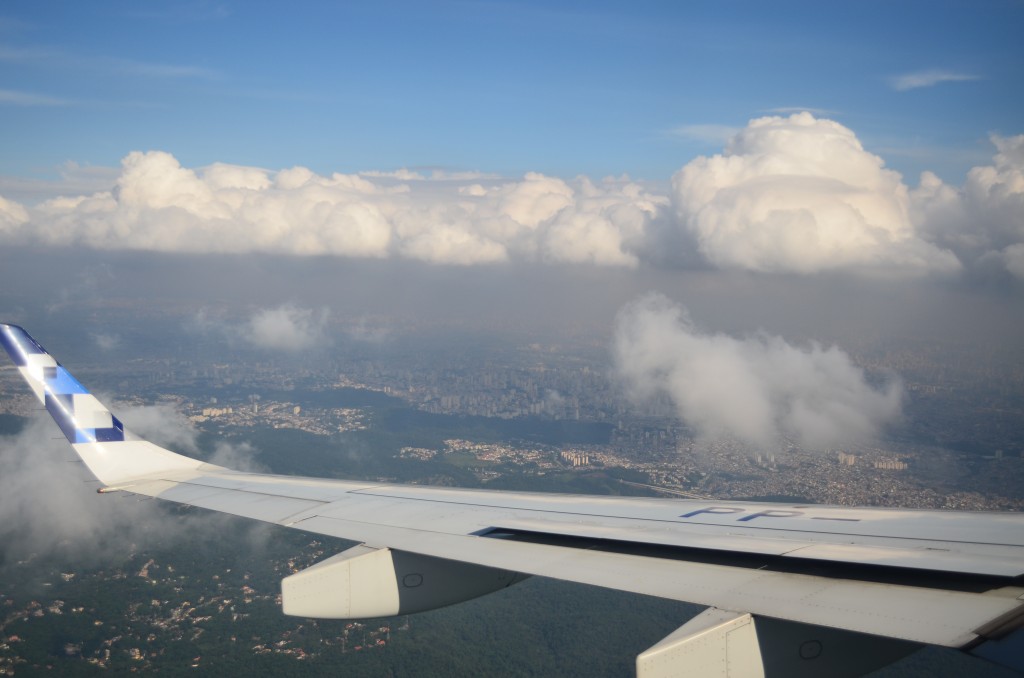 For the second part of our trip, see the Costa Verde article, here.