A trip of a lifetime among the smiling faces and warm hearts of the Vietnamese people.
 Where do you start when planning such a trip? There is only so much research that you can do, guides to read and check-lists to compare before you find yourself smack in the middle of a foreign land.
We booked accommodation using
agoda
which had much more places than booking.com or other sites in this part of the world. Once we knew what the next city was, we booked the ride and the hotel/hostel/bungalow one day in advance.
One thing to look for when booking is if the room has a window. It's not something you normally ask but Vietnamese architecture has sprawled a surprising number of windowless rooms.
Inflation is high so expect to always have a huge stack of paper Dongs in your pocket.
The bus tickets for getting from one place to the other are purchased from either the hotel lobby or a travel agency and comes with a transfer to the bus station. You can negotiate with each intermediary but in the end anything is cheaper than making your own way to the bus station twice.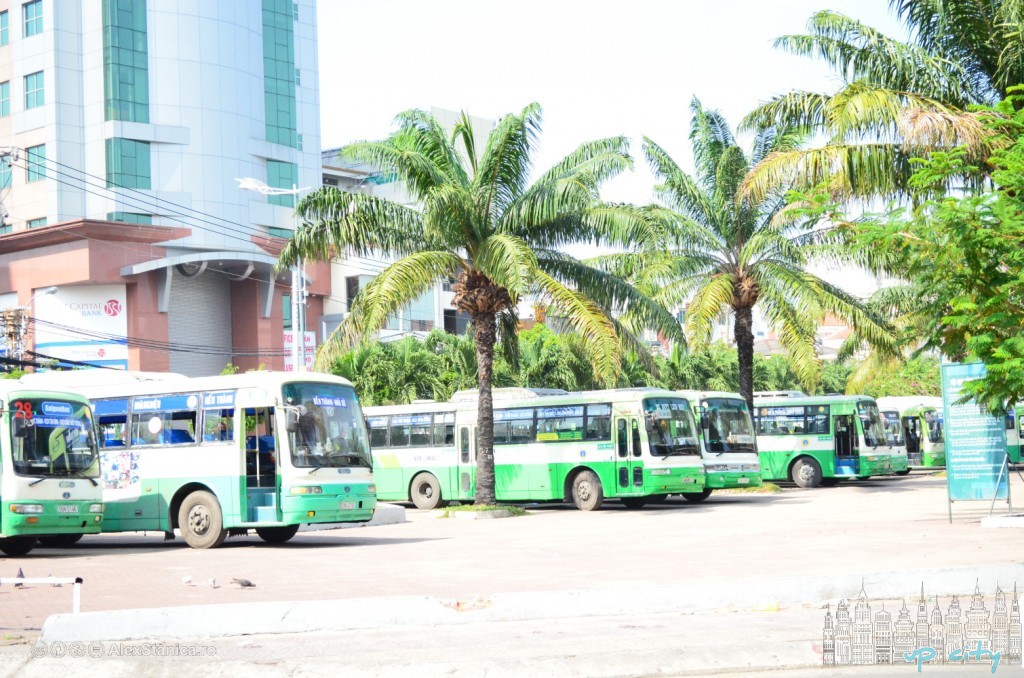 If you enjoy bargains and haggling, welcome to Vietnam! Everything ends up costing up to 40% less than the asking price if you are persistent enough. My advise: choose your battles wisely.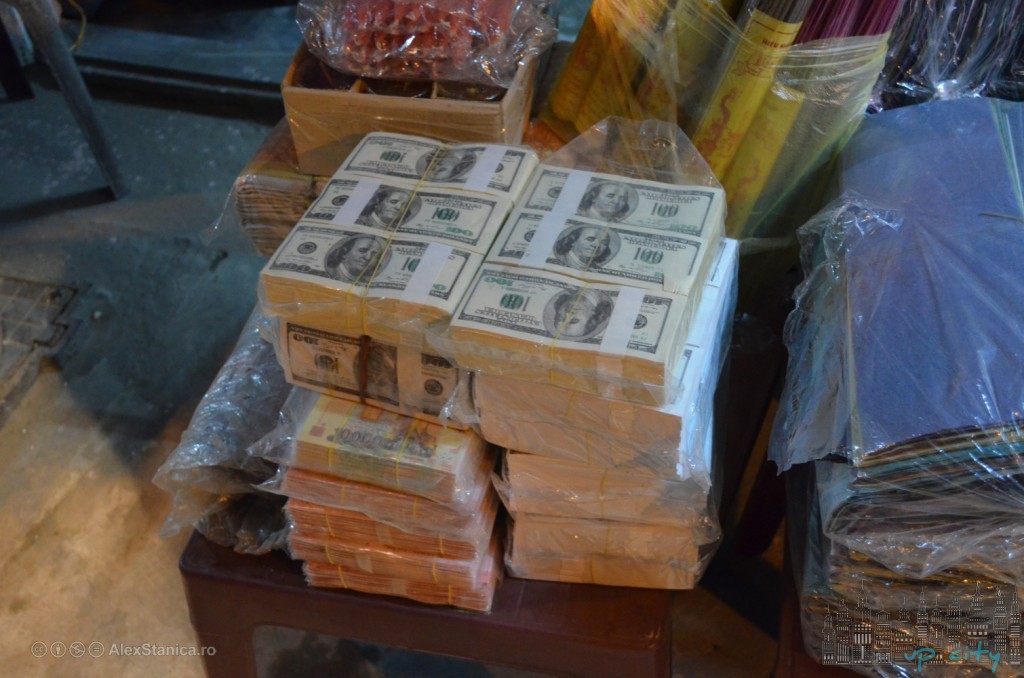 In terms of food, if you see locals eat from a place, it's safe. Even if the place consists of 3 plastic chairs for kids, a collapsable table, a roll of toilet paper and a pot of food.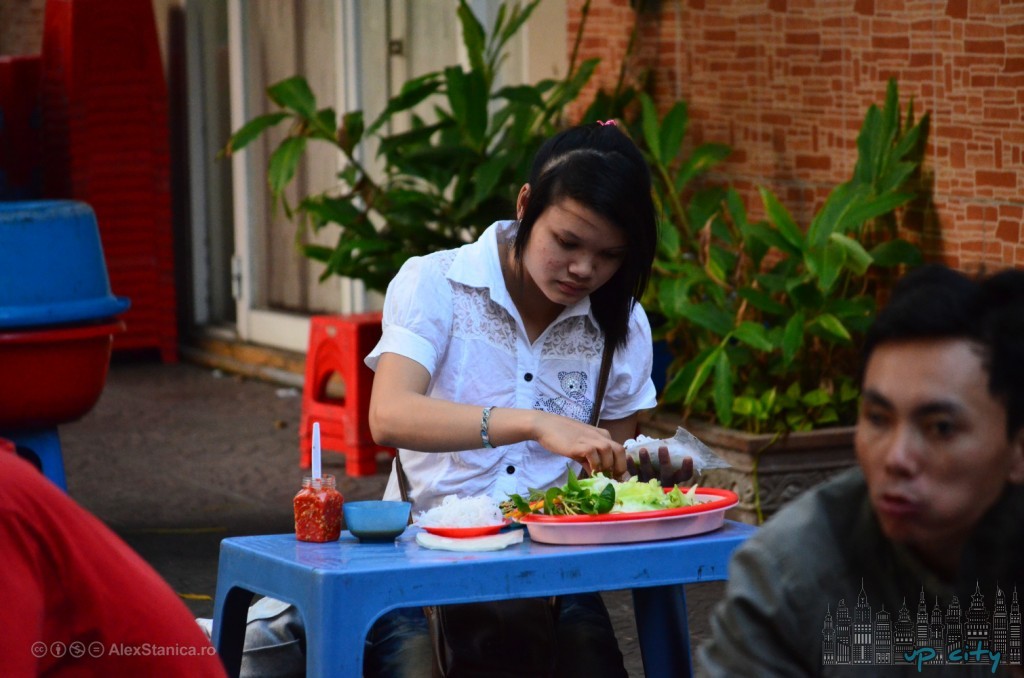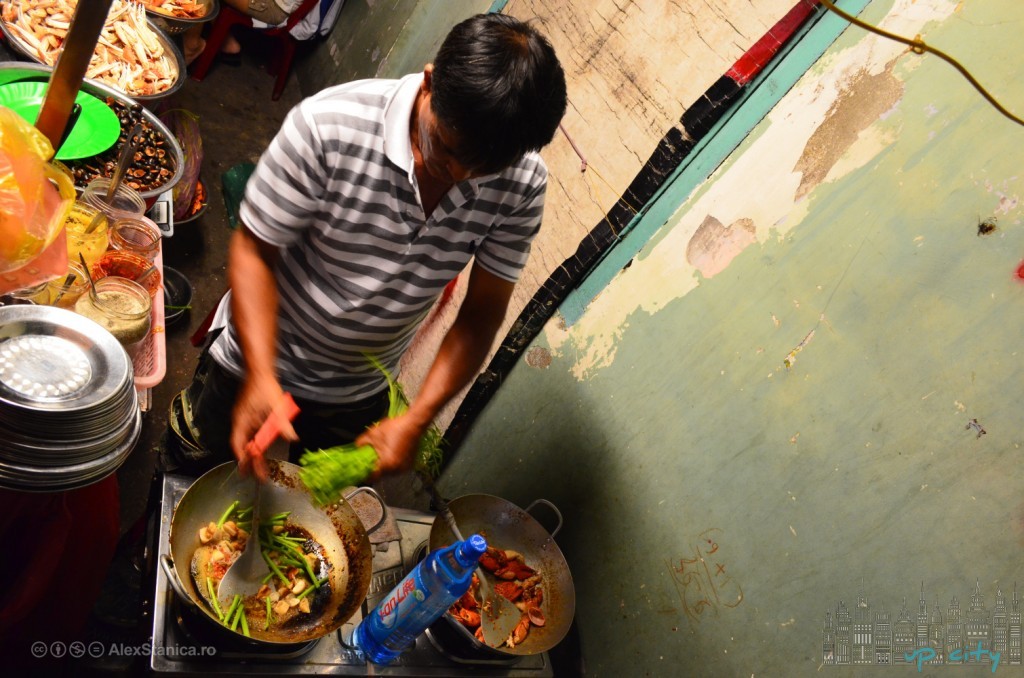 Our route around southern Vietnam started in Saigon. We spent 2 days there to adjust to the rhythm, we went to the zoo which is not worth it and just generally enjoyed a couple of buffer days. We used this time to get adjusted to the constant car honking that goes on through the night.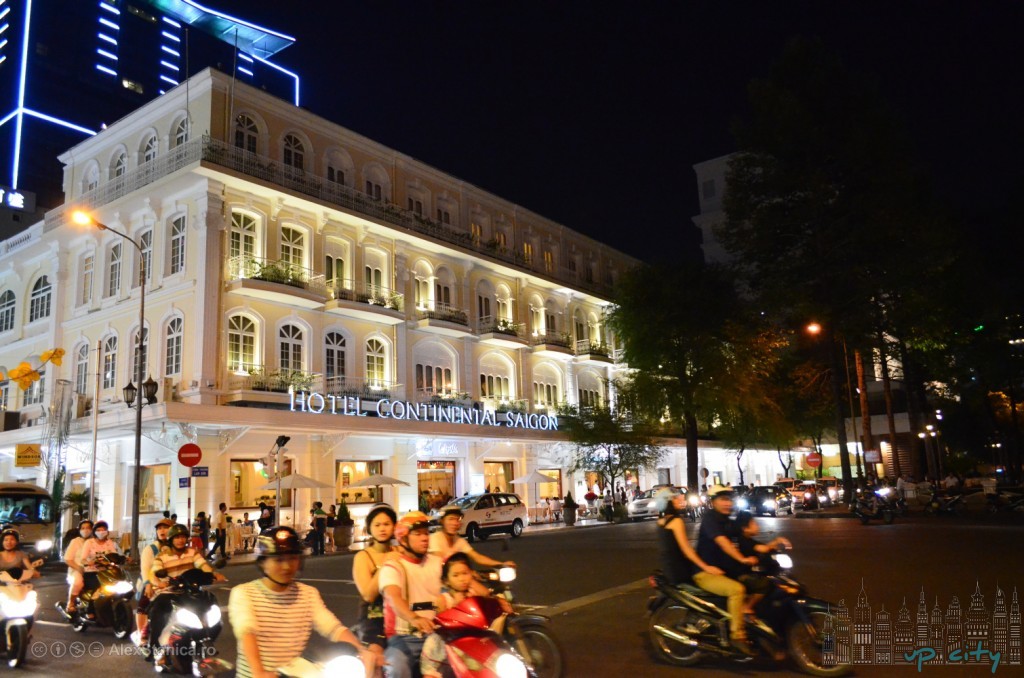 We then took a bus to Rach Gia so we could board the speed boat SUPERDONG2 which took us to Pho Quoc Island.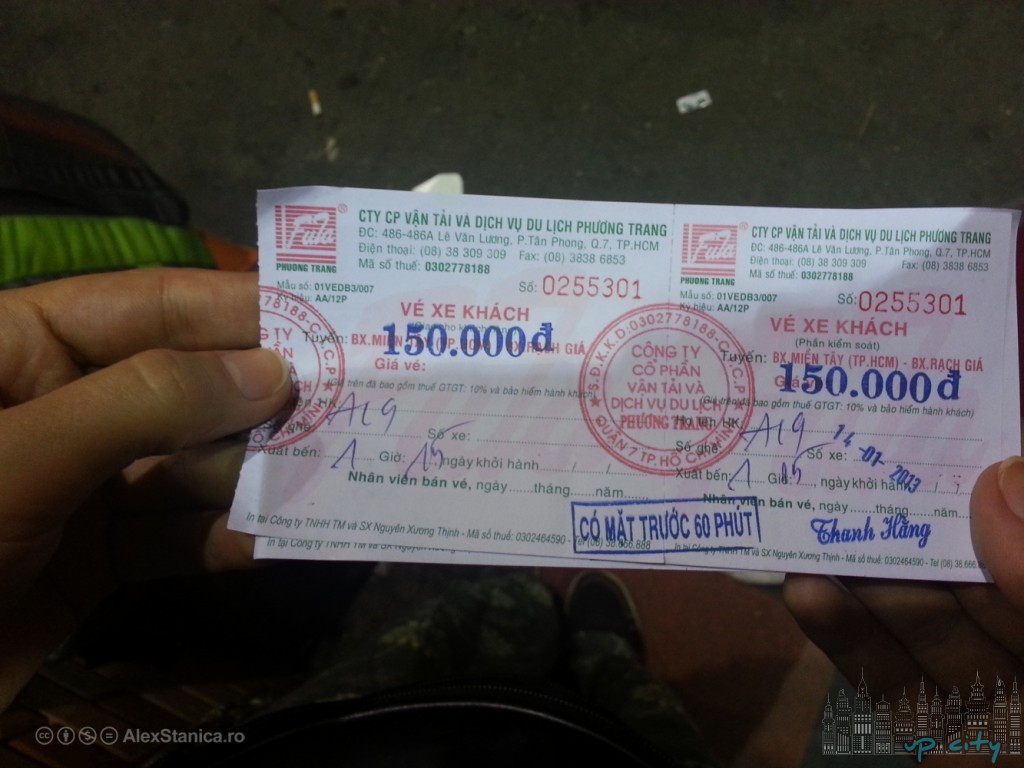 The journey through the Golf of Thailand takes a couple of hours and start early in the morning. So from the bus station to the boat station in Rach Gia it's a race against the clock.
From the boat you can see a string of islands, no bigger than 5 trees growing together, where fishermen fling their nets.
Pho Quoc Island is worth at least 3-4 days! We rented a bungalow and some bicycles for getting around.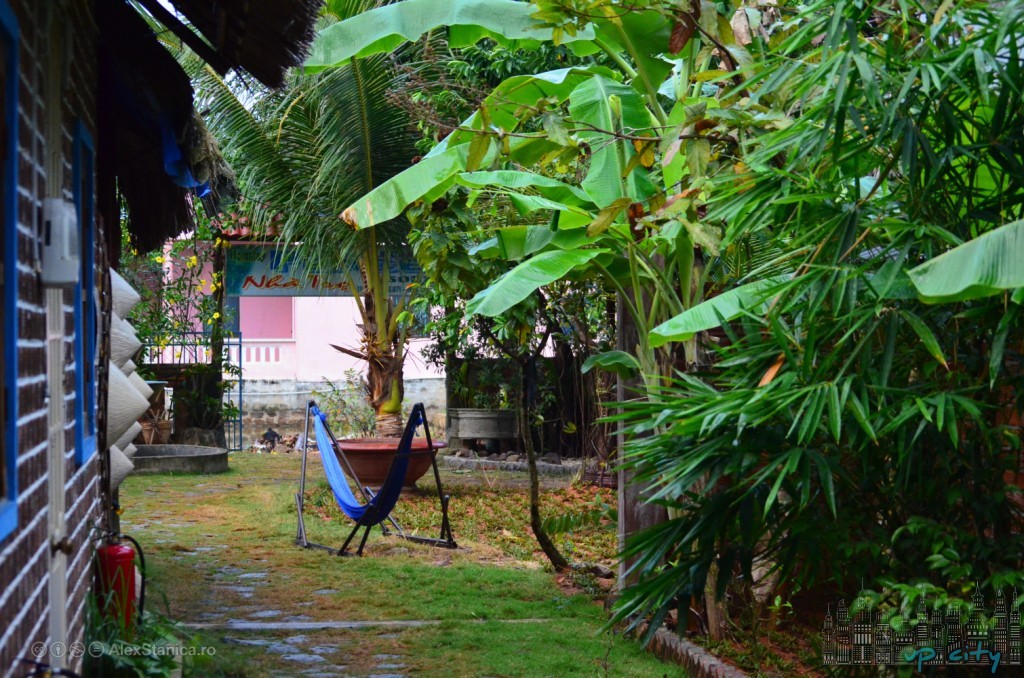 The island is covered in bright red dirt and is the home of a distinct species of dogs.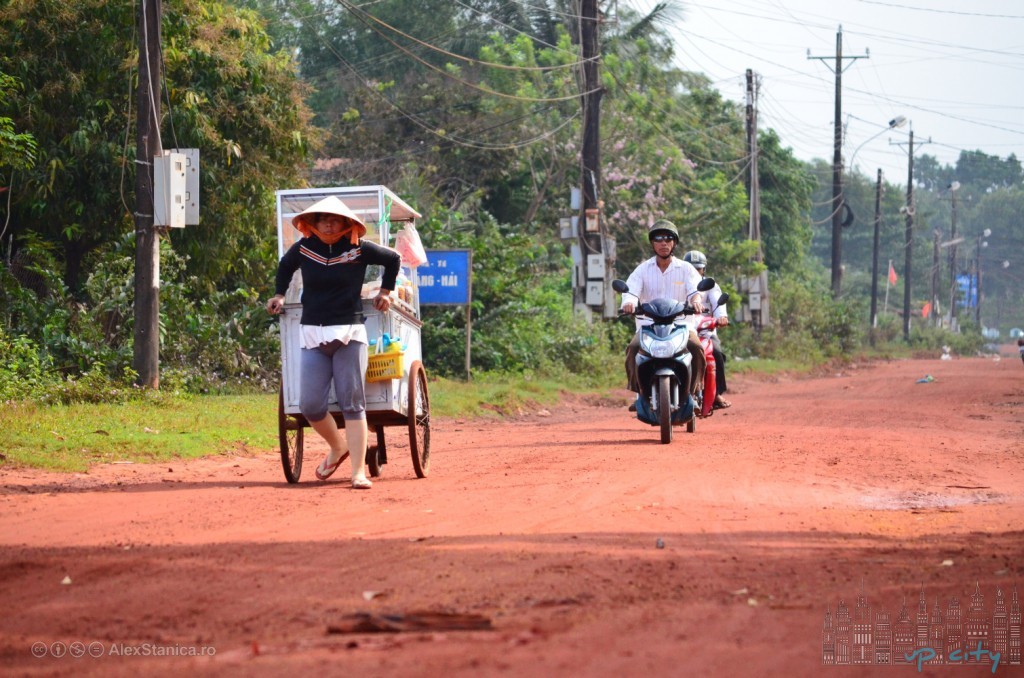 We took our bikes around the island and visited hidden waterfalls, deserted beaches, pepper plantations and pearl farms. The Vietnamese cemeteries are a special sight.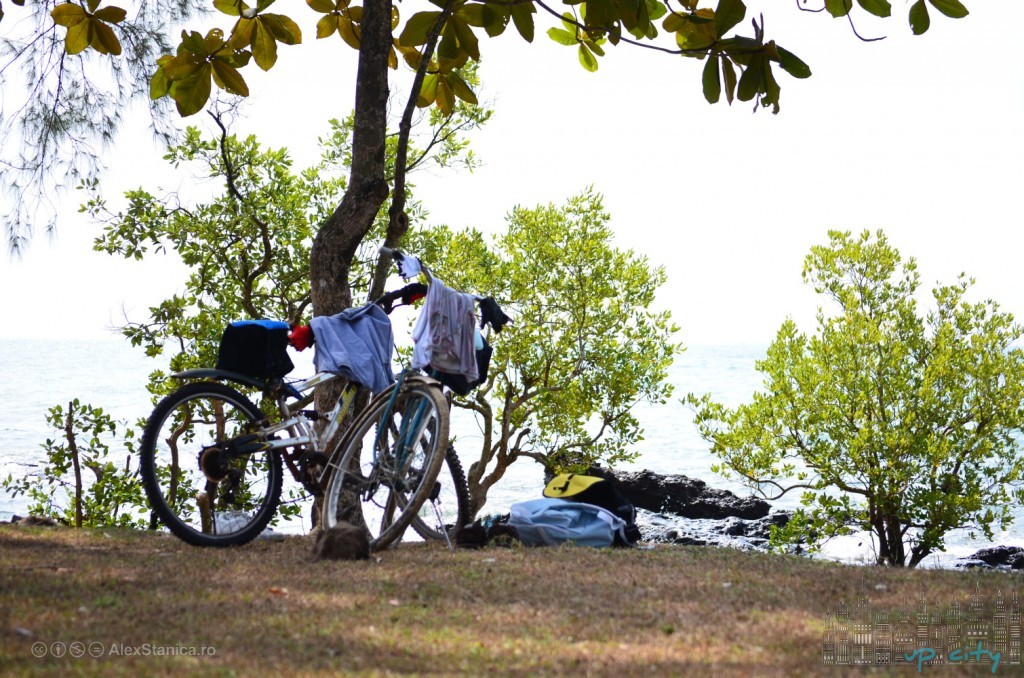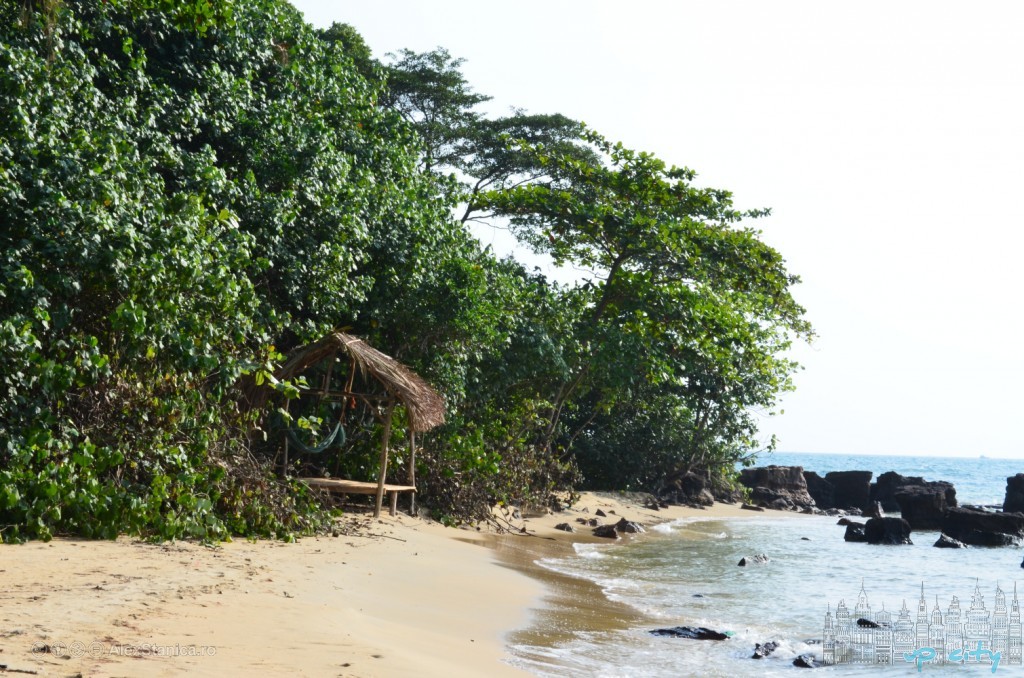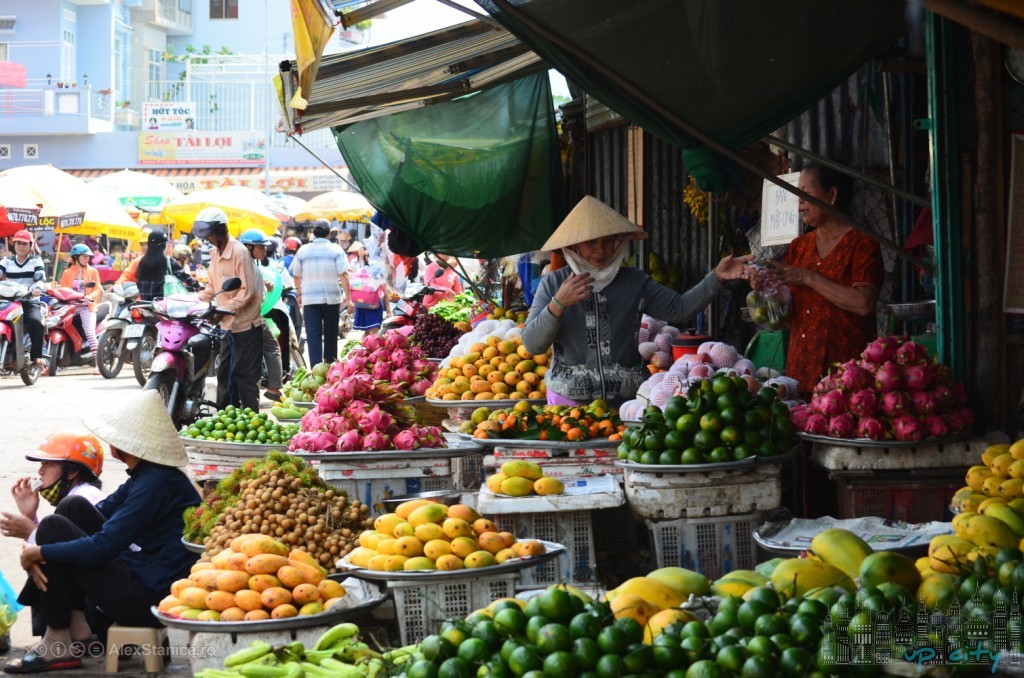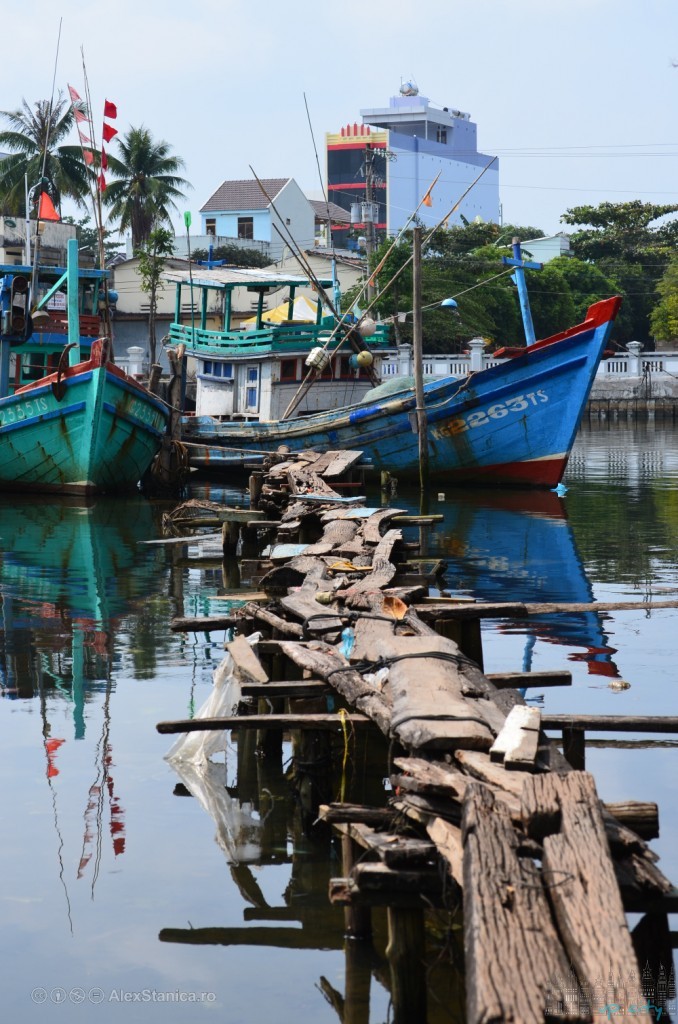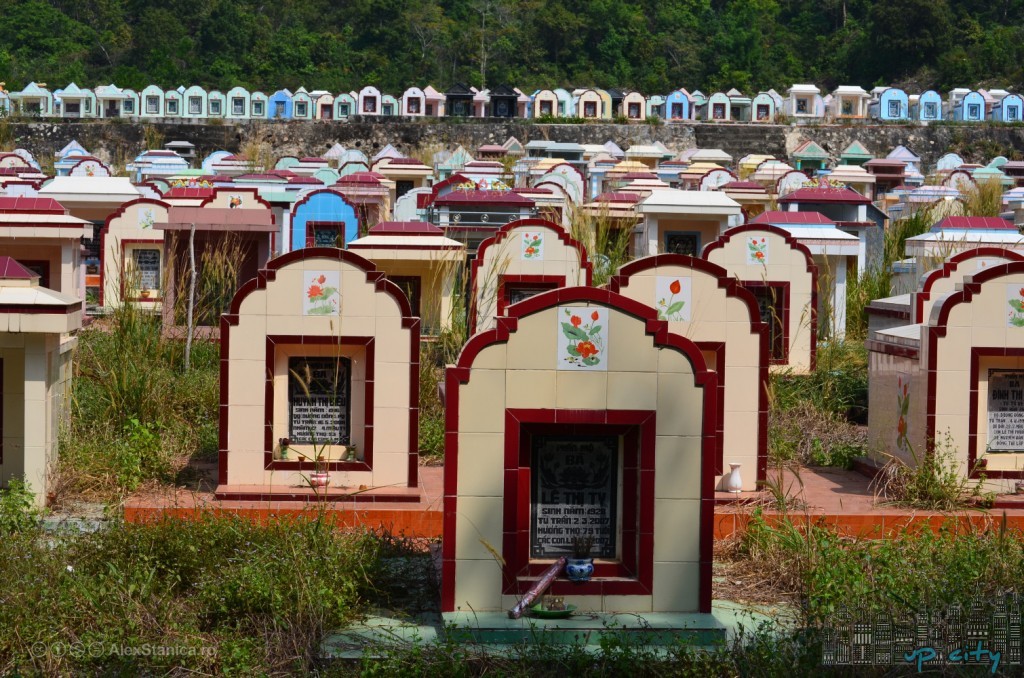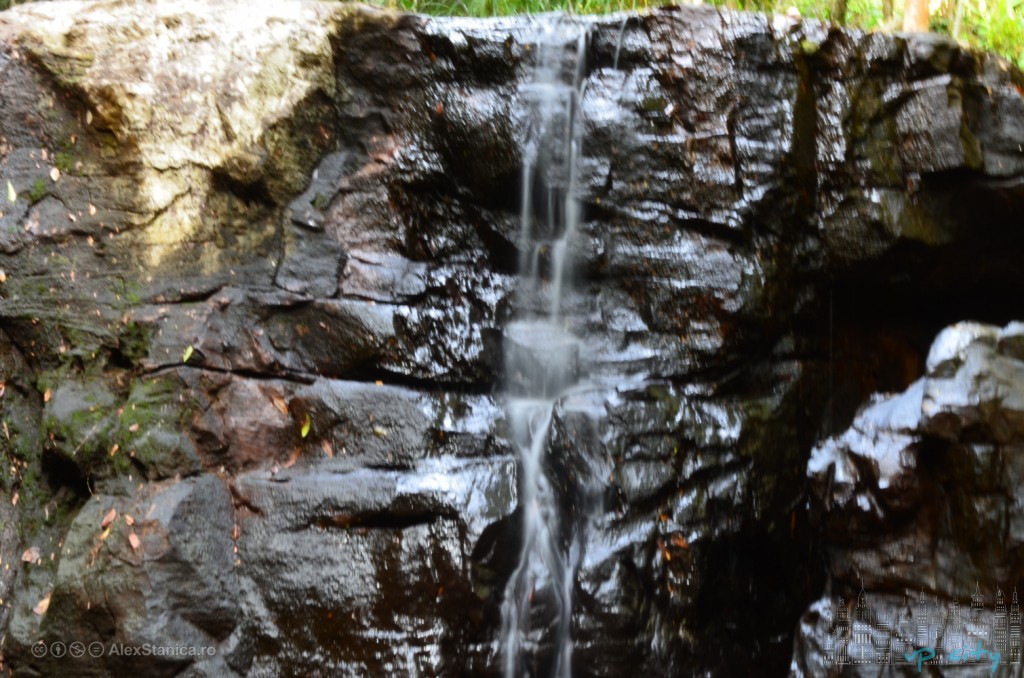 From the island we came back on land to Can Tho, deep in the Mekong Delta. Be very careful in this city! Half of the hotels are massage places and it took us forever to find a decent place to crash.
Once we got into the room, we heard a knock on the door. The sales guy for boat tours had spotted us and he did not leave till we booked a boat tour. Don't imagine anything sinister, the guy was nice and just trying to make a sale before the competition got to us and we could not be happier with our choice to accept his offer (after extensive haggling, of course).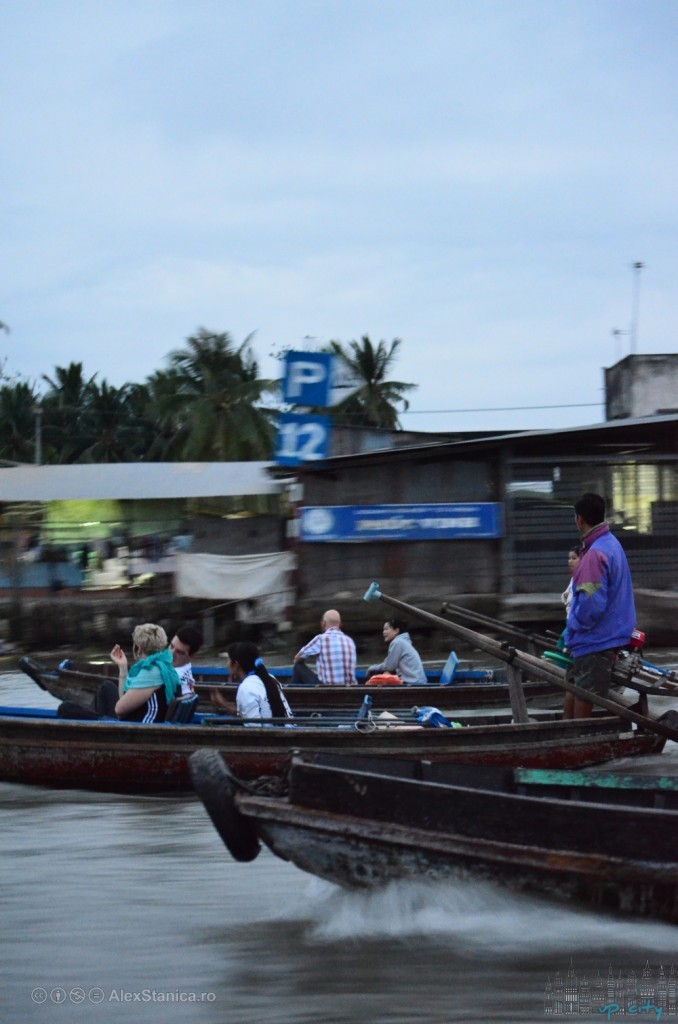 The boat man picked us up at 5 AM from the hotel and the ride lasted several hours, included a lunch break and visiting various markets, plantations and traditional work-shops around the Delta.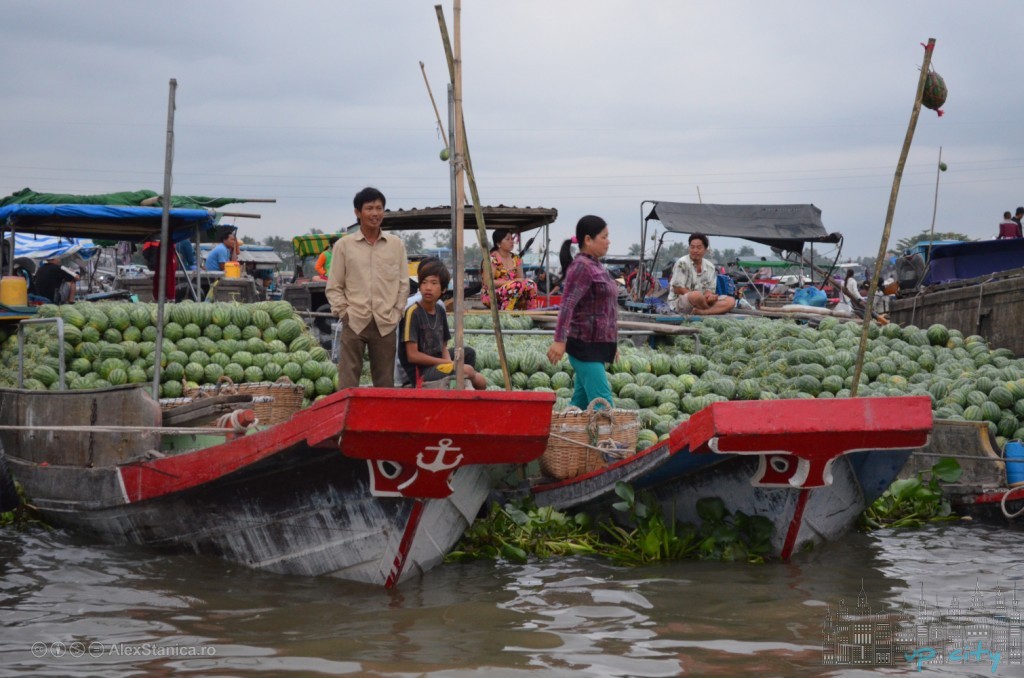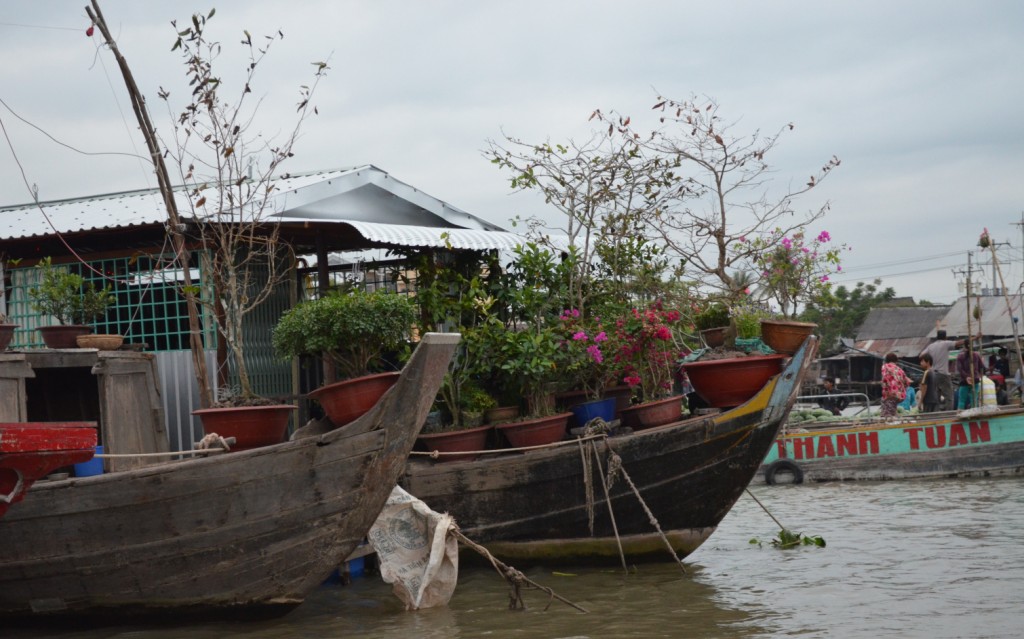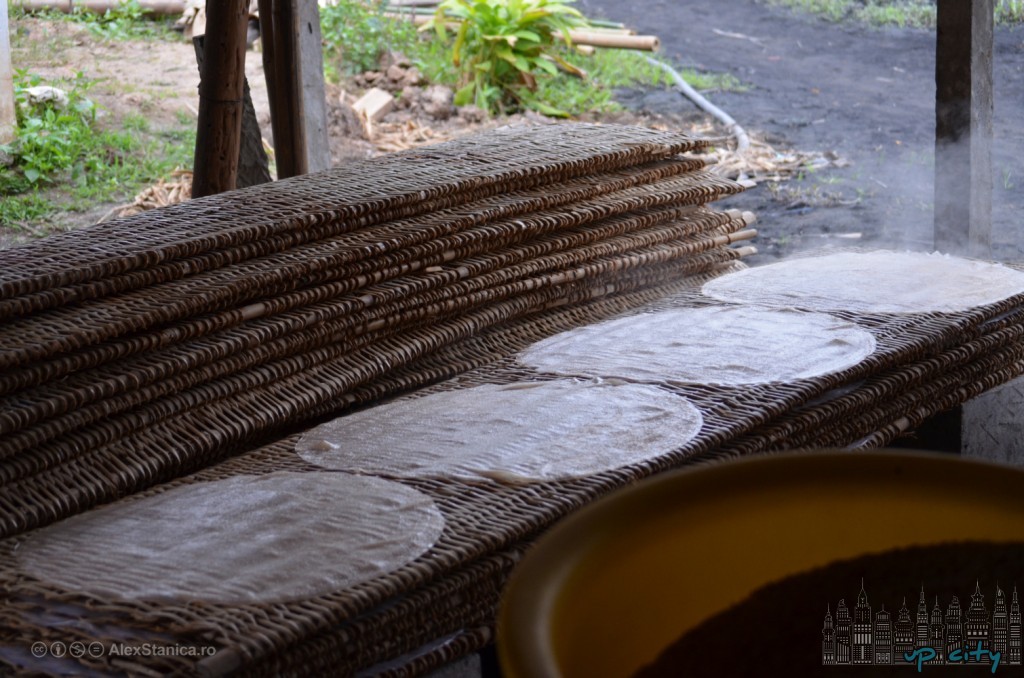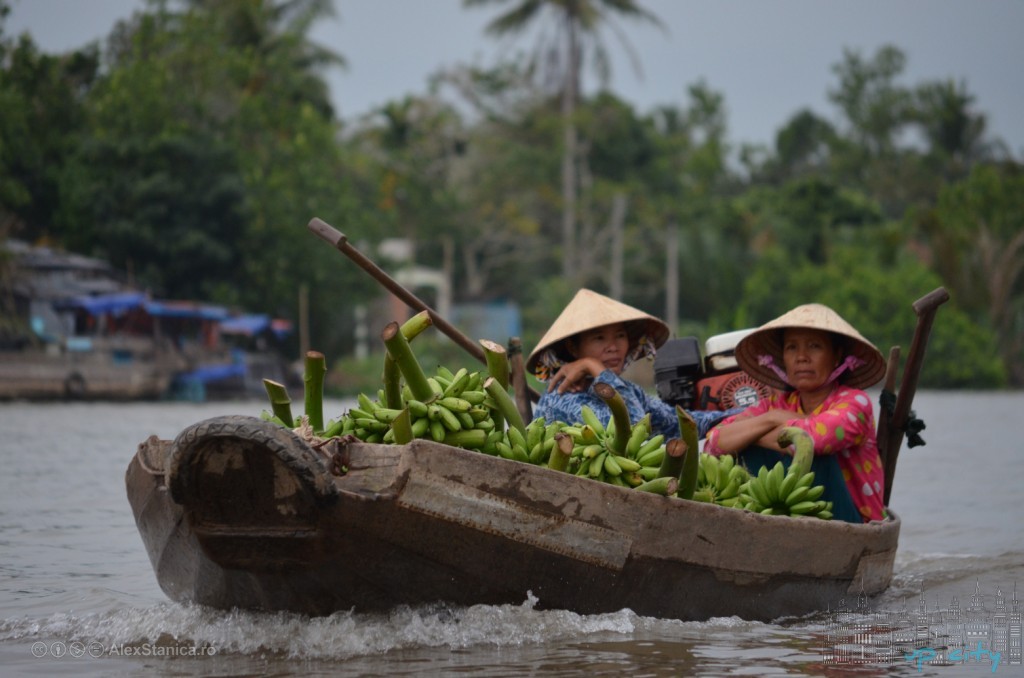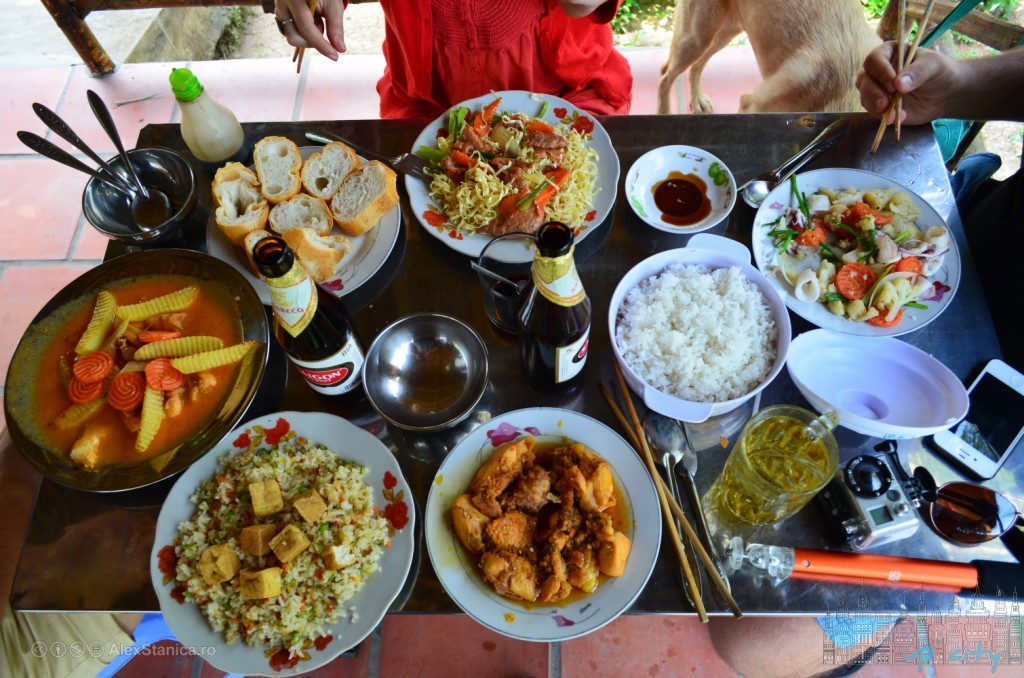 From Can Tho we left for Da Lat with a nightbus and because we weren't paying attention, a wallet was stolen. The police was absolutely no help so just be mindful of where you leave you things when going to sleep.
The nightbuses are a great way to get around since you can try to sleep through the journey and you can skip a night in the hotel. Instead of chairs, the buses have beds, similar to sunbeds but surprisingly comfortable. Try not to get the top bunk as you will feel the wrath of the Air Con on full blast.
Vietnamese bus drivers are OBSESSED with etno music and you need to accept it's constant presence. If you can, have earplugs with you and a roll of duct tape might help you close off any holes in the Air Con system.
Da Lat is where the french colonial influence was the strongest, both in architecture as well as cuisine. The lift can take you to the Damn and Monastery where you will be greeted with gorgeous views.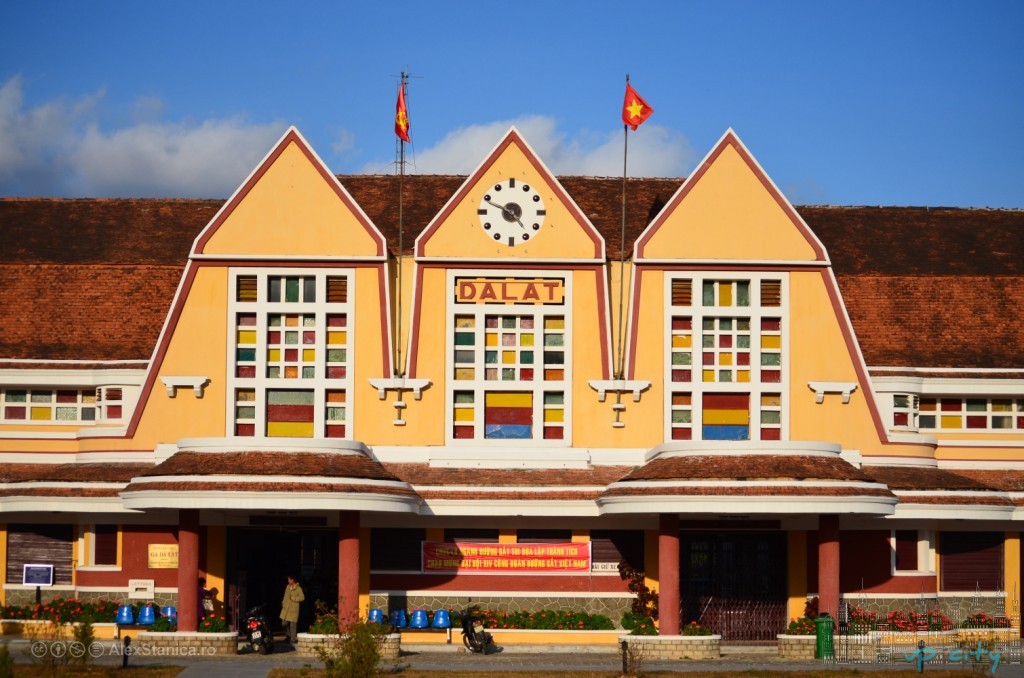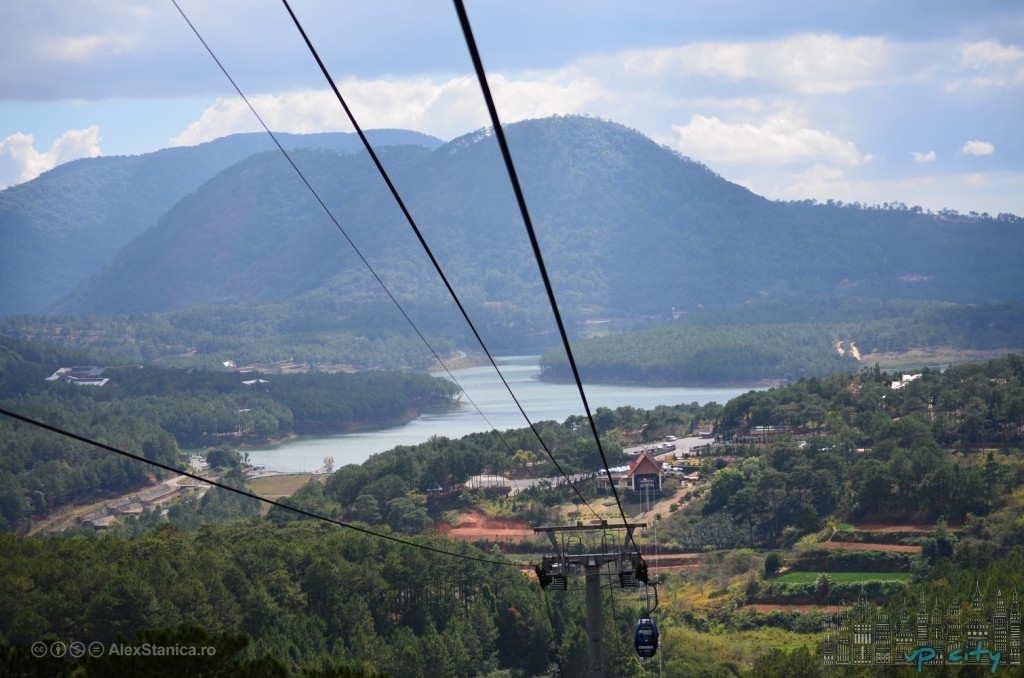 The monastery is highly ornate and the gardens and water basins are a joy to explore.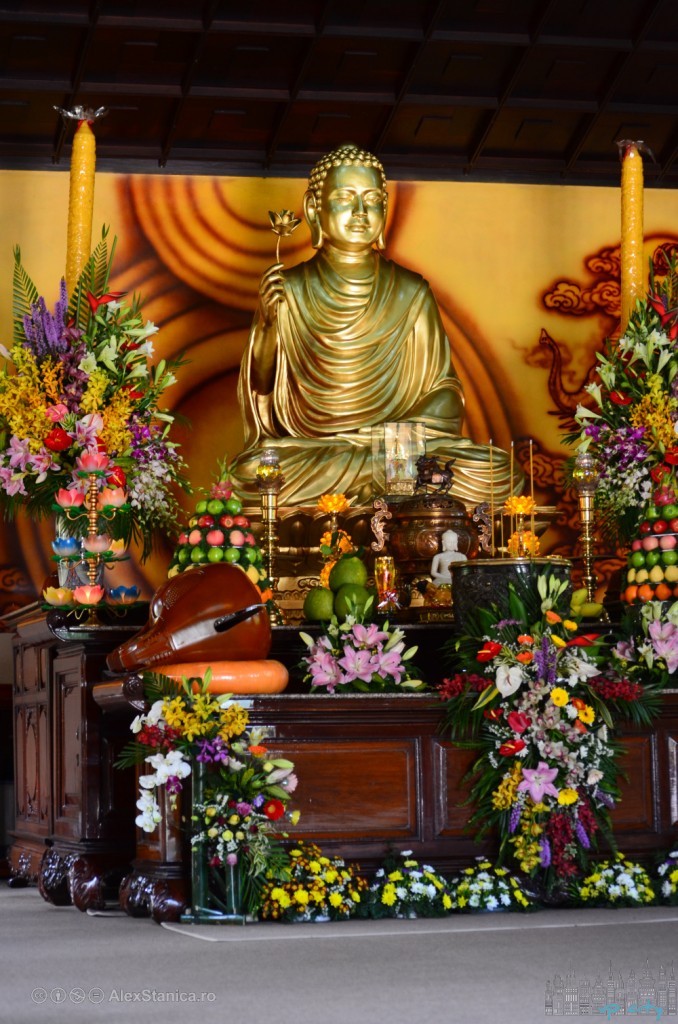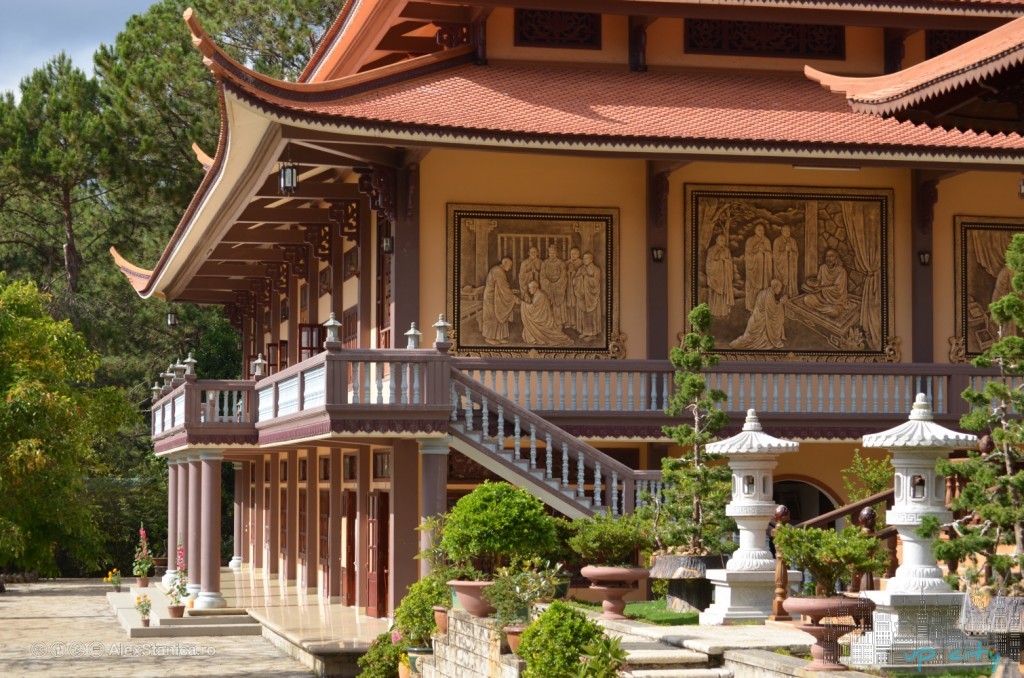 Da Lat is also the home of the Hang Nga Crazy House.
Lonely Planet
describes it perfectly:
"A free-wheeling architectural exploration of surrealism, Hang Nga Crazy House is a joyously designed, outrageously artistic private home. Imagine sculptured rooms connected by super-slim bridges rising out of a tangle of greenery, an excess of cascading lava-flow-like shapes, wild colours, spiderweb windows and an almost organic quality to it all, with the swooping hand rails resembling jungle vines. Think Gaudi meeting Tolkien and dropping acid together."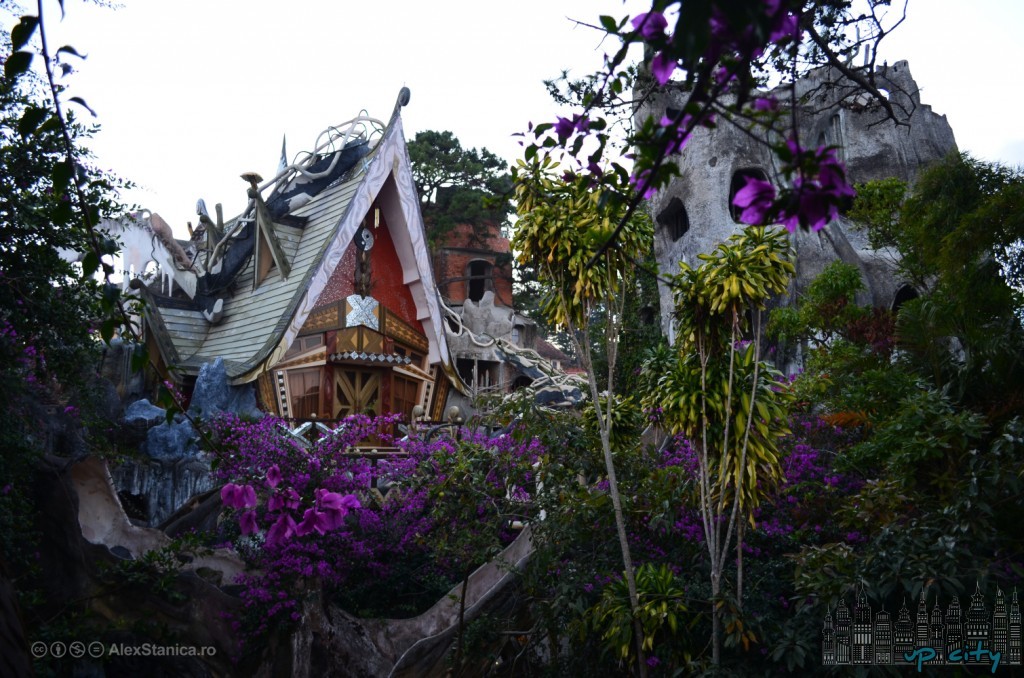 From Da Lat to Phan Rang the road was bad and the minibuses looked worn down. From our downtown accommodation we took bikes to an old temple complex, reminiscent of the Cham influence in the area. The beach was very wide here but other than that we did not have much to do.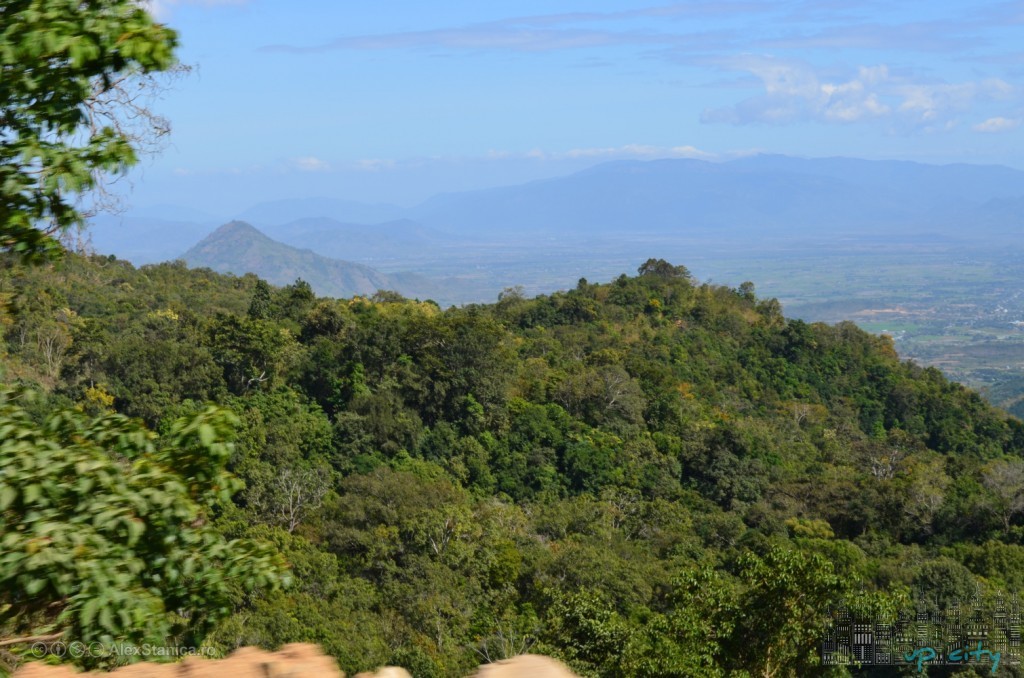 While visiting the temples at dusk, we stumbled into a photo shoot of a young couple in traditional garment who were nice enough to let us participate.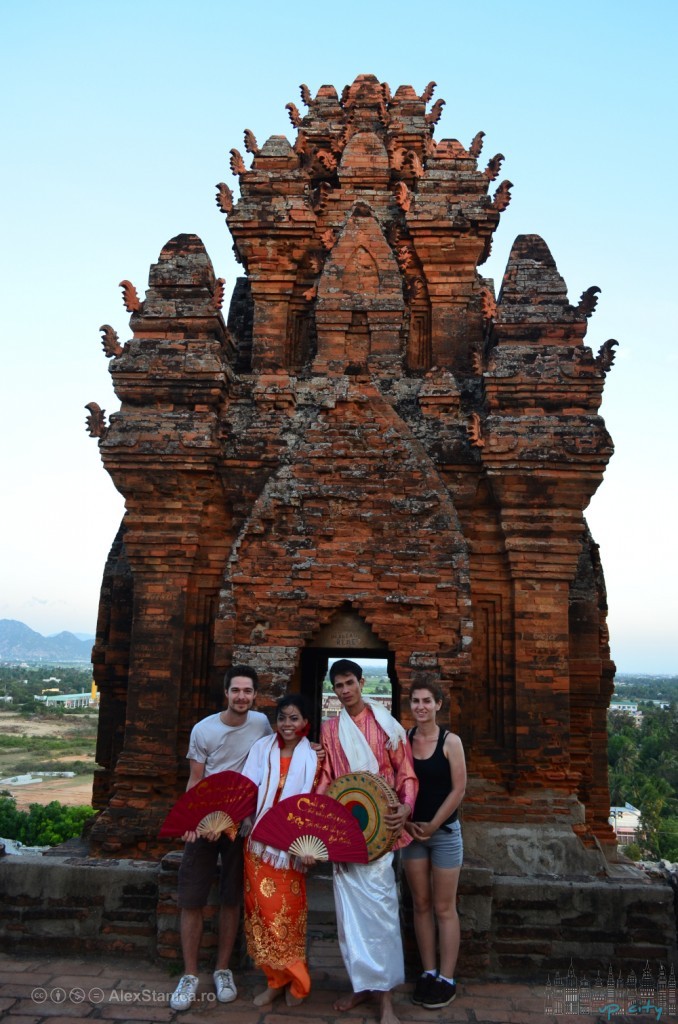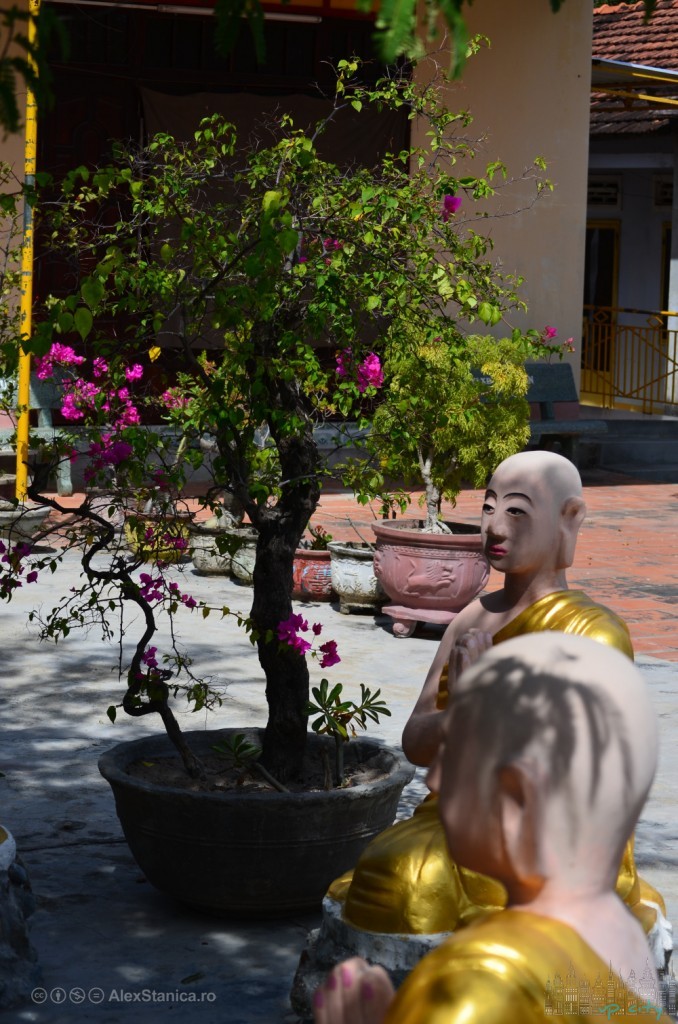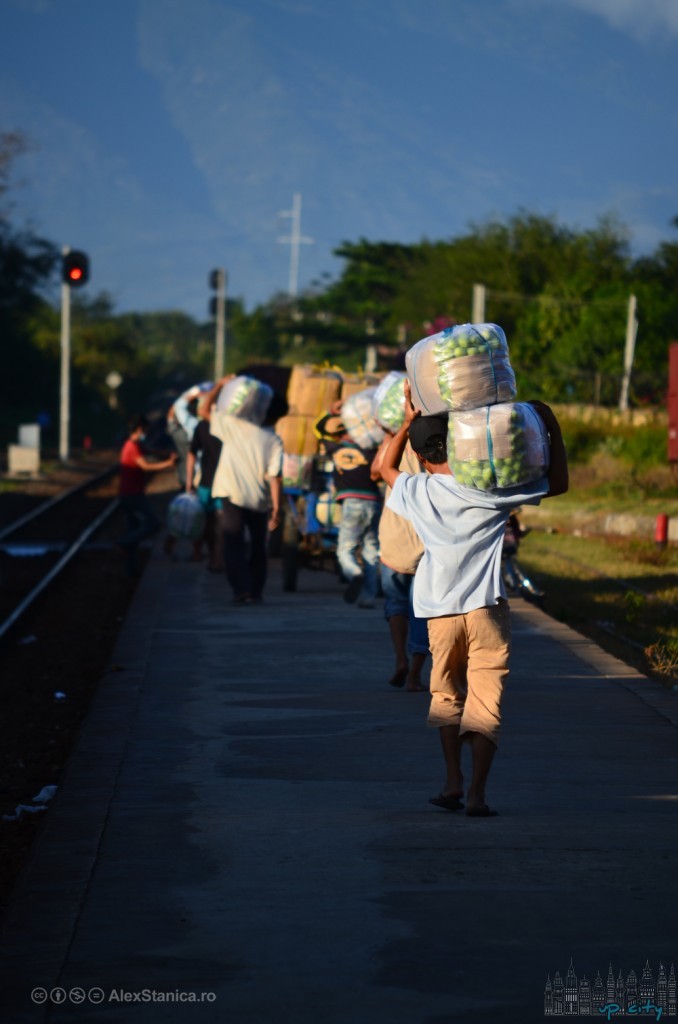 From there we took an early train to Nha Trang, a famous beach destination, very popular among Russian tourists. The waterfront is modern and upscale but as soon as you go one block into the city, the rats and street vendors take over.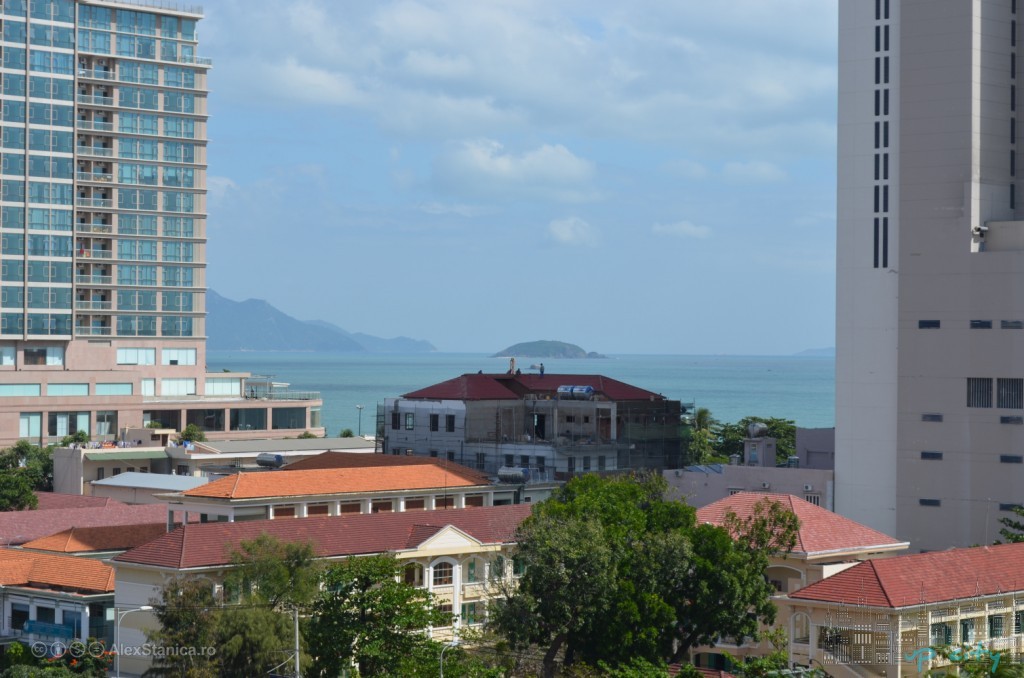 In this city we first heard of 
Lady Po Nagar
.  The temple and statue dedicated to her were filled with fruits offered as sacrilege.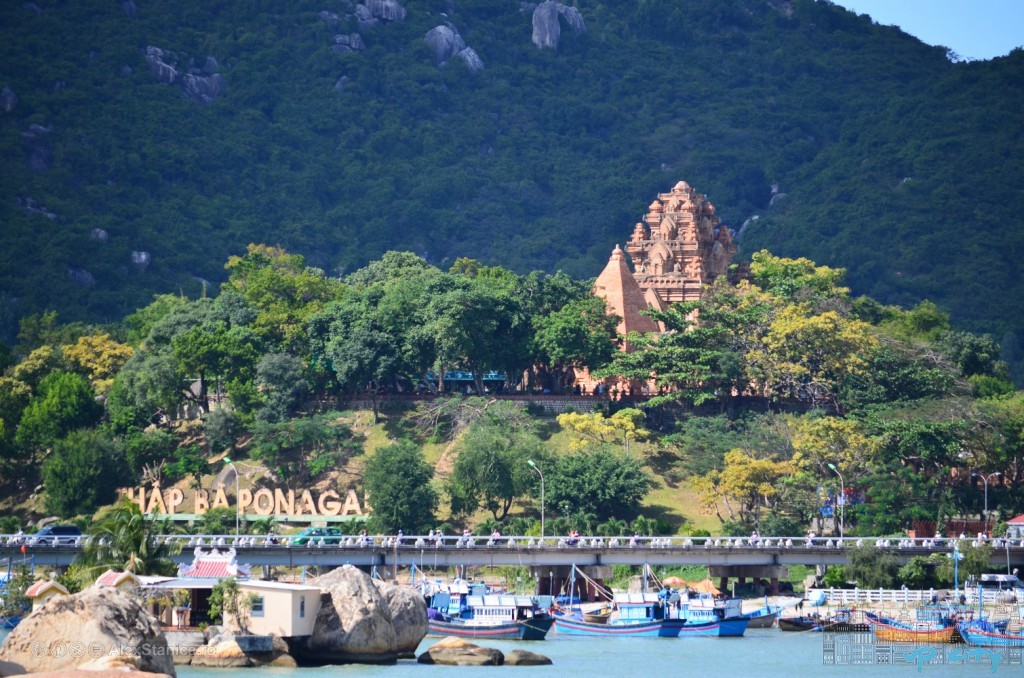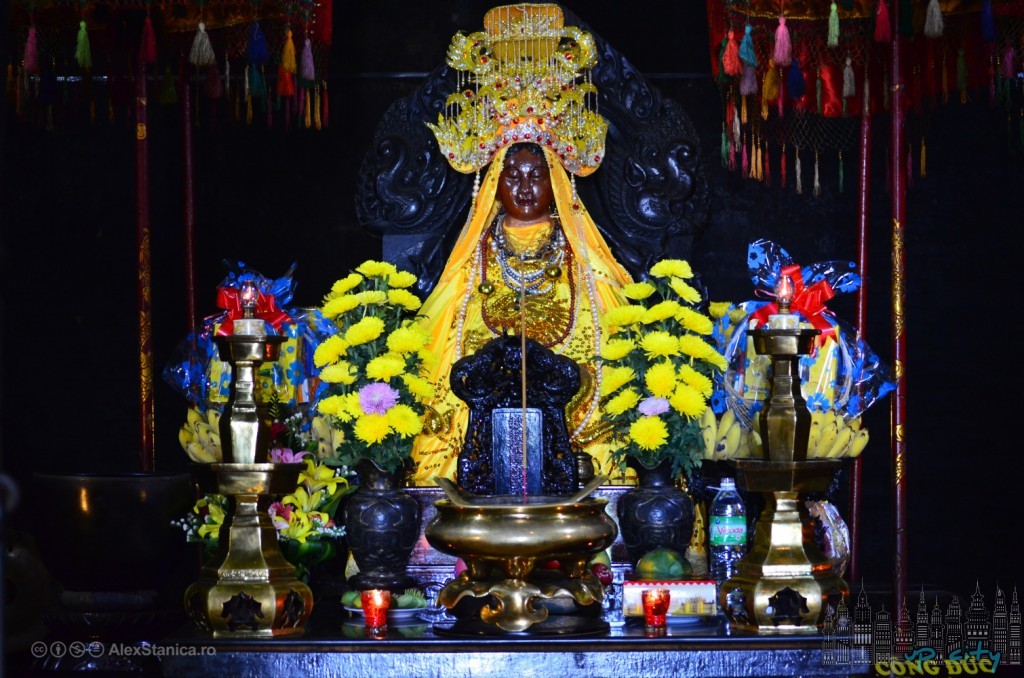 The temple complex also hosts several Linga and Yoni representations.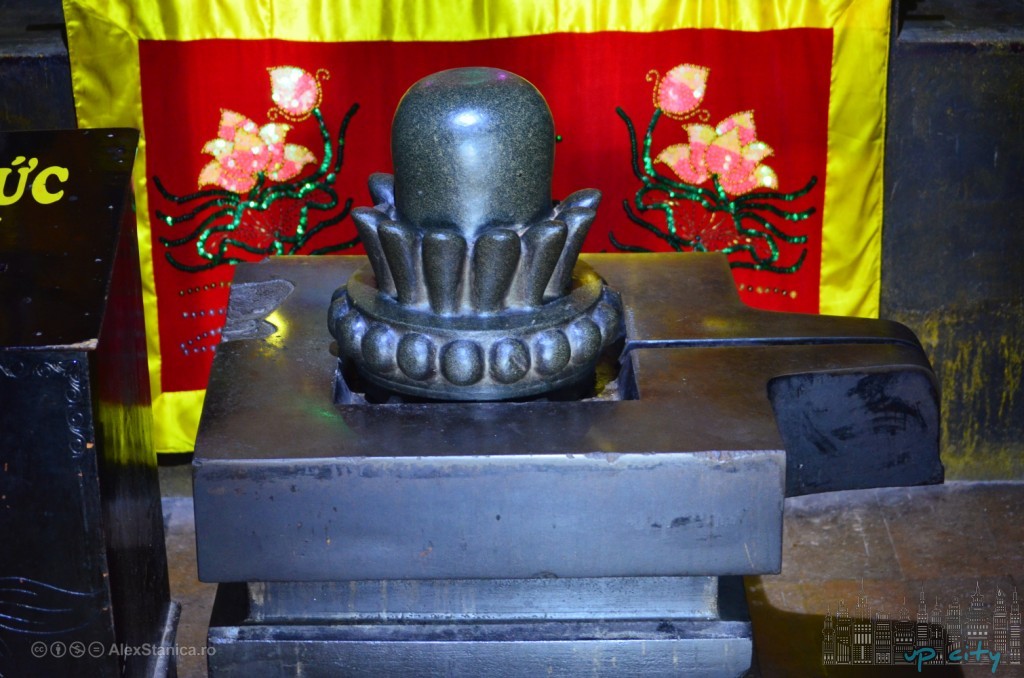 If you haven't guessed it already, they symbolise male and female anatomy. In my opinion, you couldn't find a more delicate way to honor life and it's origin. The source is tangled in sanskrit and after I first learned about them, I started spotting the symbols everywhere.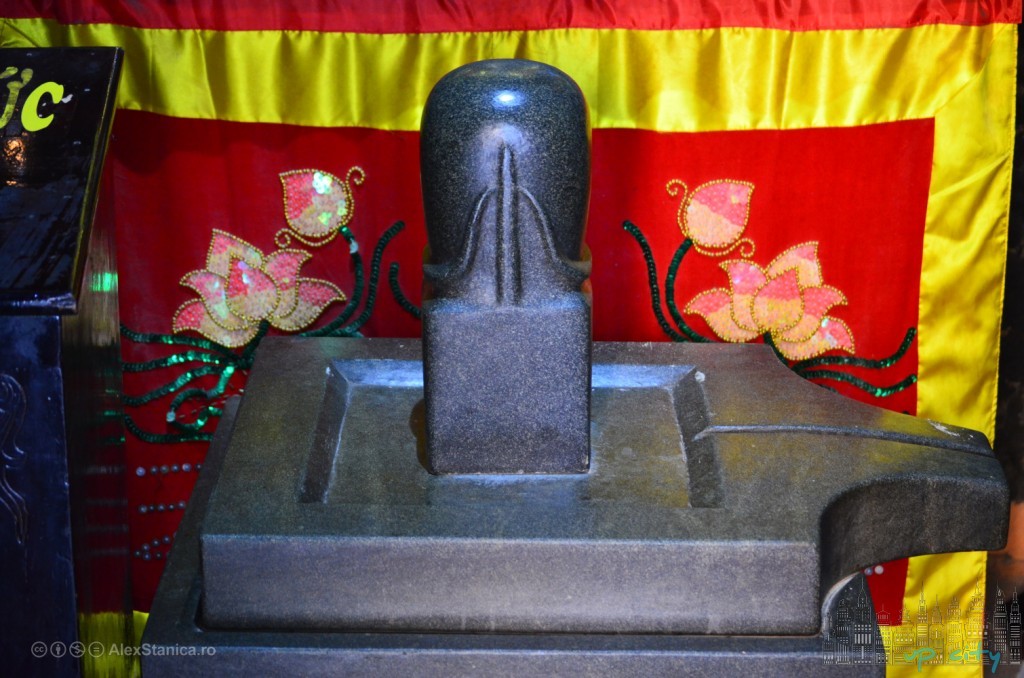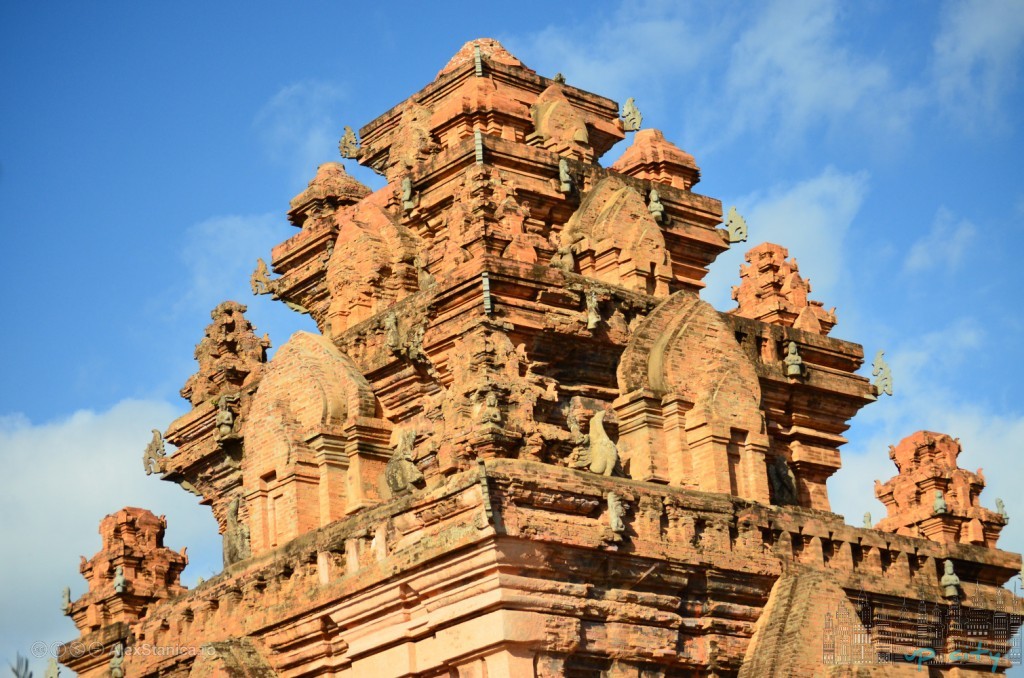 The city also hosts the two biggest Buddha statues I've ever seen.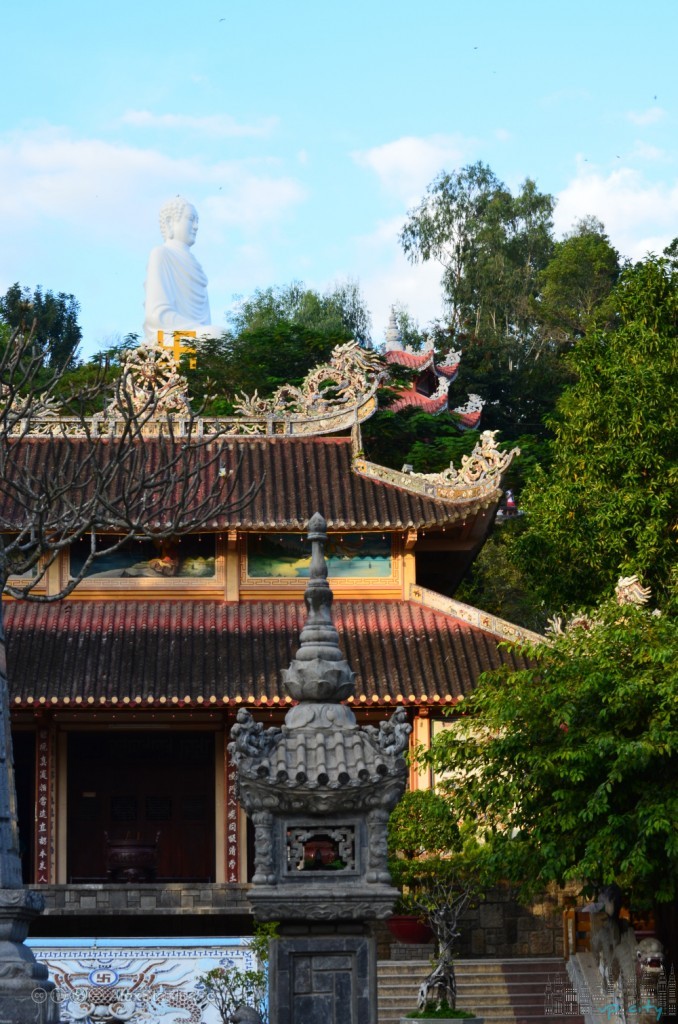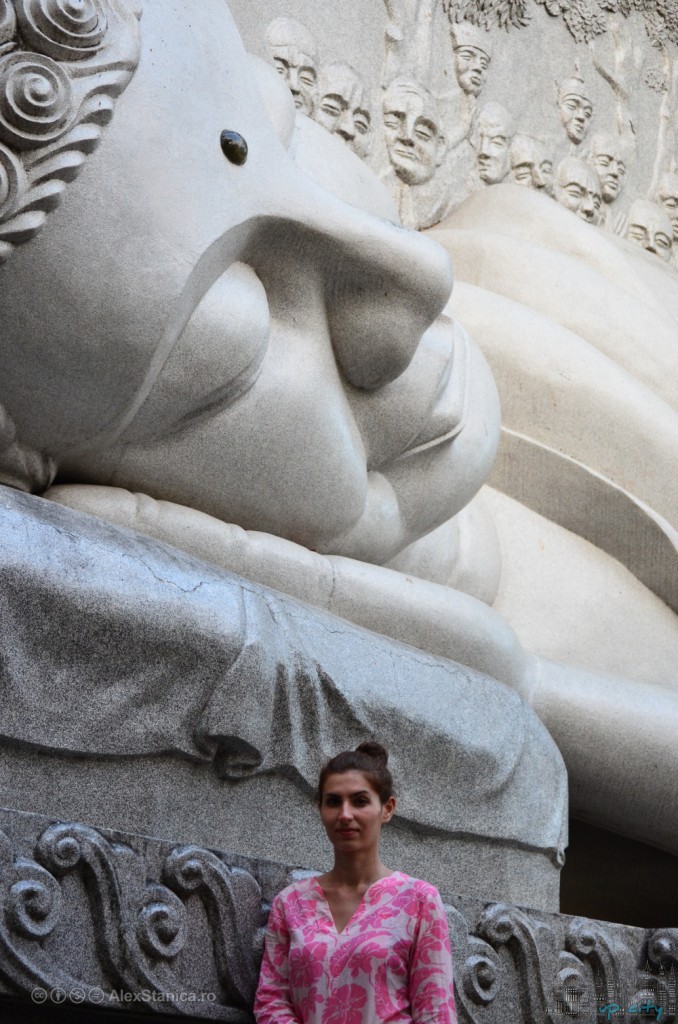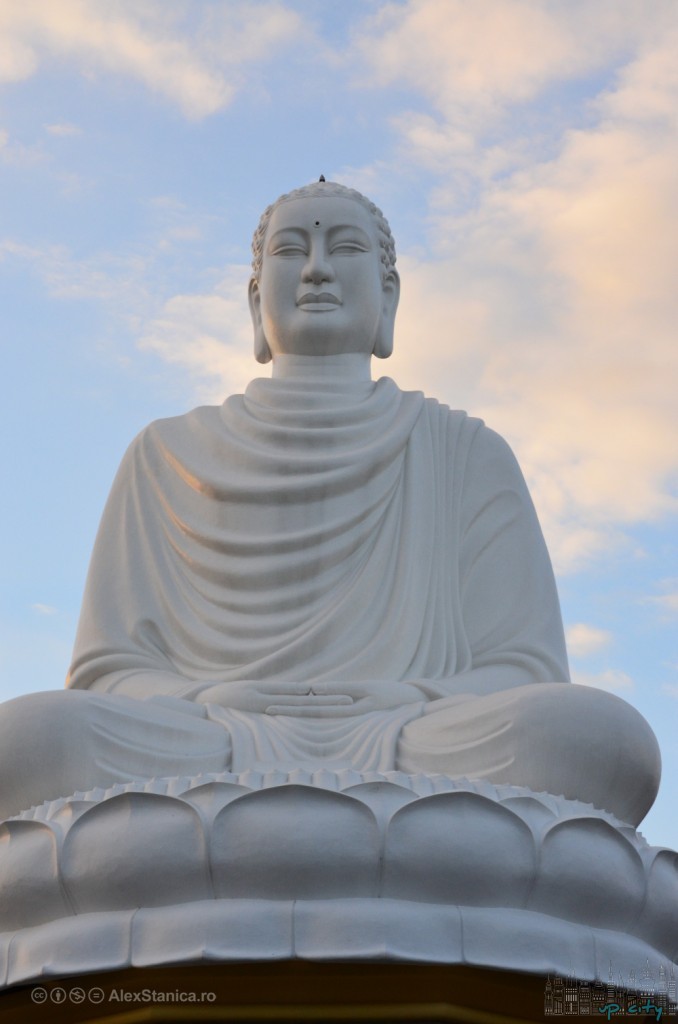 From Nha Trang the road is long towards Hoi An but it's worth it. This Unesco Heritage site is absolutely magical and each street corner recreates the medieval looks of the city.
At night, all downtown channels are filled with floating lights.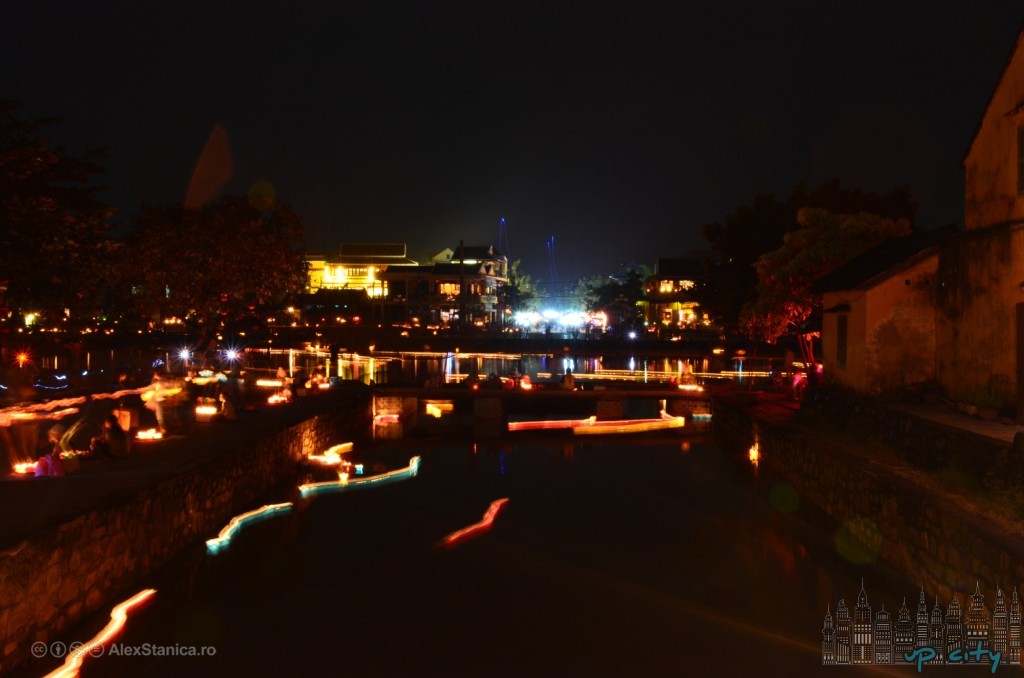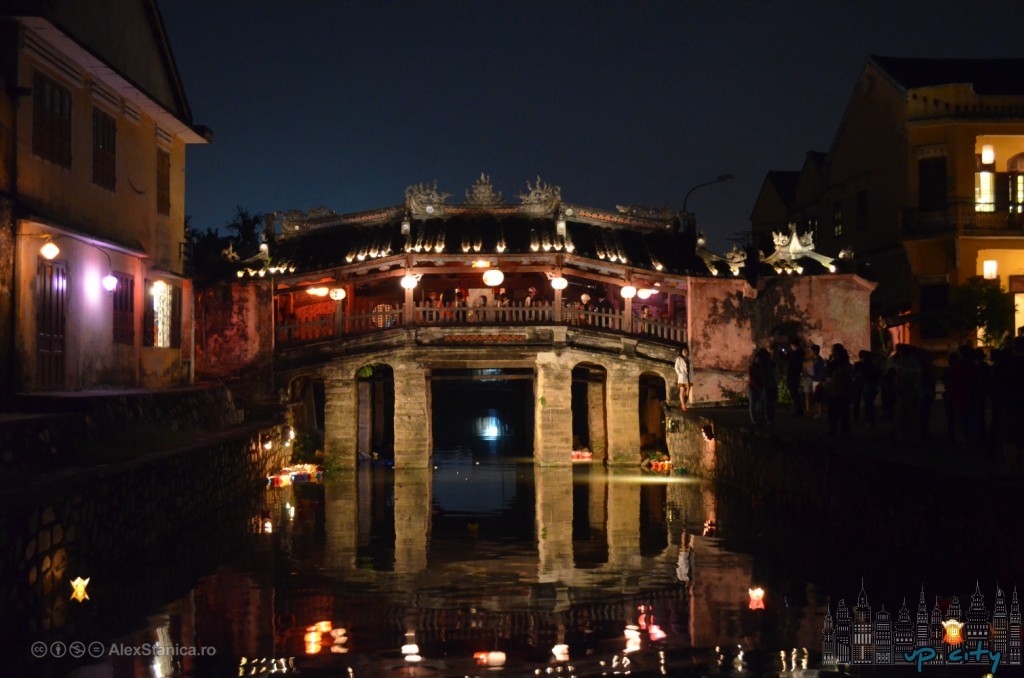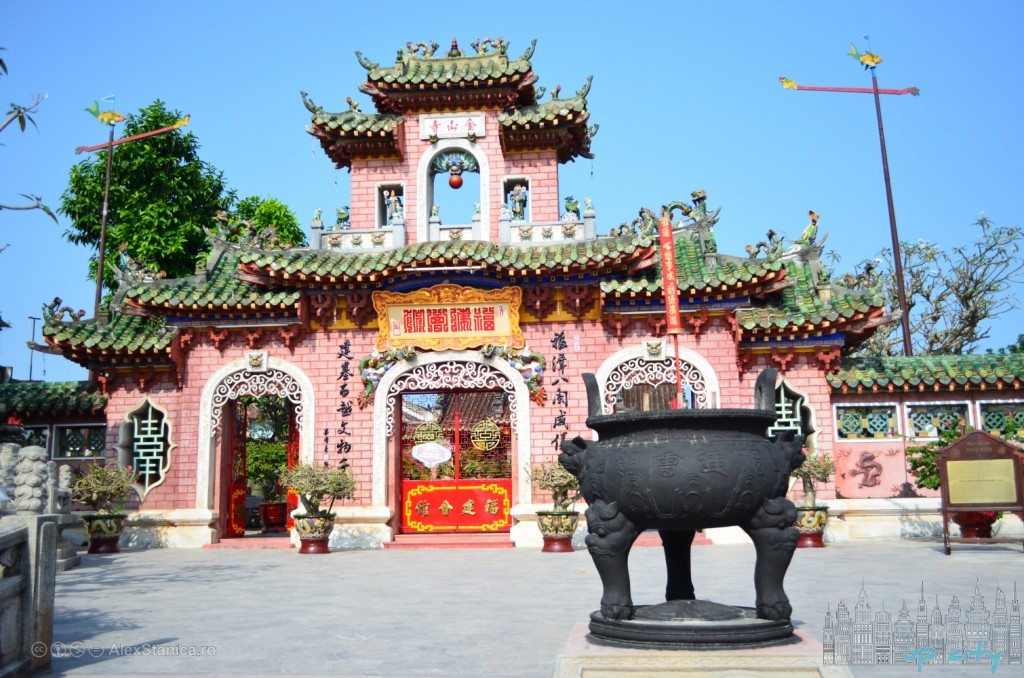 We then took the train to Hue, the gateway towards Laos.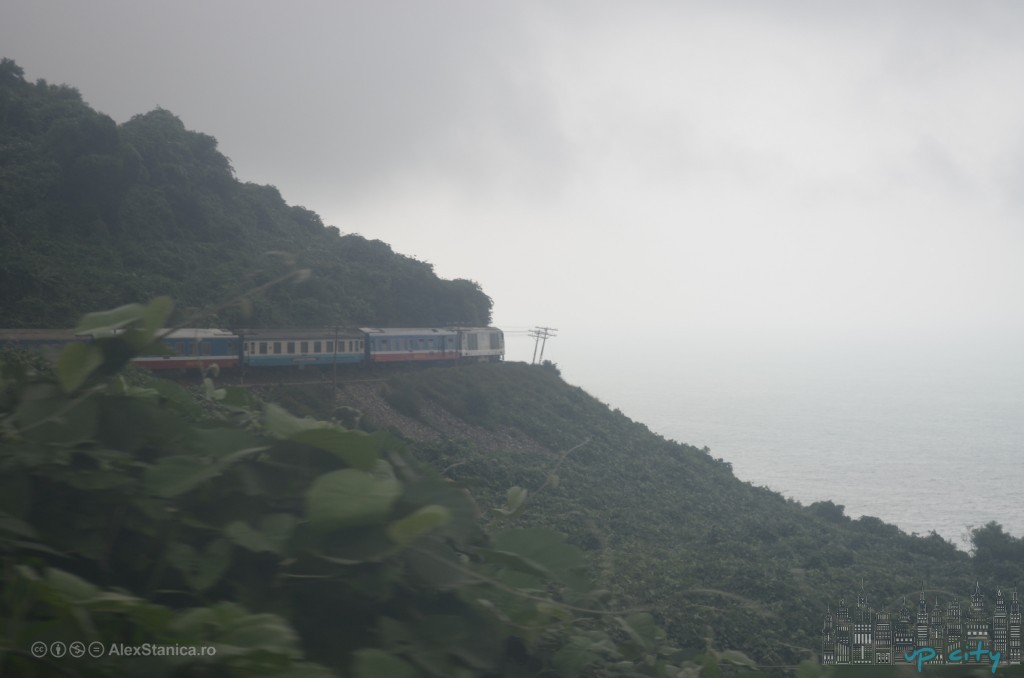 Hue was surprisingly different from the more southern towns and we could feel the weather change, as we got closer to the mountain.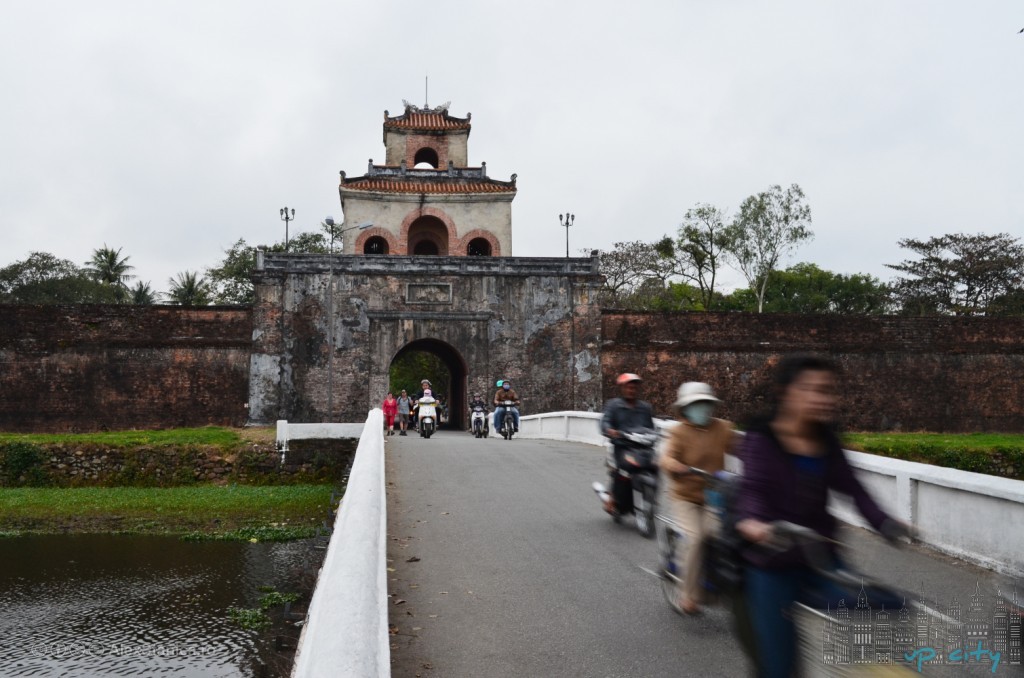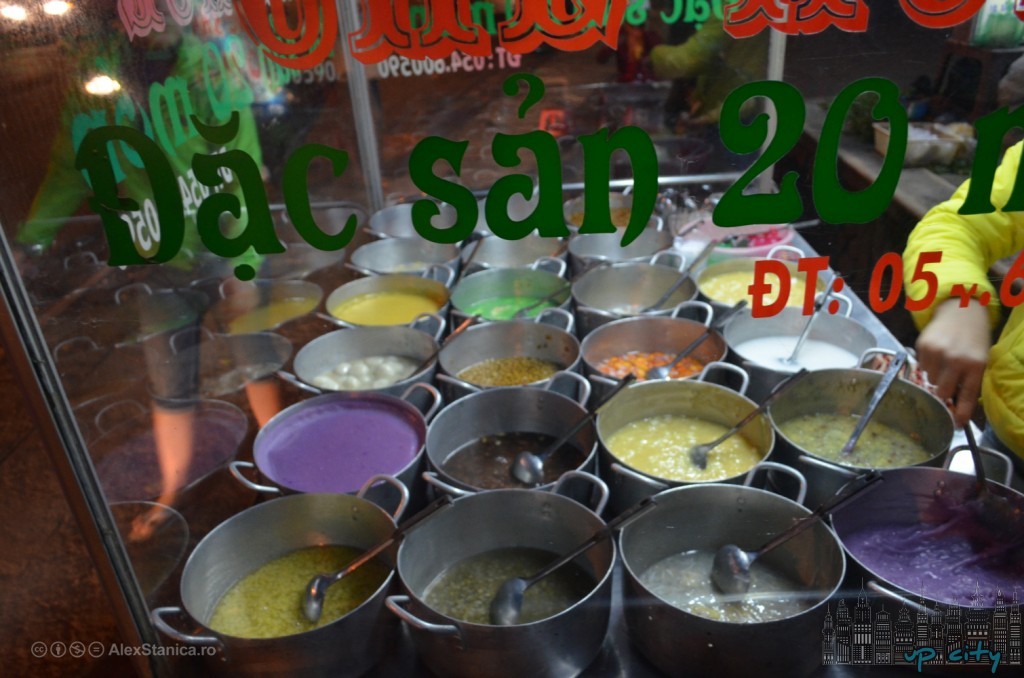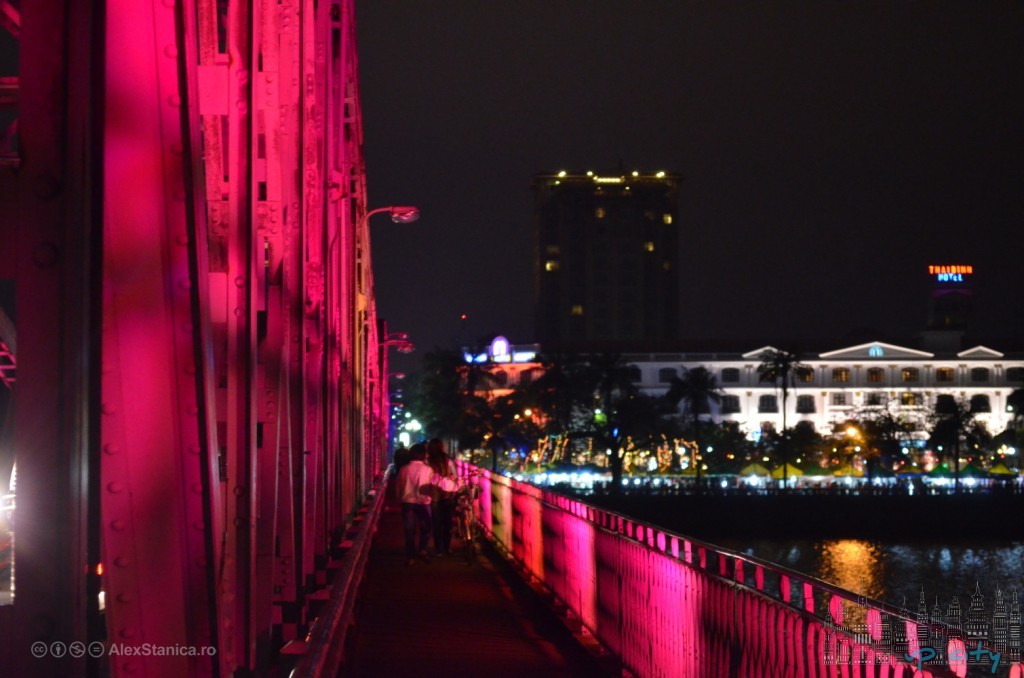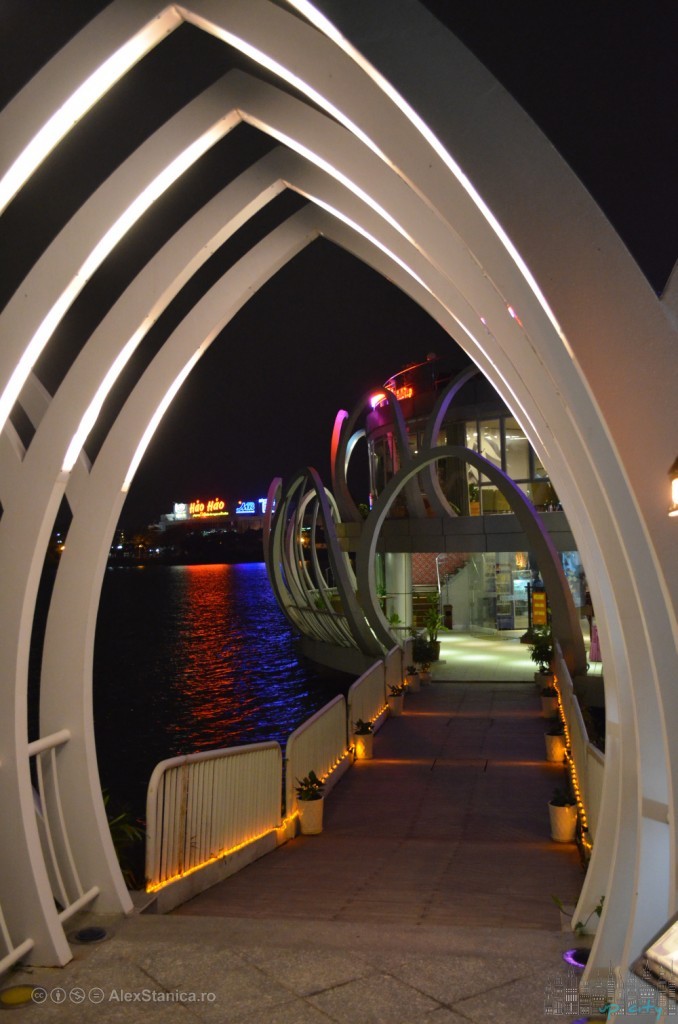 Our journey took us through Laos and Cambodia and have a dedicated post (soon!). We ended our South East Asia adventure back in Saigon, exactly on the Lunar Calendar New Year.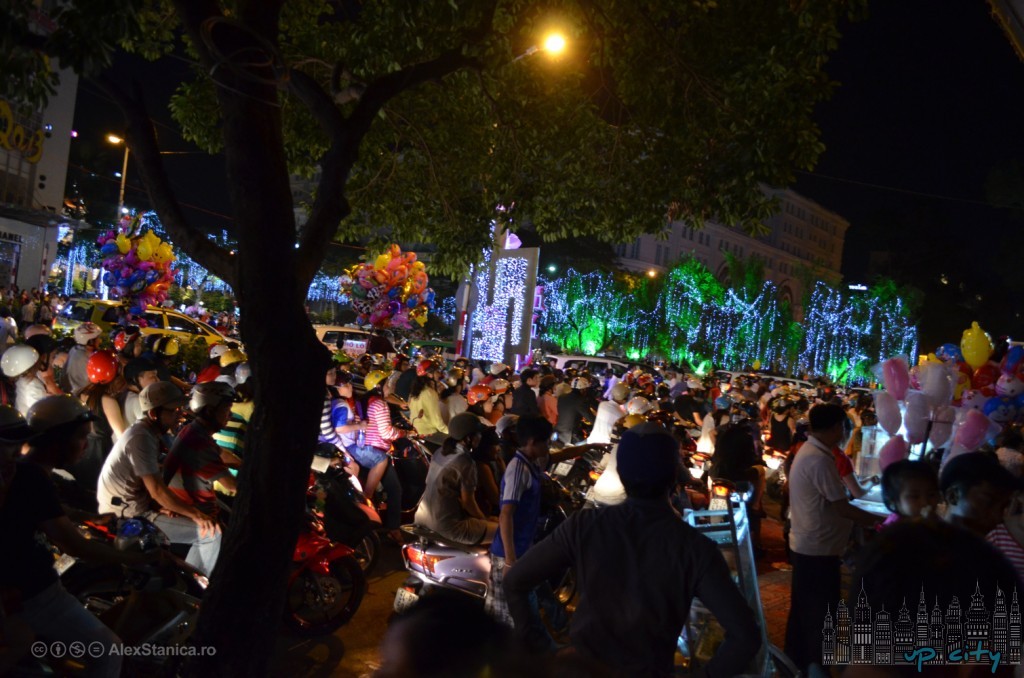 That was a breath-taking night: all the streets are lined with flowers and street food and a million moped helmets disperse the colours of the streets. Like everything sacred in Vietnam, the show took place on the water.