Scared shitless, money hidden in my socks, camera tucked away in a plastic bag. Welcome to Rio, watch your step!
Ok so maybe I exaggerated a bit with the intro. But I am not going for click bait here, I was genuinely scared out of my mind of this city. The reputation of a dangerous place with violent people is an echo I've heard since booking the tickets and all the way to the airport in Rio.
In retrospect, I could have been a little more relaxed but can't help but think that the paranoid precautions we took kept us out of harm's way.
We booked an airbnb near the corner of Copacabana and Ipanema beaches and from the airport there was a direct bus which made it really easy to rapidly ditch the huge backpacks before anyone could spot the fresh tourist goodies we were carrying.
Speaking of transport, the metro has carts that during the week are for women only. While I am sure that has done a lot of good in reducing the amount of harassment during the morning commute, the fact that this was necessary is unsettling.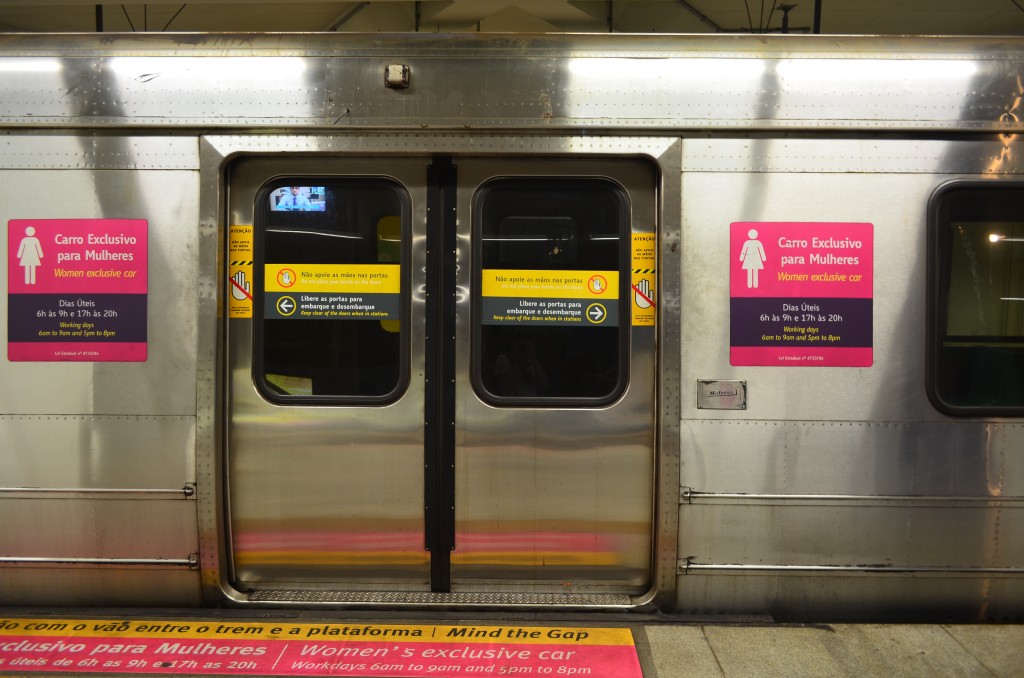 The bus drivers are carefully selected to posses either an unnatural allergy to slow speeds or be suicidal maniacs. The upside? You can get from anywhere to anywhere in just minutes.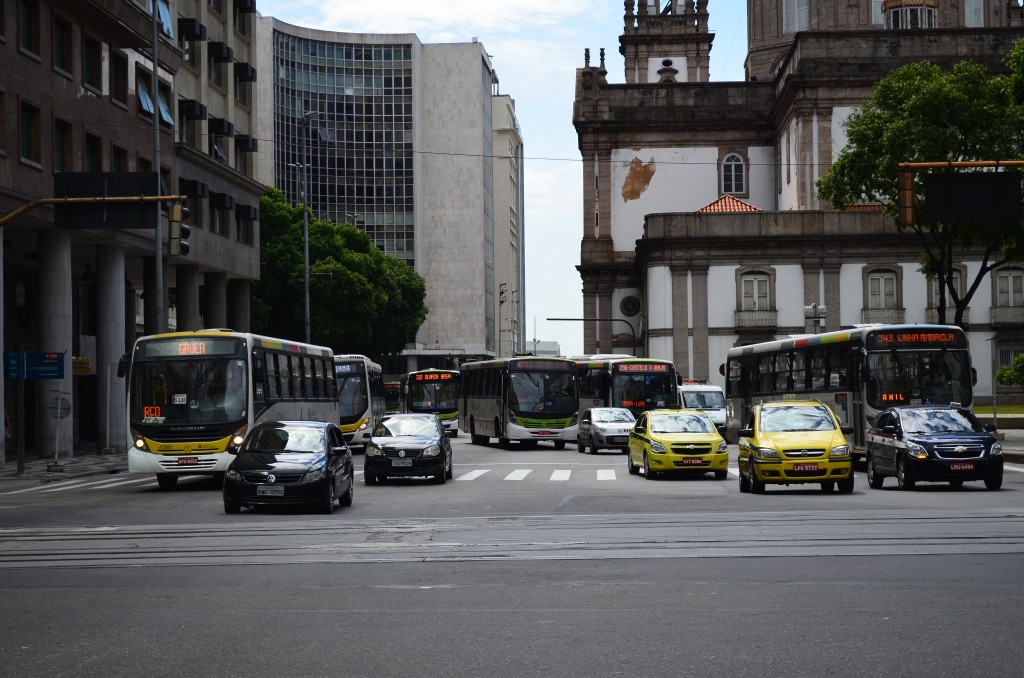 Downtown is a beer soaked hell-hole, with sparse shade and thick presence of junkies screaming at each other.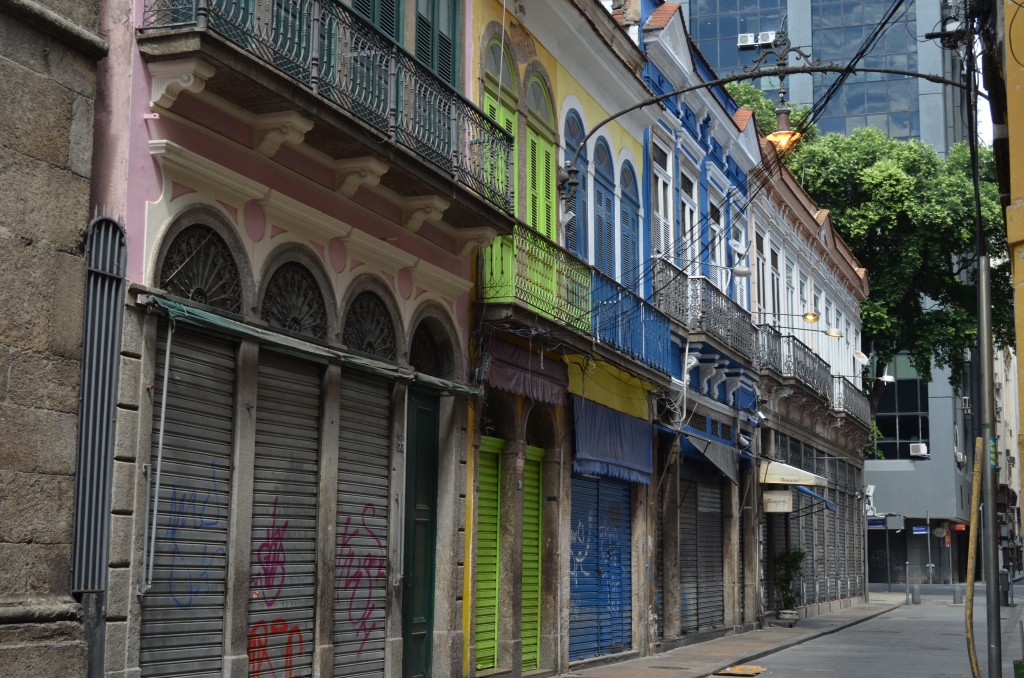 Food is something you should probably start being picky about right about now. Forget about street food and start thinking freshly squeezed fruit juice instead. It's a safer bet if you don't have a local with you to steer you away from the tourist traps. It's harder than you would think to find good places.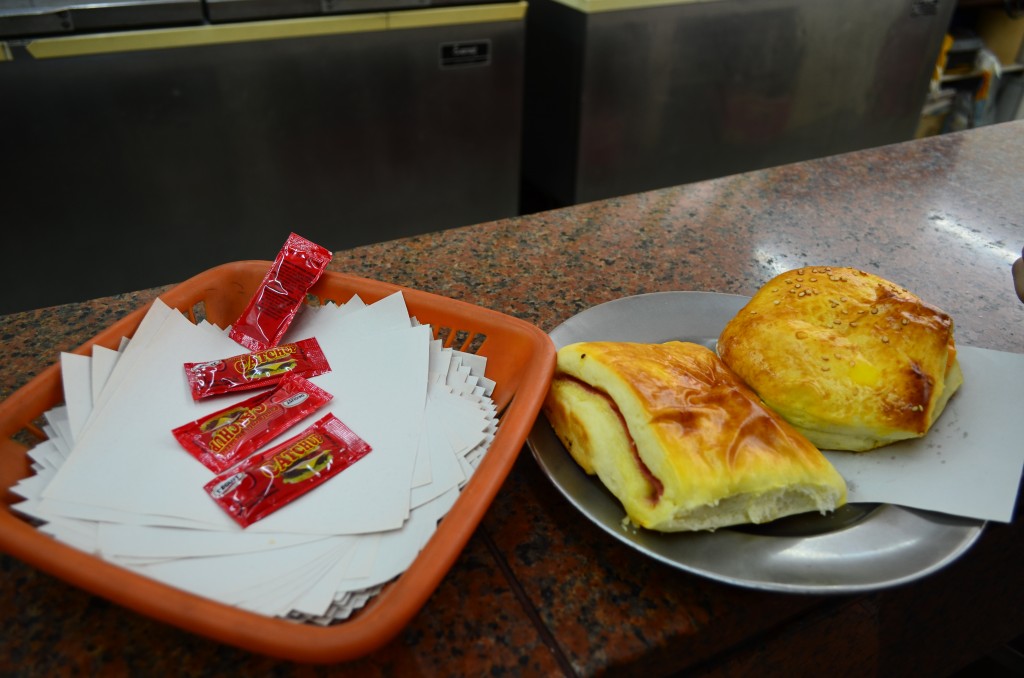 Cinema is something of a cult around here and the famous Cinelandia neighborhood is dotted by tens of movie theatres to support the big screen addiction of the Cariocas.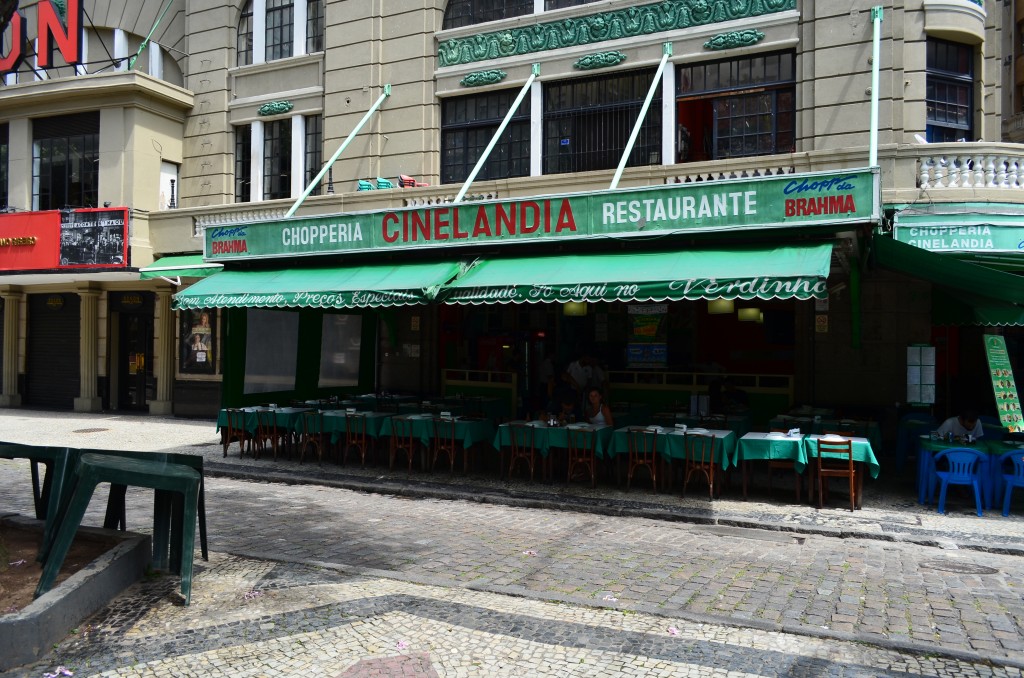 The Favelas are never too far away. As you cross any avenue and peek towards the hills you get a constant reminder that Rio is a divided, diverse, daunting city.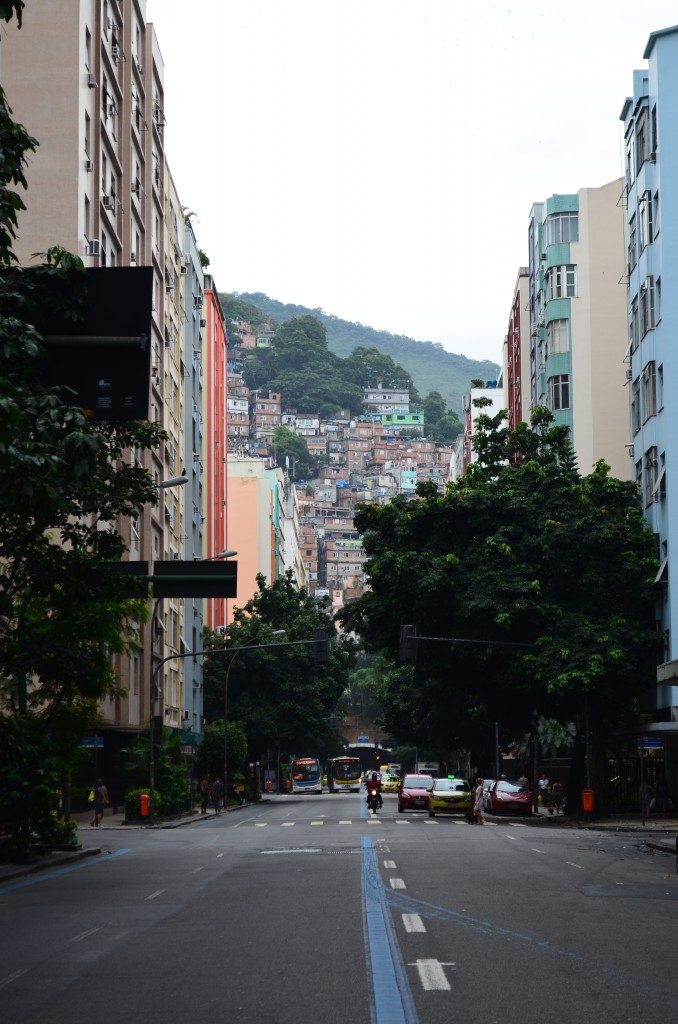 The yellow tourist tram ride known as the Bonde starts its journey in the city centre (next to the Petrobras building), crosses the Lapa Arches and ends on top of Santa Teresa neighborhood. The ride is free and the schedule is spotty.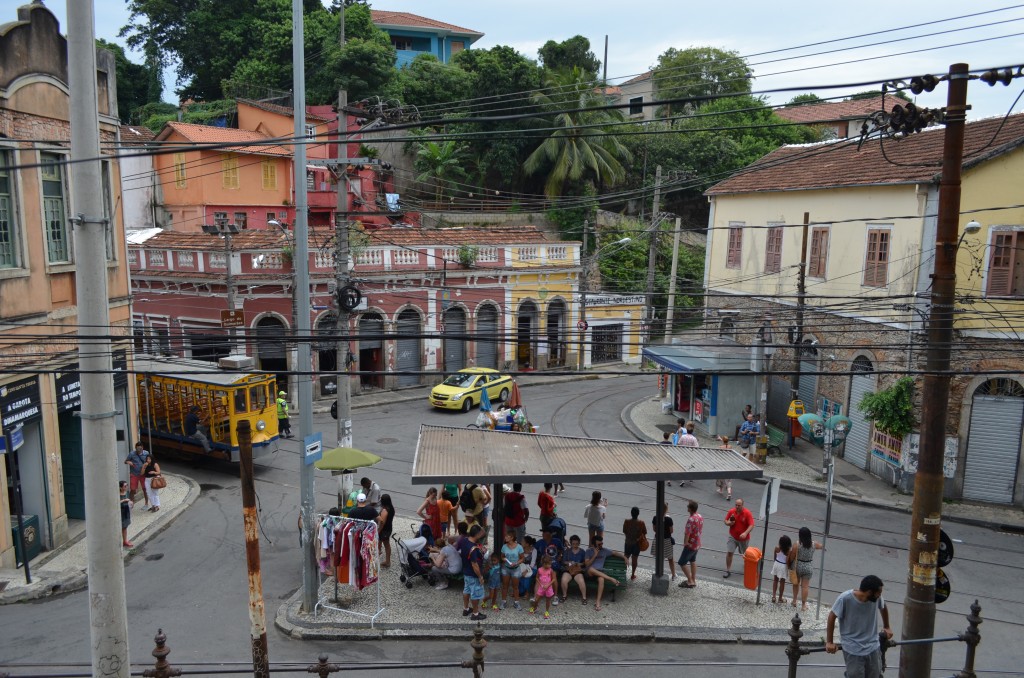 Santa Teresa is the artist corner, with plastic arts workshops spilling onto the streets in a natural and unpretentious way. This is the first part of the city where we felt safe and relaxed. It is genuine and refreshing and a great starting point to explore a couple of lesser known spots.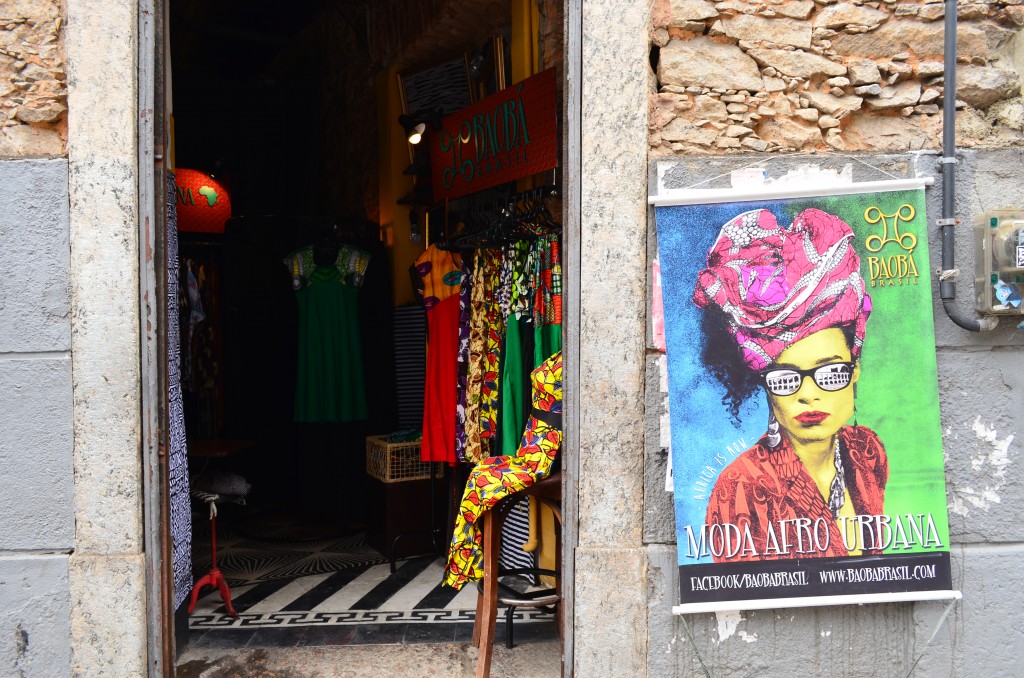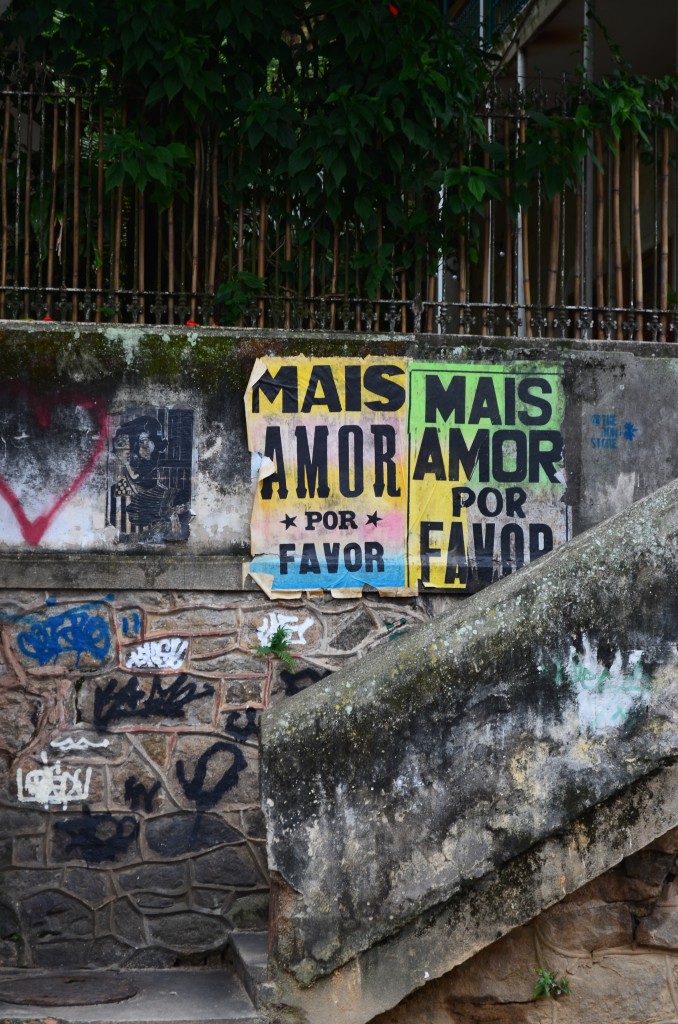 Parque das Ruinas is the cherry on top of Santa Teresa. This old artist house got an awesome facelift and should definitely be on your list as an observation point over Rio.
Inside the house, the clashing architecture and eery art installations guide your steps further up the stairs.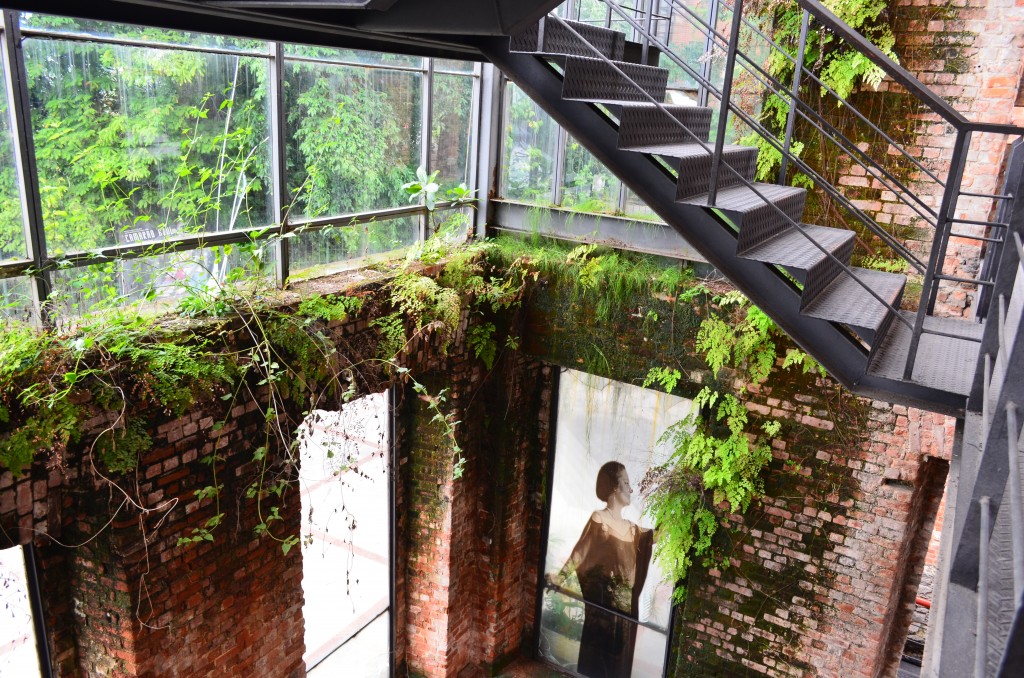 The main atraction is the view though, offering 360 angle over the city, the bay, the beaches and the mountains.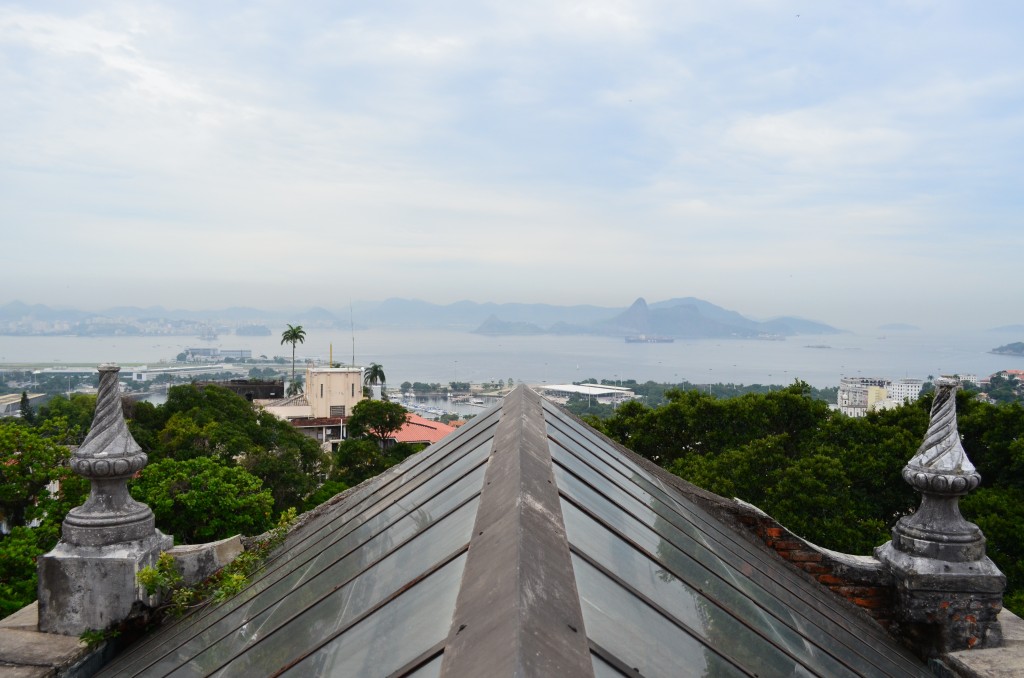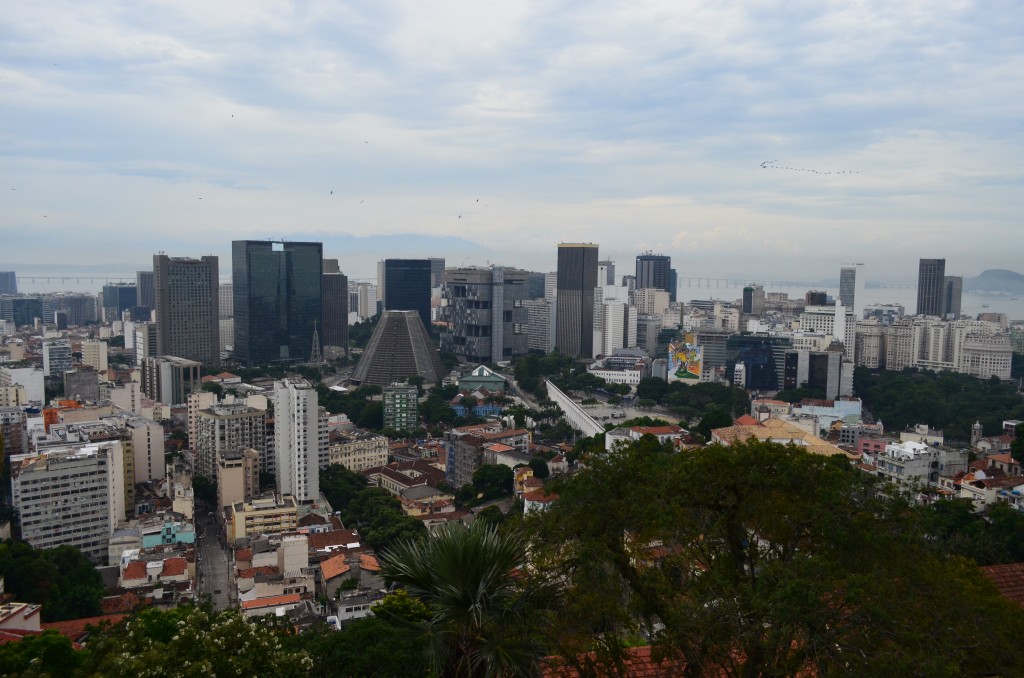 As a side note, CC Cameras are to Rio what dashcams are to russian drivers: a great source of viral videos and a constant reminder that you are in a wild place.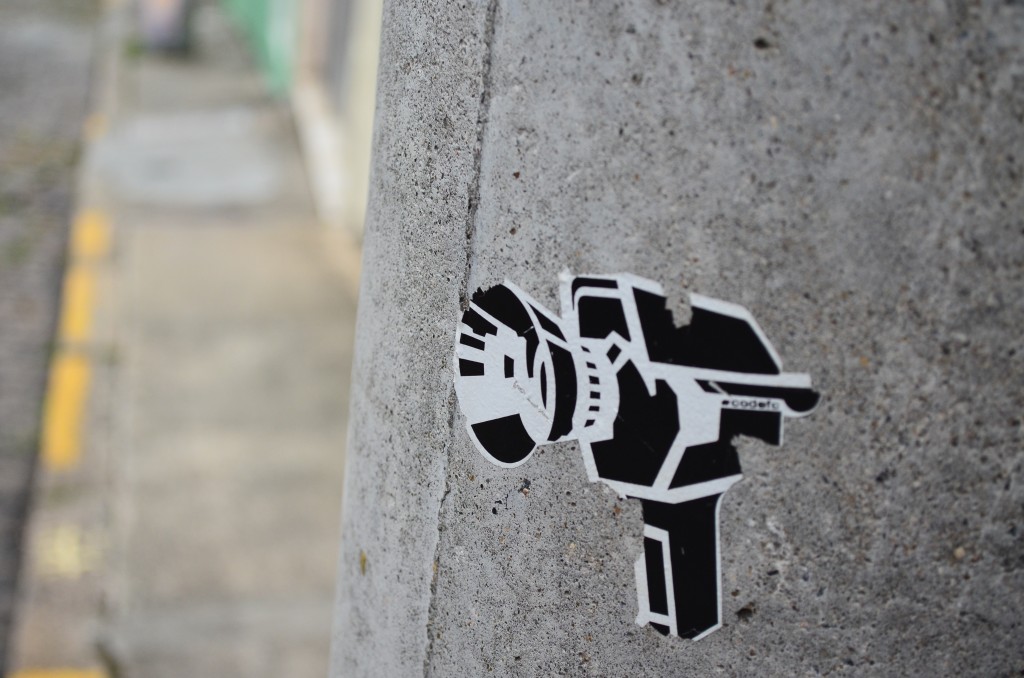 Escadaria Selarón runs down the hill from Santa Teresa and if you only go down, you can't understand what all the fuss is about.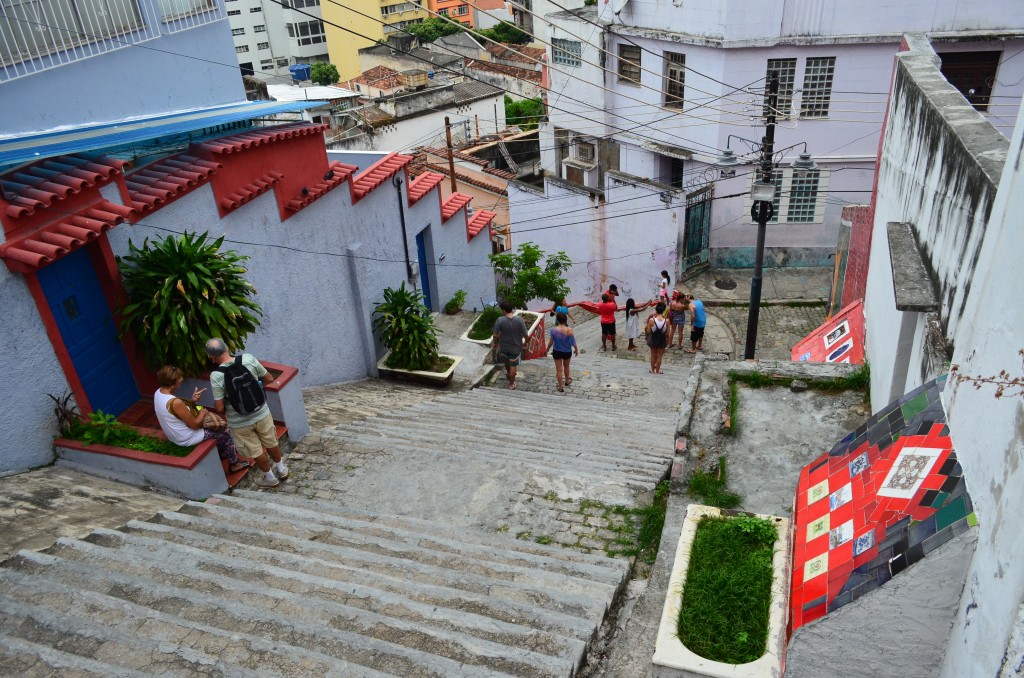 But do yourself a favour and look up. Impressive, isn't it? And I only had to wait for like 5 minutes to have so few people in the shot.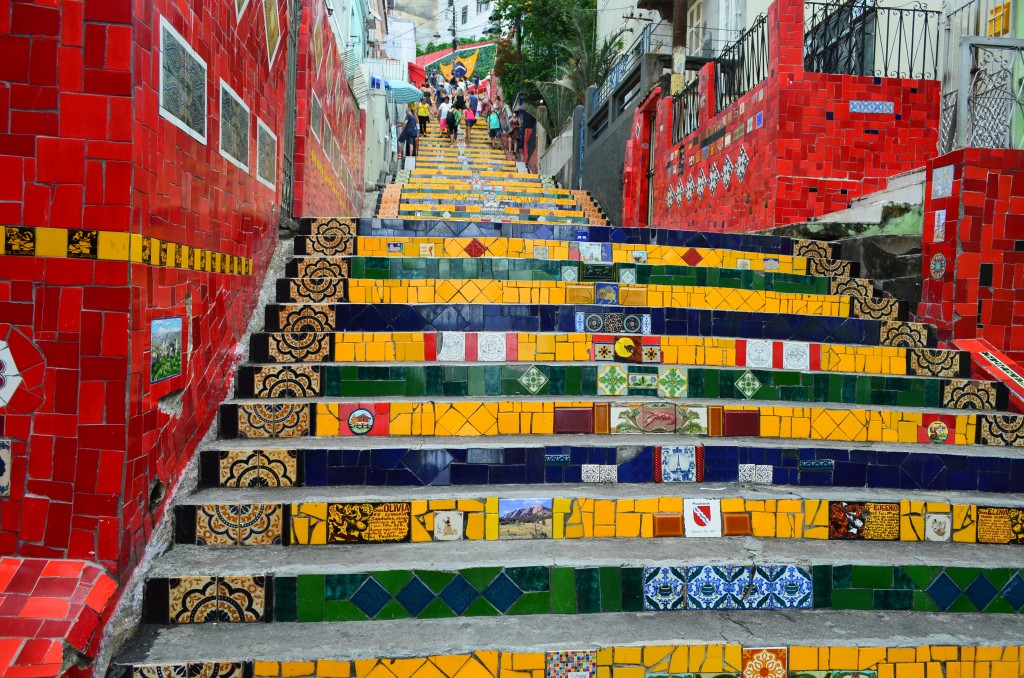 After you've made your way down the tourist filled stairs you find yourself smack in the middle of Lapa, the party district. I call the below snap shot The Three Gods.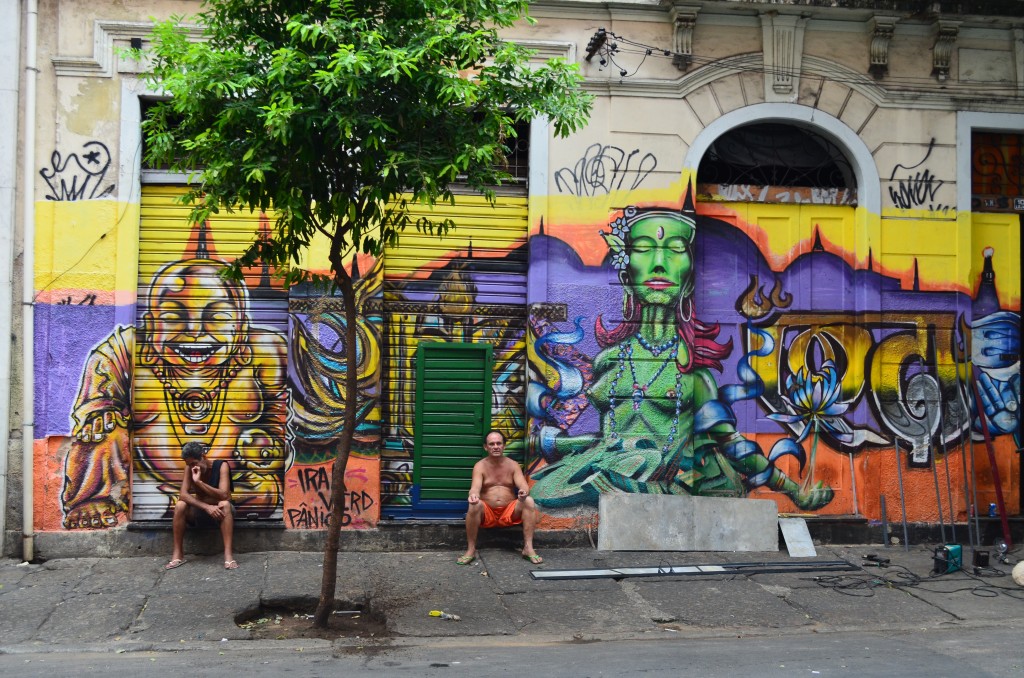 The Carioca aqueduct (Arcos da Lapa)was virtually unknown to me before arriving in Rio but once you look at any souvenir stall, you notice people make a big deal out of it, as being one of the key landmarks of Rio.
Also on the list: the sinuous cobbled patterns of the Copacabana strip, Cristo Redentor, the Cathedral, Sugar Loaf, Maracana Stadium and being robbed.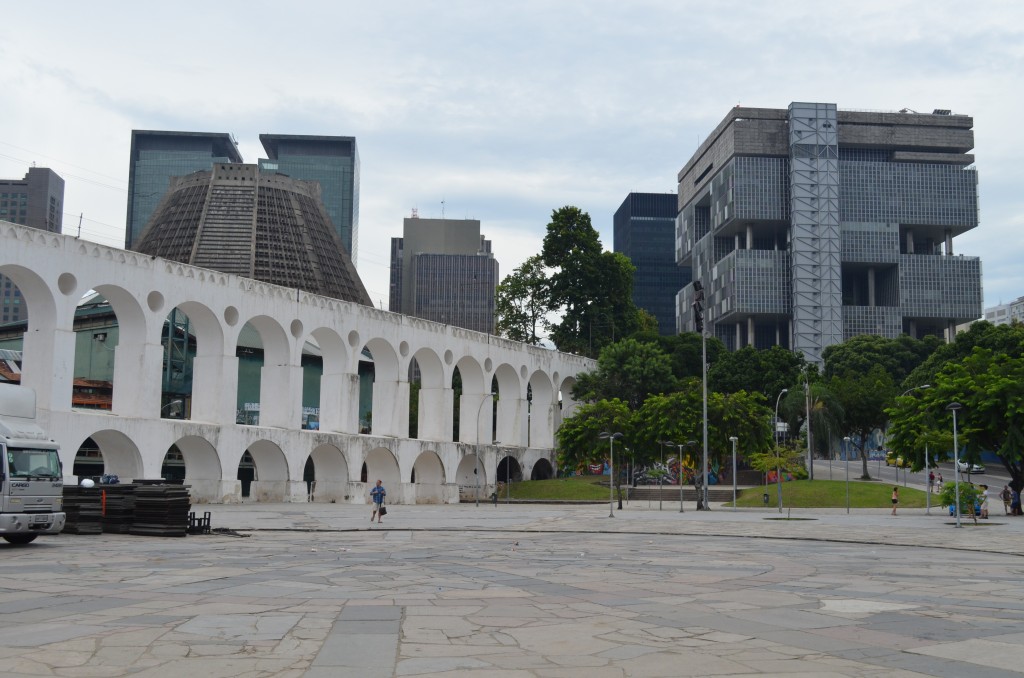 Speaking of Copacabana, the wide beach is a magnet for everyone in the city and is active from dusk till dawn.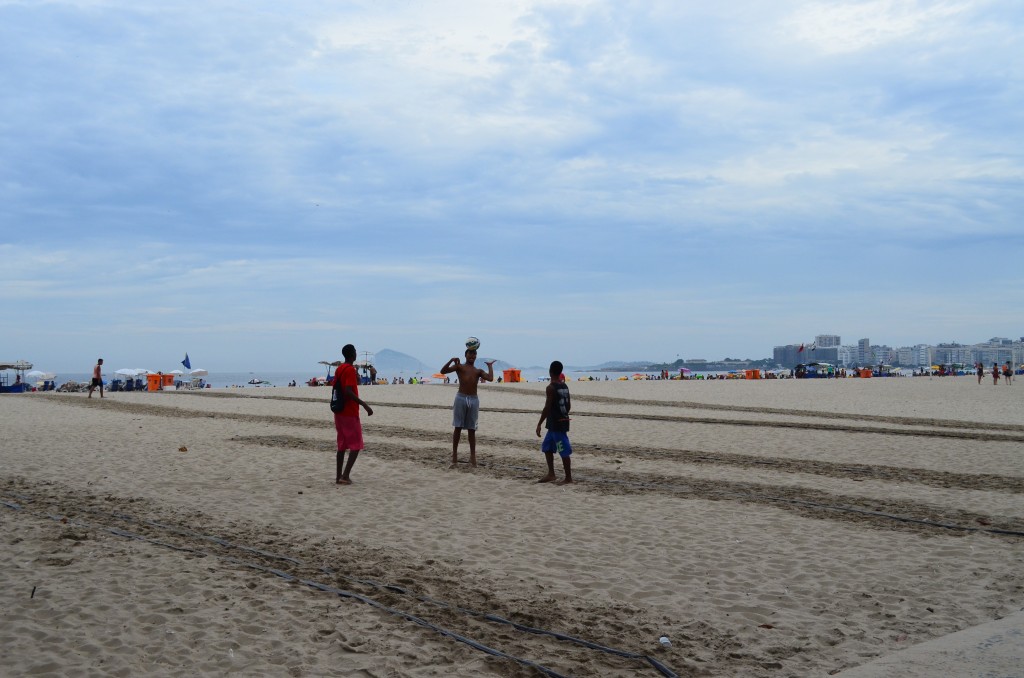 At dawn, you are better off retreating from the shoreline closer to the water front, at any of the delightfully identical cafes that are a buffer between the street and the beach.
Live music, fresh coconuts to drink from, stale food. Go for a beer or a Caipirinha but don't eat there, the restaurants on the second row from the Avenida Atlantica are where the locals go and so should you.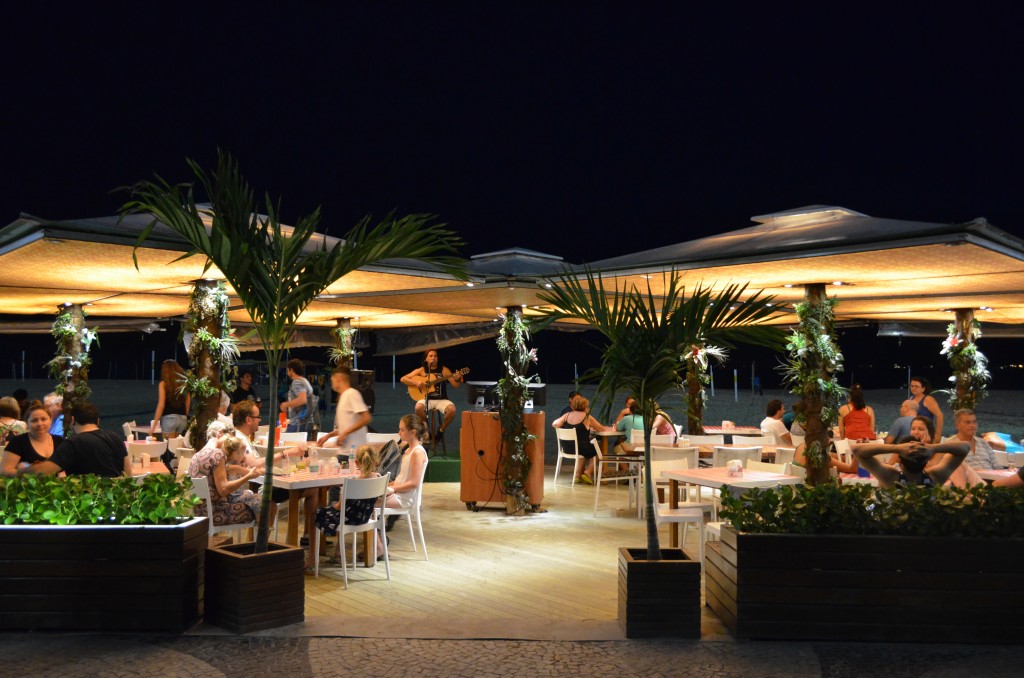 Now about Christ the Redeemer, let's get our topography in order:
The National Park called Tijuca is where the hill called Corcovado is, on top of which sits the statue Cristo Redentor. So any of these 3 references mostly point to the same thing: the place where that huge-ass statue of a square faced Jesus resides.
You can take a local bus to the foot of the hill and then take a train to the top but that is a big hassle. You could also walk up the hill and risk being mugged or hassled by monkeys.
Or you can take the easy way up: take a minivan from the beach that will take you to the feet of the statue and back down for 68 reals each. It's clean, reliable and hassle free.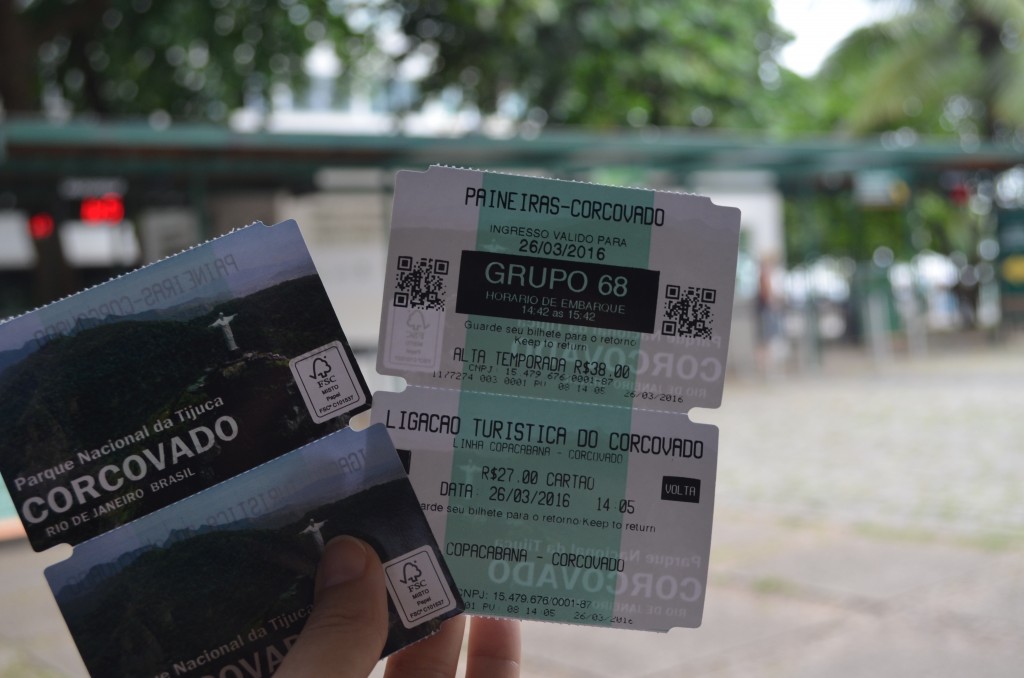 From up top, even the most skeptical traveler will find something to gawk at, be it the 30 metres (98 ft) tall statue of Jesus with a Romanian face, the endless sea of people trying to catch the perfect selfie of them and our lord and saviour or better yet, look at the breathtaking views of Rio.
The height is enough to place you above the misty clouds that cover the bay area and light changes so fast that no two pictures look alike.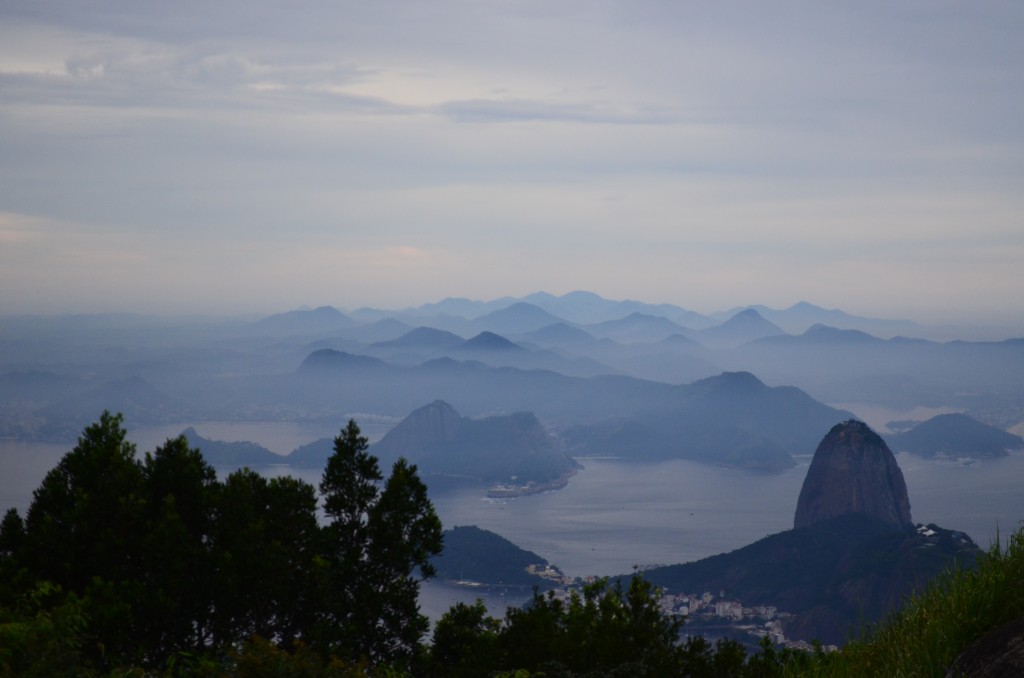 Sugar Loaf Mountain was sadly taken of the to do list so here is a picture embodying the FOMO phenomenon.
Fear Of Missing Out is that sort of thing that can really get you tired and frustrated when travelling so whenever we have too much on our list, we trim it down to what would make more sense given the time, the weather and the mood of everyone.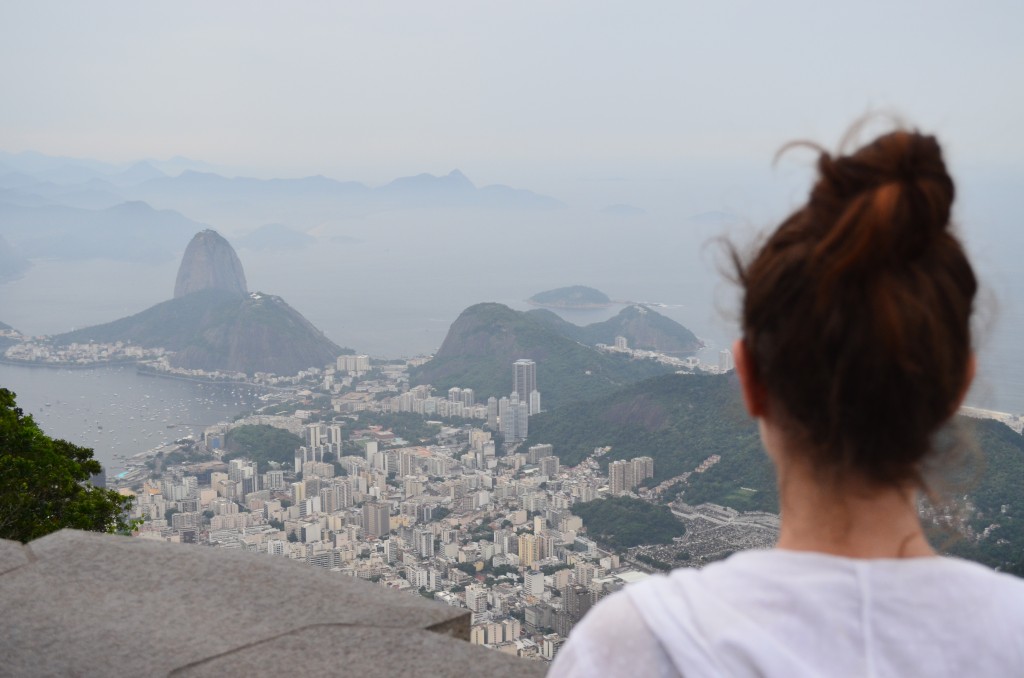 The statue gift shop is a lovely place to buy what I can only assume are Jesus Dildos.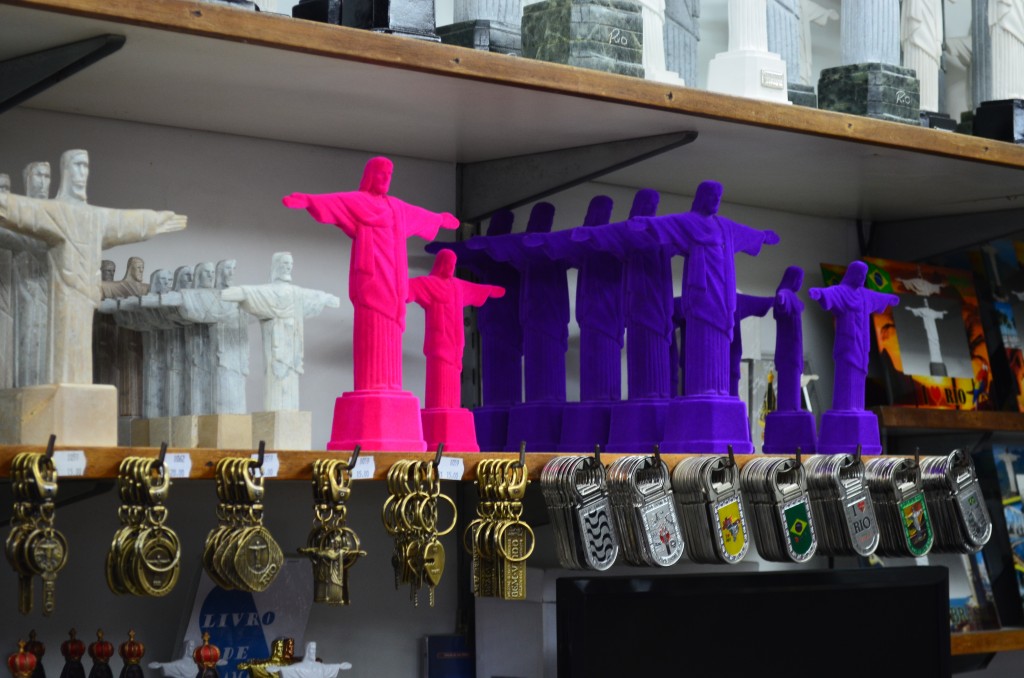 From the minivan on the way back I dared peak out the window to see the inhabitants that Cristo so forgivingly embraces every day. This does not look like love… it looks like the forgotten sons and daughters of a city that needs servants and lower classes to keep the rich satisfied. Rio can be a daunting place.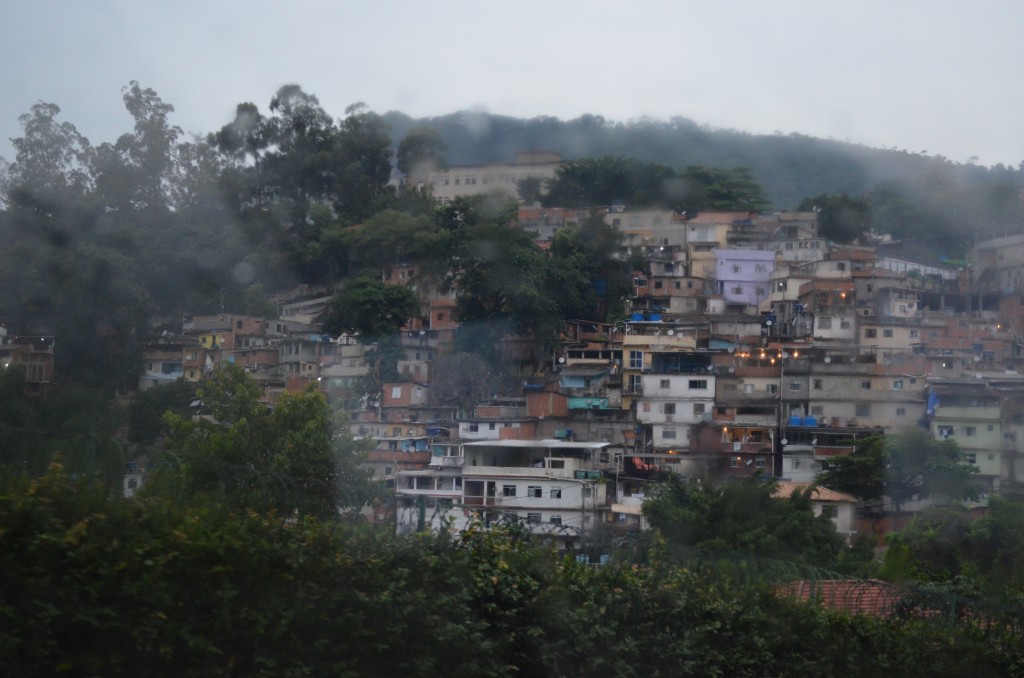 A question that everyone had regarding Rio is about the mosquitos. Zika was less of a publicly discussed issue, but Dengue, which has been a problem for many many years here, is mentioned on almost every public billboard.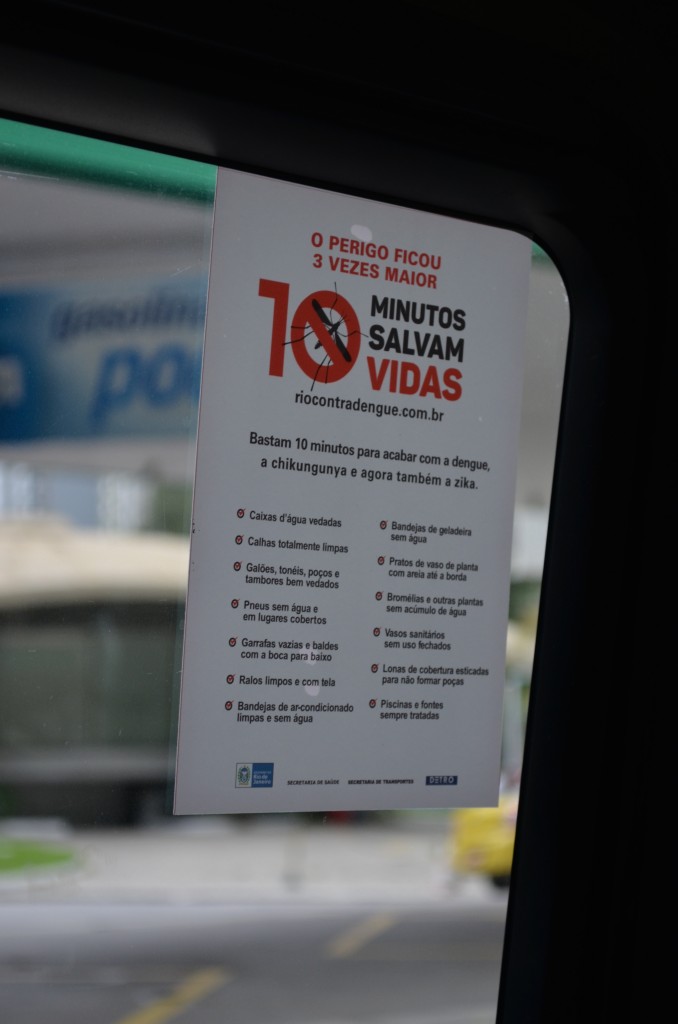 As we were staying at the confluence of the 2 most famous beaches in Rio, we were really surprised to wake up on a Sunday morning to find the biggest avenue around closed. What took the place of cars were dozens of fresh fruit stalls, piles of ripe watermelons and picky locals groping all that was on display.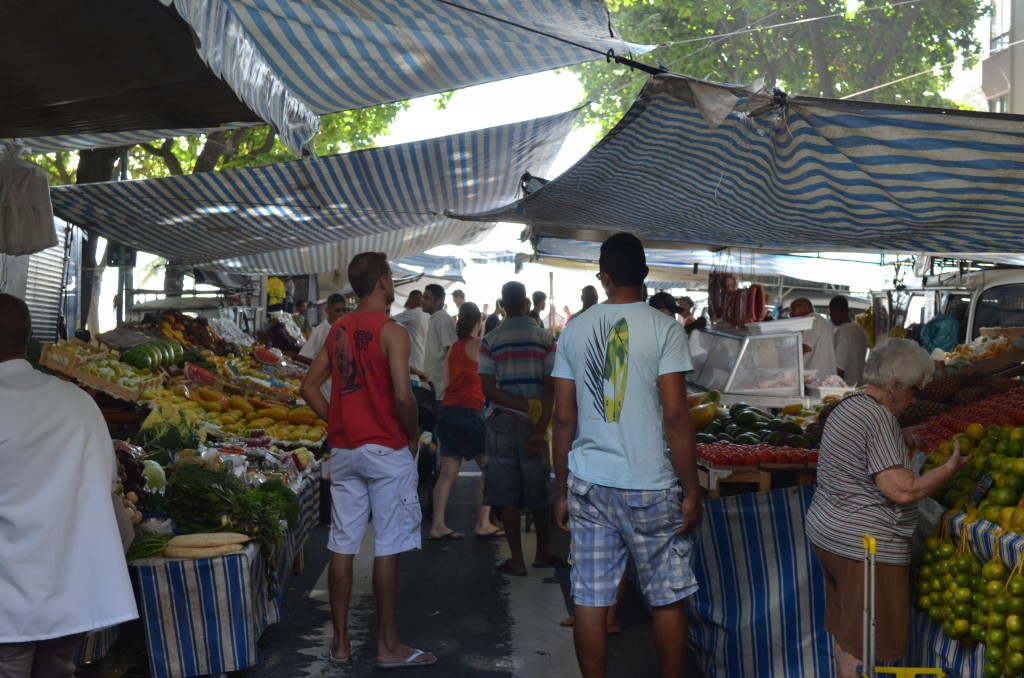 It's not usual for us to just pass by fresh fruits and not fill our bags with supplies but we were on a mission: find the sexiest asses of Ipanema and report back home in awe.
One awkward and borderline harassing morning later, we had gathered a catalogue of bounces, shakes and jiggles worthy of a rap video, and it felt super creepy and shallow.
So instead of sharing any of those stalking photos, I'd rather show you this gorgeous tattooed lady, bearing a beautiful snow flake on her leg.
In a city that follows the sun 365 days a year, this girl's snowflake is a delicate expression of wanting what you cant have.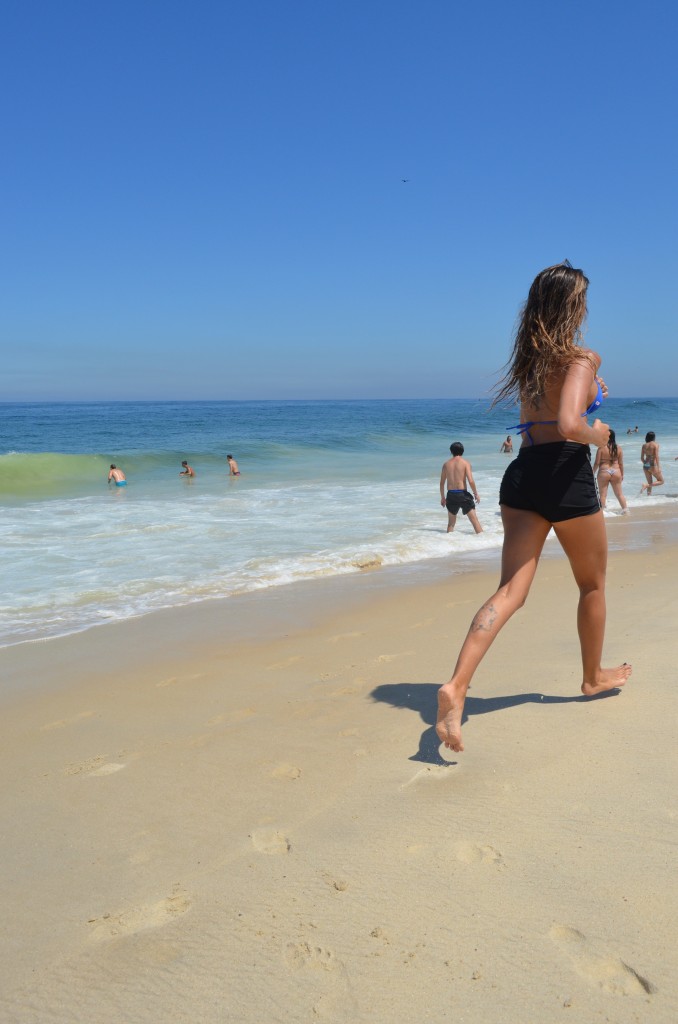 And since we didn't go to the beach JUST for people watching, we figured it was time to hit the waves and get our feet wet in the Atlantic Ocean for the first time.
Easy to say, very hard to do! The power of the 3meter waves that broke just at the edge of the water is irresistible. And by that I mean you will not be able to stand, crawl or swim until the wave is done turning you on your head.
So with battered knees and swim suits filled with sand, we decided to let the locals show us how it's done.
Another thing about the ocean is that it randomly decides people are too close so every now and then it advances an additional 20 meters on the beach, sweeping everything that is not elevated, taking everything that is not grabbed or pinned down.
So that's why people in Rio NEVER sit directly on the sand and use chairs instead!
Speaking of sweeping, as we were relaxing on Ipanema and enjoying a rare moment of calm, a Brazilian beach goer that we were next to suddenly started panicking and urged us to grab our things and be as paranoid as she was.
We did a really great job at this apparently since 5 terrified minutes later she relaxed, told us to enjoy and left.
What the actual fuck, I though? It took a couple of days till someone told us that every now and then, 50 to 100 people sweep the beach by running in a line and grabbing everything they can. Much like the ocean, mind you. This running of the thieves is anticipated by the locals who can easily recognise who belongs to that sector of the beach (the tourist stand out anyway) and who might be there just to rob people.
Now, I dont want to promote stereotypes or panic, just telling you folks what stories I've heard.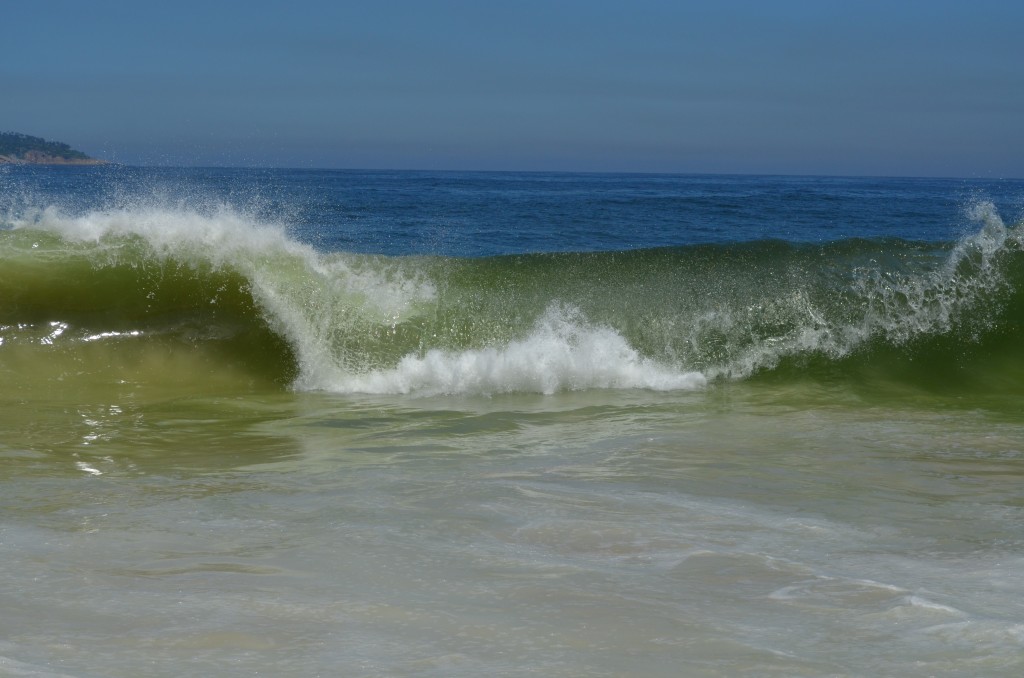 Last thing on our list for that Sunday was the Botanical Garden. Relatively easy to get to from the beach, the garden is nicely organised and allows for a relaxed stroll while still hitting all the interesting parts. My favourite by far was the orchid house pictured below.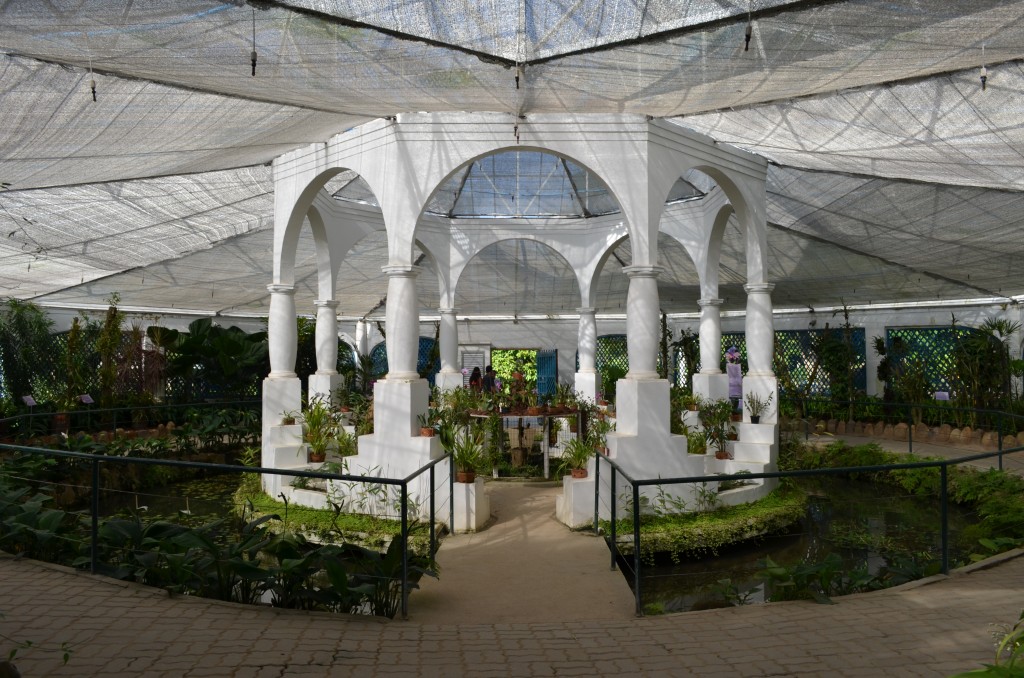 And If flowers aren't your thing, the park is inhabited by all sorts of monkeys, birds and god know what else so keep your eyes open. Dont feed the animals though, they might bite.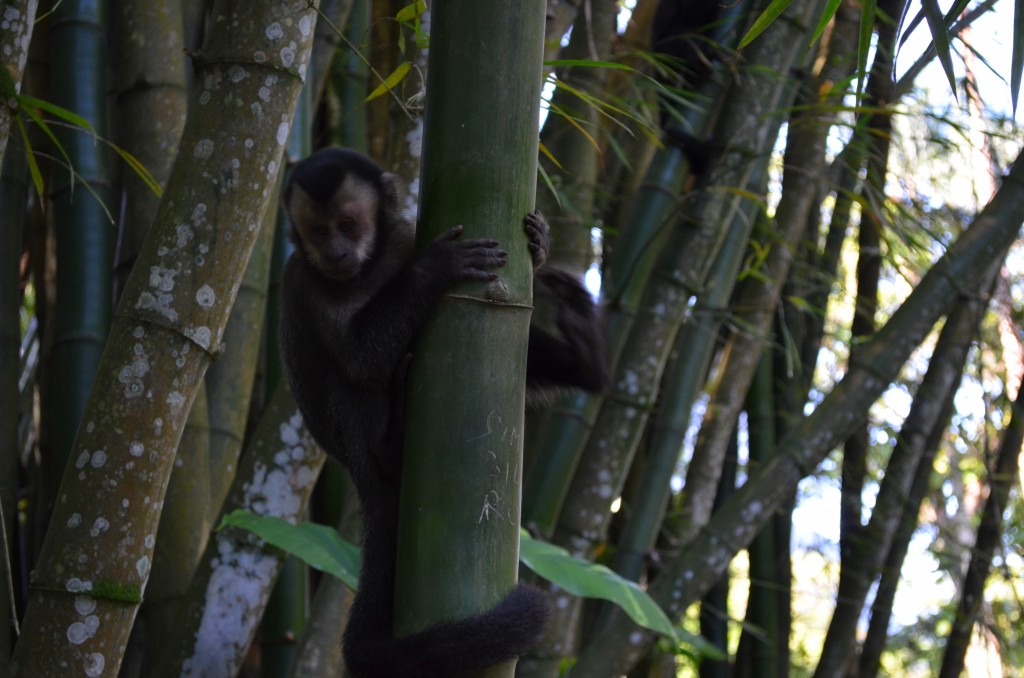 I'm still torn regarding Rio, not sure if I would invest to go back there but surely would enjoy the second occasion better that the first time.
What I do know and is true about most cities in Brazil, is that if you don't have a friend there, it's like you are looking at a closed environment and never really penetrating the protective layer.
Don't make the same mistakes we made: go there relaxed and with little to no expectations and you will be fine.